Dark Chocolate Ganache Tart with Olive Oil Sea Salt Drizzle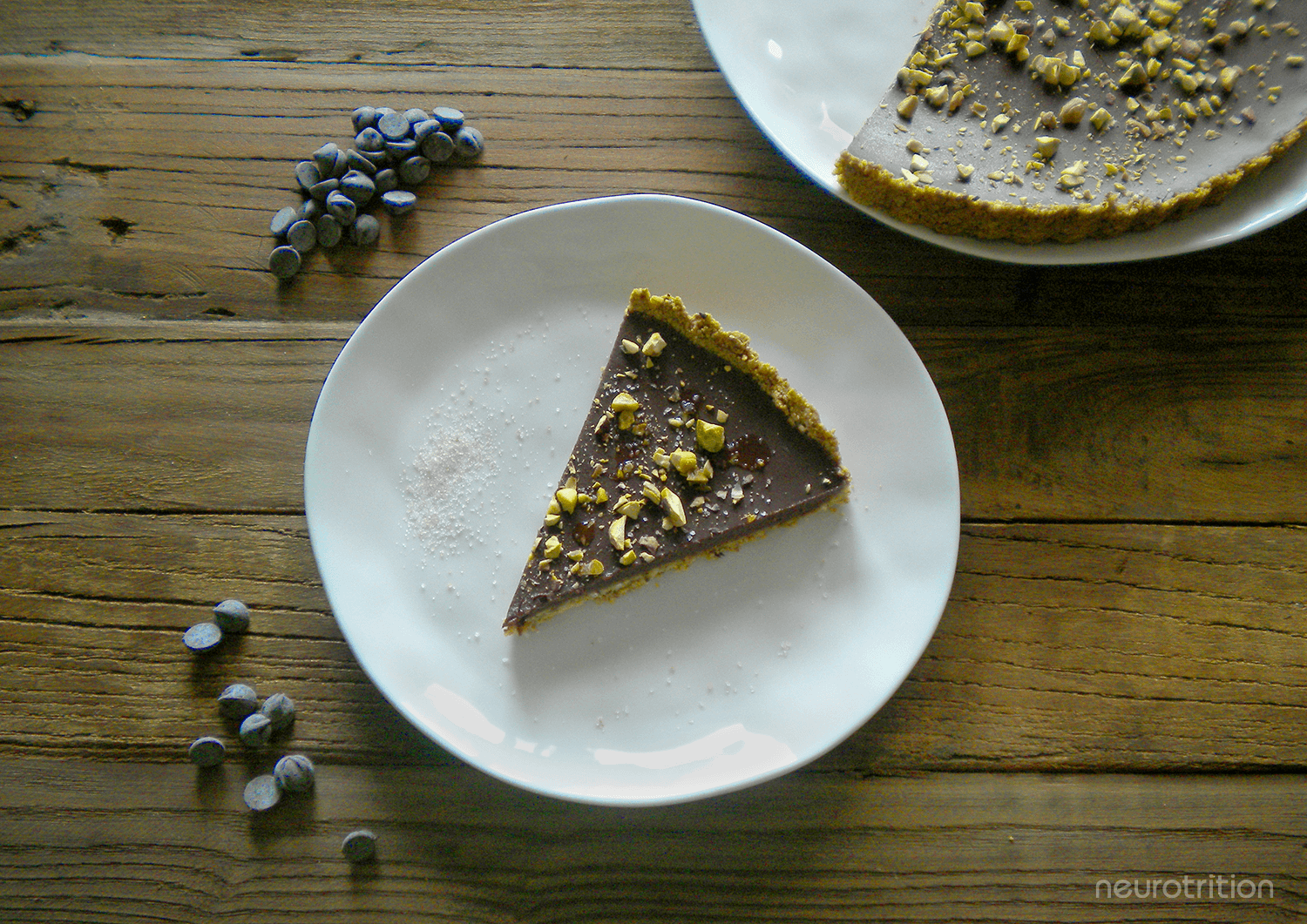 We did it! And we can't wait to share it with you. We created a healthy AND decadent dessert that is full of brain-boosting and heart health-promoting ingredients! Excited? We sure are.
Science says dark chocolate, pistachios, certified gluten free oats, gluten free coconut flour and olive oil are excellent for cardiovascular health. While coconut oil is still controversial, at NeuroTrition, we recommend it because research suggests that our bodies view the special size fats in coconut oil, called MCTs (medium chain triglycerides) as heart-healthy and brain-loving omega-3 fats (sort of like eating a serving of wild salmon!).
Sea salt undergoes very little processing and contains brain and heart-healthy trace minerals, in contrast to table salt, which we don't recommend because it's just too high in sodium (not to mention super refined and processed). To balance out the salty with the sweet, coconut sugar and pure maple syrup are our picks, because they are lower glycemic sweeteners. This means they will not cause a blood sugar spike and a subsequent blood sugar crash.
This delicious recipe will have your brain and heart thanking you. Enjoy!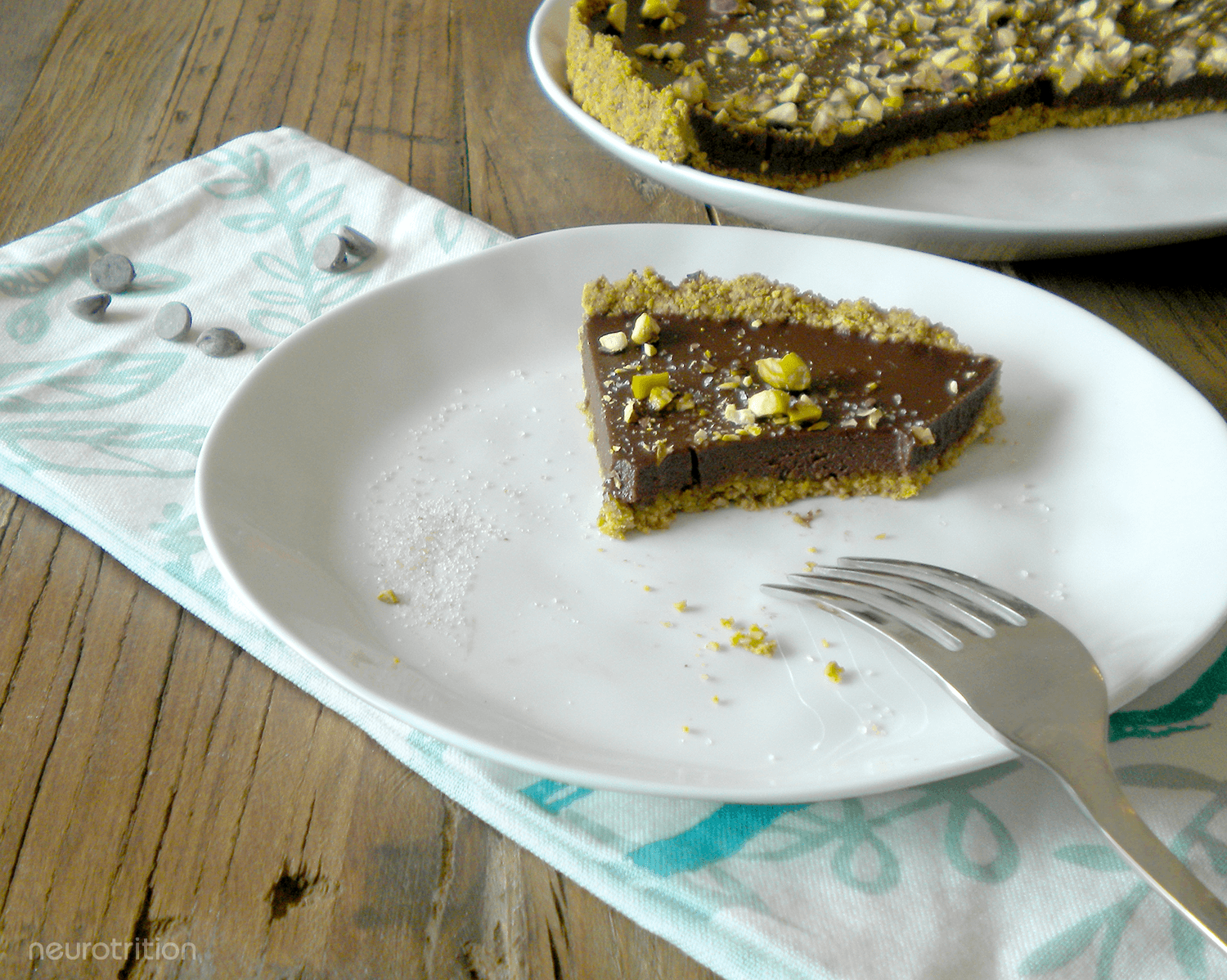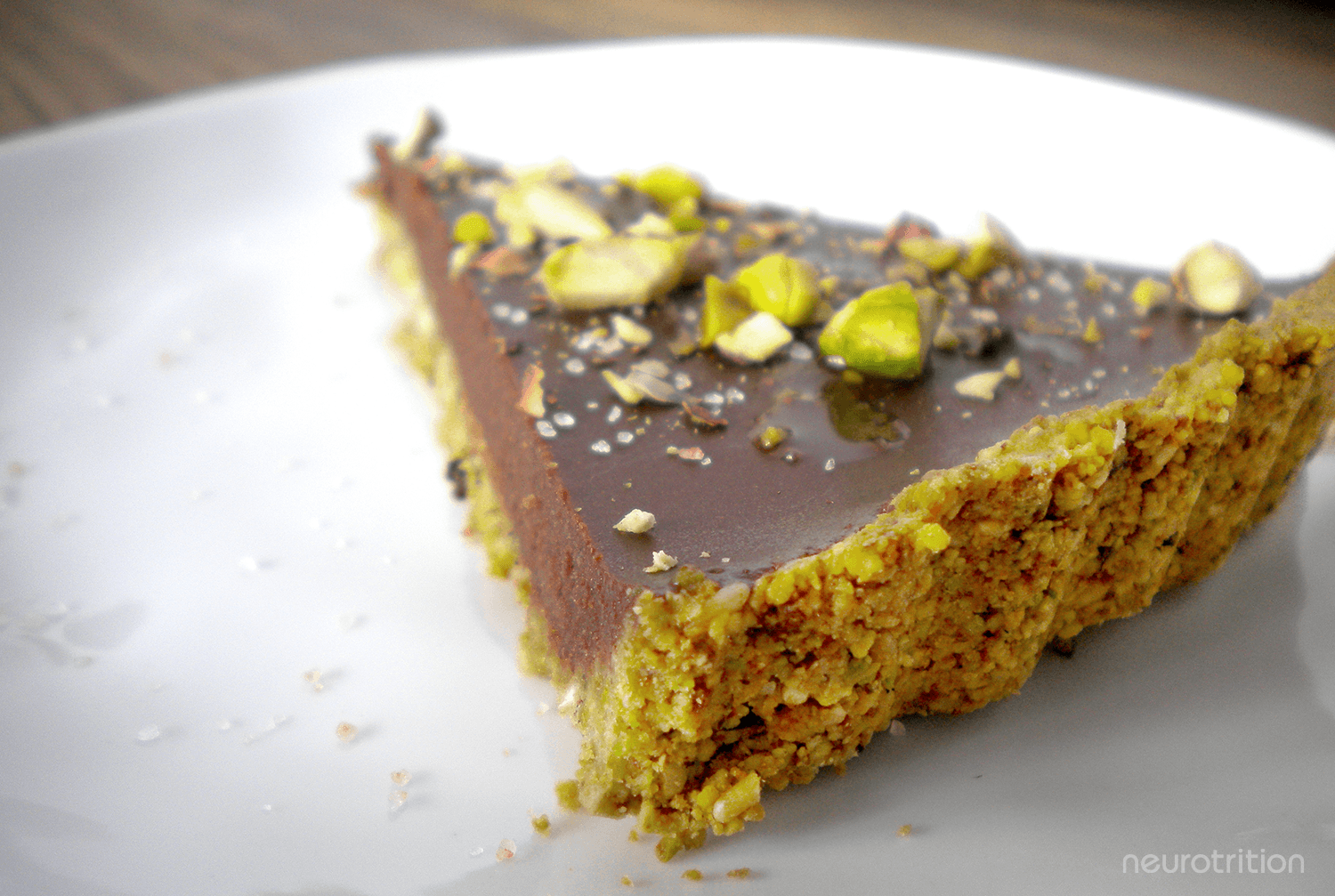 Dark Chocolate Ganache Tart with Olive Oil Sea Salt Drizzle
Yield:
9-inch tart, 14 slices
Ingredients
Crust Ingredients:
1 1/2 cups pistachio meal*
1/2 cup certified gluten free whole oats
1/4 cup coconut flour
1/4 cup cold 

pressed

 coconut oil

1 Tbsp coconut sugar
1/4 tsp Himalayan pink salt
Ganache Filling Ingredients:
1/3 cup coconut butter or cold 

pressed

 coconut oil

1 cup (half can) of coconut crème**
1/4 cup pure maple syrup
1 bag dark chocolate chips, at least 74% cacao
1 1/2 tsp vanilla extract
Topping Ingredients:
2 Tbsp extra virgin olive oil
1/2 tsp Himalayan pink salt
1 Tbsp 

pistachios, crushed
Method
Crust Method:
Preheat oven to 375 F.
In the bowl of a food processor or high power blender, combine pistachio meal, oats, coconut flour, coconut sugar and salt, and pulse for about 30 seconds. Add coconut oil and process another 30 seconds. The mixture should be crumbly, similar to wet sand. Be careful not to over mix!
Press evenly into the bottom and sides of a 9-inch tart pan (with removable base), or spring form pan and bake for 8 minutes until lightly toasted. Then set aside and allow to cool on a baking rack.
Ganache & Topping Method:
Place coconut butter, coconut crème and maple syrup in a small saucepan. Heat to a low simmer, then pour over chocolate chips in a medium bowl and add vanilla. Slowly whisk until chocolate is melted and all ingredients are fully incorporated and melted.
Pour mixture into the chilled crust and smooth out with an offset spatula or back of a spoon. Sprinkle pistachios on top. Chill for at least 1 hour before topping with olive oil and sea salt, slicing and serving. Keep refrigerated and enjoy!
Notes
* To make the pistachio meal: simply place 1 ½ cups whole pistachios in food processor and pulse them for about 60 seconds, or until finely ground.
** With the remaining half can of coconut crème, you can make some delicious Coconut Whipped Cream to top your tart!

LET'S DIG IN AND MAKE SOME OF THE SCIENCE EASIER TO DIGEST!
Pistachios:
They're a huge antioxidant powerhouse containing Vitamin E and carotenes to protect the brain from dangerous free radicals and inflammation.
They increase the "happy" HDL cholesterol and lower the "lousy" LDL cholesterol, and are rich in Vitamin B6 which gets the juices flowing in the brain!
Dark Chocolate:
It actually protects our brain cells from deteriorating thanks to its antioxidant effects from flavonoid compounds.
It provides us with tryptophan, responsible for creating our happy neurotransmitter serotonin.
It boosts memory, attention span, reaction time, and problem-solving skills by increasing blood flow to the brain.
Olive Oil:
Packed with nutrients and monounsaturated healthy fats, olive oil is a powerful brain supporter, rich in antioxidants that battle brain inflammation.
It is chock full of B vitamins, which may help protect against Alzheimer's Disease.
It boosts serotonin to help stabilize mood and ward off depression. Olive oil does it all!
You might also enjoy: