Roasted Wild Salmon & Quinoa Dinner – 2 Ways!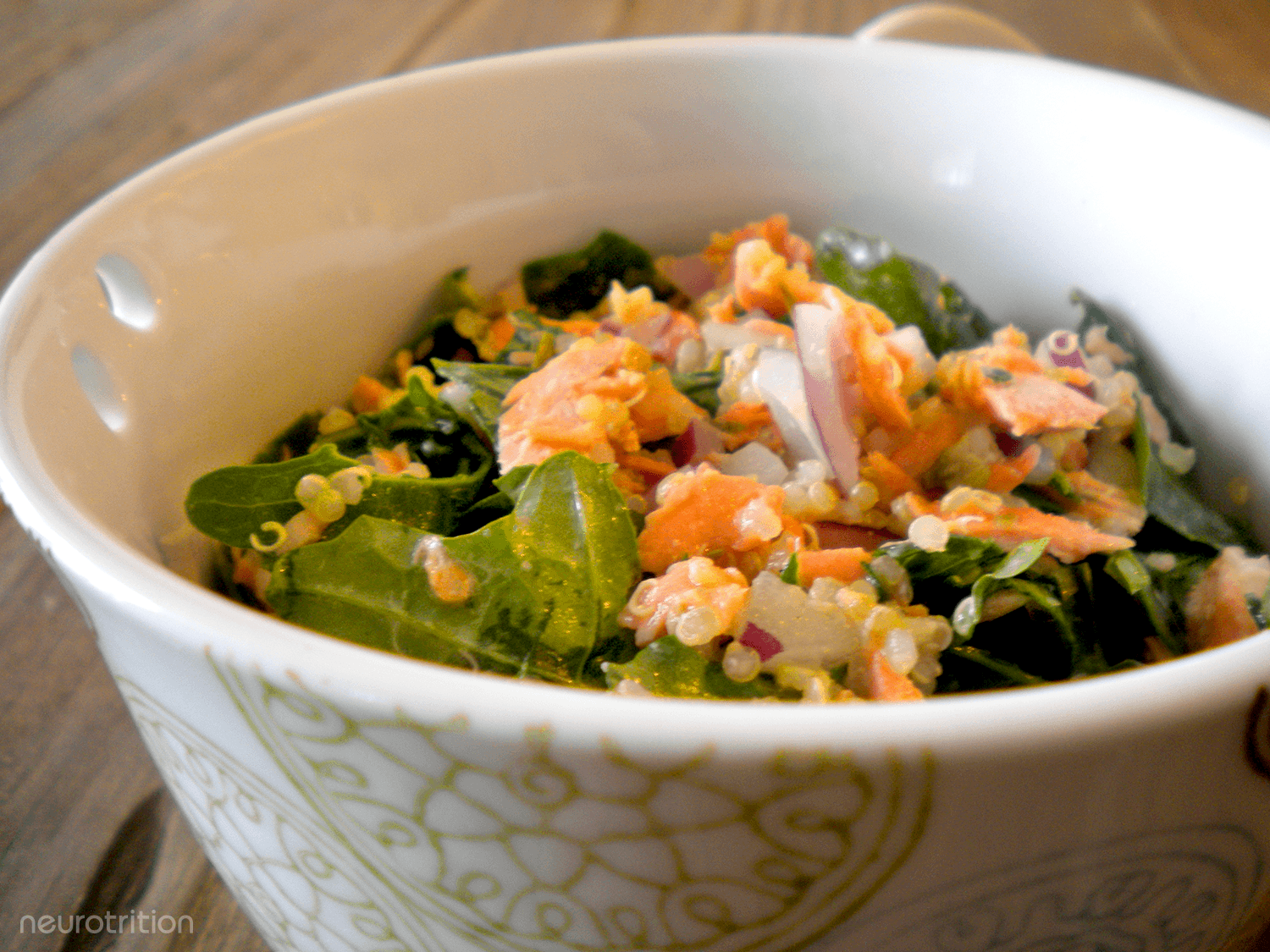 This recipe is built around wild salmon, our favourite sea-faring omega-3 source, and quinoa, our top vegetarian protein (a complete protein at that). Amazing on their own but with added oomph alongside brain-friendly red onion, kale, lemon, parsley and eggs, this recipe is sure to make you happy.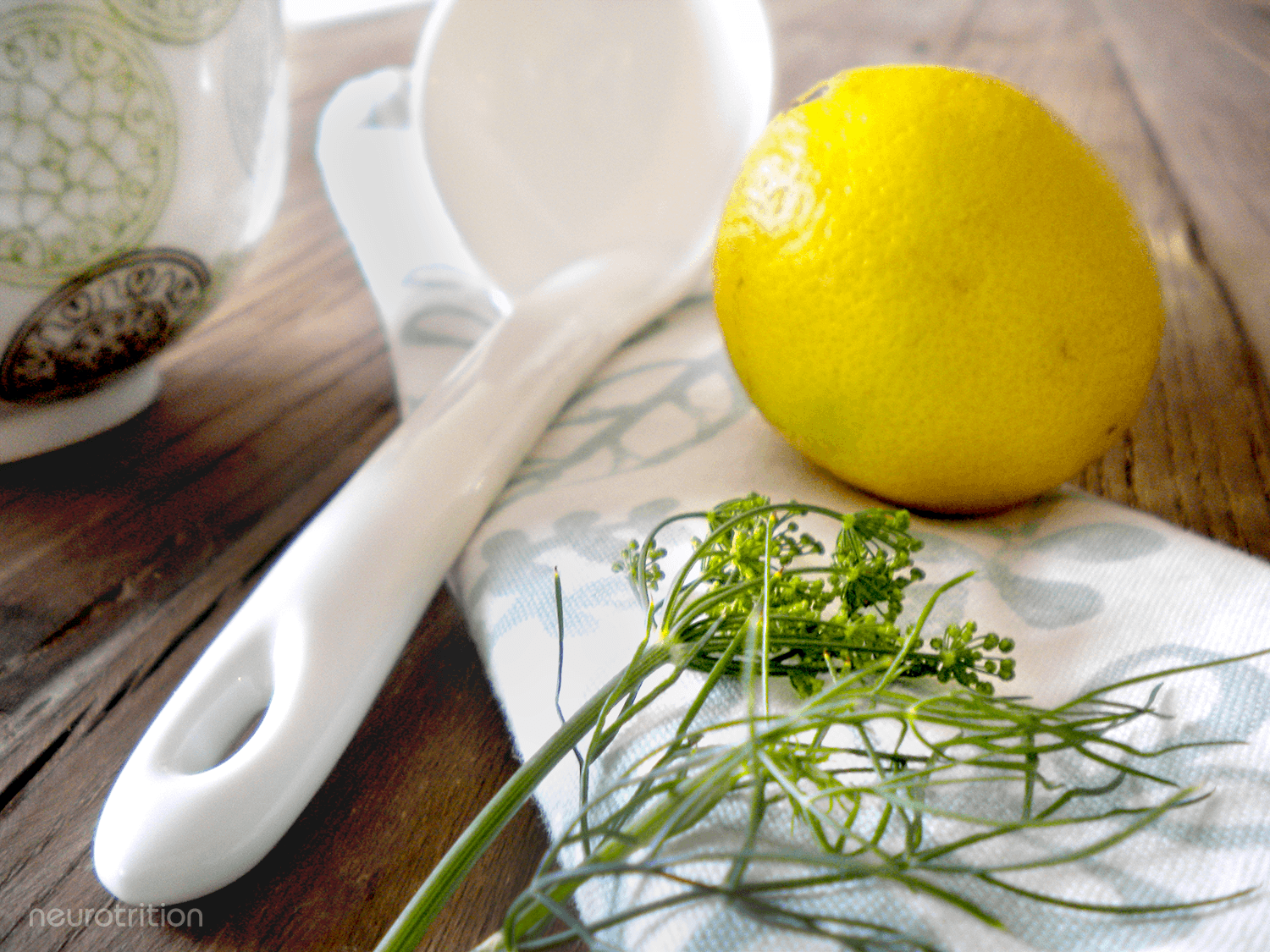 We've presented this recipe in two different ways, a grown-up salad and a kid-friendly finger food, so you and your little ones can eat and love this meal together. Now that's just plain smart!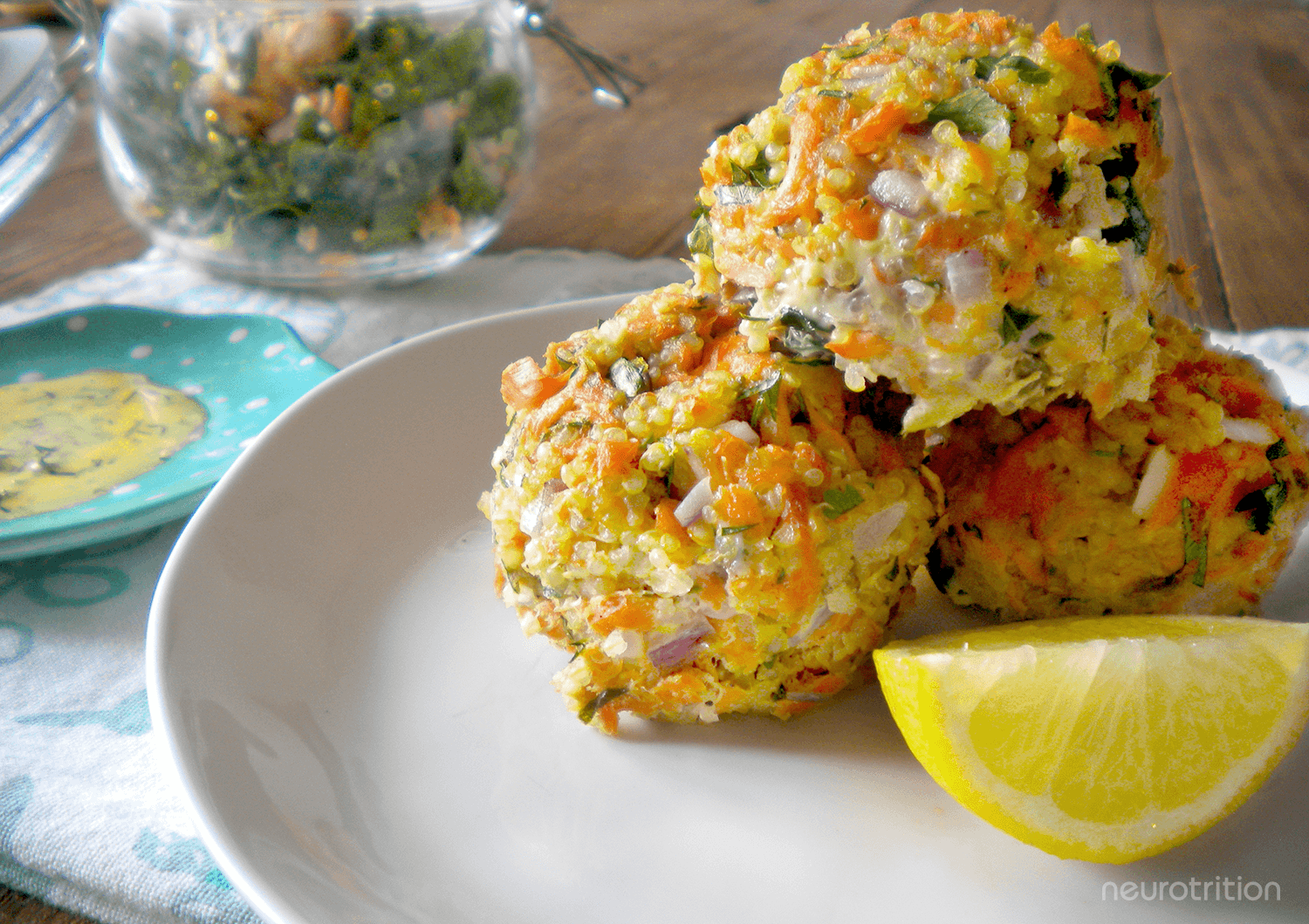 Roasted Wild Salmon & Quinoa Dinner – 2 Ways!
Ingredients
1 fresh wild salmon fillet, skinless (roughly 1-2 lbs.)
1/2 tsp sea salt and pepper
1/4 tsp garlic powder
1 1/2 cups white quinoa, cooked and prepped to package directions, then cooled
1/2 red onion, small diced
1 Tbsp capers, rough chopped
Adult Version:
5 stalks black kale, stripped from the ribs, and cut into ribbons
1/2 lemon, juiced
Sea salt and pepper to taste
Kid-Friendly Version:
1 organic free-range egg, lightly whisked
1/2 bunch parsley, washed and roughly chopped
Lemon-Dill Sauce:
1/2 cup Veganaisse or our Healthy Homemade Mayo
Sea salt and pepper to taste
1/2 tsp garlic powder
1 Tbsp fresh or dried dill
1/2 lemon, juiced
Method
Preheat your oven to 425F.
Prepare baking sheet, lined with parchment or foil.
Take the salmon fillet and season both sides with your salt, pepper and garlic powder. Place salmon onto the lined baking sheet, then slide into the oven, and cook for 10-12 minutes.
While salmon is cooking, whisk together all ingredients for the Lemon-Dill Sauce. Cover and leave in fridge until you are ready to serve dinner.
Once salmon is fully cooked, put it to the side to cool. Once cooled, flake apart the salmon.
Place your cooked quinoa into a bowl; add the salmon, capers, red onion, salt and pepper. This is the base mixture. Split the mix, setting aside half for the adult version and half for the kids!
Adult Version Method:
Add all the ingredients in to make your 'adult' roasted salmon salad and top with a drizzle of the Lemon-Dill Sauce!
Kid-Friendly Version Method:
Preheat oven to 375F.
Generously grease 1 mini muffin tin with coconut oil, unsalted butter or ghee.
Into the base mix, add in your lightly whisked egg and parsley. Mix this thoroughly into your salmon salad until combined.
Pack a few 

tablespoons

 of the mix into the muffin tin (any extra salad mix can be mounded on top to create a 'muffin' top effect!)

Bake these in the oven for approximately 13 minutes or until the tops are slightly golden brown. Serve with a side of Lemon-Dill Sauce & some fresh veggies!
Notes

LET'S DIG IN AND MAKE SOME OF THE SCIENCE EASIER TO DIGEST!
Garlic:
Got memory issues? Garlic is shown to improve learning and memory, and boost our cell's mitochondria function (the energy source inside our cells) which helps fight brain drain.
Shown to reduce the damaging effects that electromagnetic frequencies from cellphones, laptops and microwaves have on our DNA and blood proteins.
Quinoa:
This complete protein and only vegan one may be your best pseudo-grain (actually a seed!) bet because it is the highest in healthy fats and antioxidants.
It has an astonishingly high concentration of key vitamins and minerals that are vital for the production of neurotransmitters (the means of communication in the brain).
Salmon:
The brain loving omega-3 fats, found in abundance in wild salmon, are shown to be effective in helping those with diagnosed and undiagnosed depressive disorders.
Its special omega-3s seem to be effective in reducing behavioural problems in children as young as 8 and teenagers up to 16.
You might also enjoy: