Healthy Homemade Mayonnaise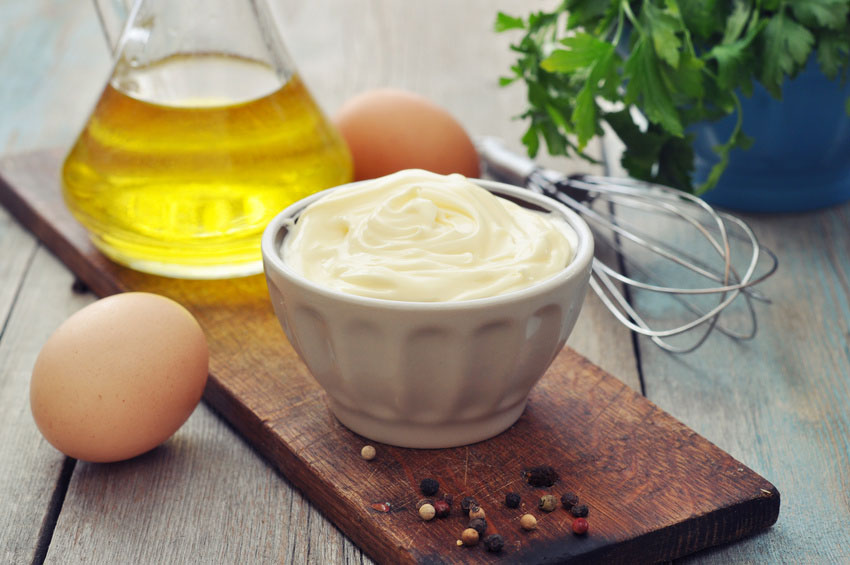 Bet you didn't think of mayonnaise when you thought of brain food. Until now!
Our simple homemade mayo uses free range eggs, which are high in brain-loving nutrients like choline and lecithin, and olive oil, which is chock full of monounsaturated fats, shown to promote brain health. We use dijon mustard for its anti-inflammatory and thermogenic properties. So our mayo won't contribute to weight gain like conventional, store bought varieties. We also use organic apple cider vinegar, which is shown to help balance blood sugar for good mood and memory, and high energy throughout the day. Given the connection between a healthy immune system and a happy, healthy brain, we use immune-boosting raw honey for a hint of sweetness.
Mayo and brain health. Now there's some food for thought.
Healthy Homemade Mayonnaise
Ingredients
4 organic free-range egg yolks, room temperature
1 tsp creamy dijon
1/2 cup to 1 cup olive oil (or mix equal amounts of other healthy oils, such as coconut, avocado or grape seed)
2 Tbsp organic apple cider vinegar or lemon juice
1 tsp or less of raw honey (this is optional for those who may prefer a sweeter mayo)
Sea salt and pepper to taste
Yummy add-ins: Try roasted garlic, rosemary or any fresh or dried herbs, grainy Dijon, chipotle powder, or any kind of spices you like. The possibilities here are endless!
Method
Put the egg yolks and dijon into the bowl of your food processor*; mix until a pale yellow. This step is also where you can incorporate any add-ins you've chosen!
Slowly add the oil in a very thin stream to begin with, mixing continuously. The first 30 seconds of this are VERY important, just add it in tiny drops at first, and then slowly increase the stream of oil. As the mayonnaise begins to thicken, begin to add the oil as a steady stream, still mixing the entire time.
When the mixture begins to reach the consistency you like, and the oil is completely incorporated, mix rapidly for 30 seconds more, until the mayonnaise is thick and glossy. Add the vinegar or lemon juice. Taste and adjust the seasoning as necessary.
Store for 1 1/2 weeks in an air tight storage container. We love using a mason jar!
Notes
* I always do mine in a food processor or blender. But doing it by hand with a bowl and whisk, though it will take a bit longer, is just as effective! Another option is using a stick blender in a mason jar, this way also works extremely well.

LET'S DIG IN AND MAKE SOME OF THE SCIENCE EASIER TO DIGEST!
Free Range Eggs:
High in the brain loving nutrient choline. Choline creates the important neurotransmitter, acetylcholine, which is a key ingredient in thinking and memory!
High in lecithin, a compound that helps improve memory and increases the "happy" cholesterol HDL while lowering the "lousy" LDL. 
Apple Cider Vinegar:
Just might be what you need to keep your energy up throughout the day and beat that mid-afternoon or early evening crash because it is shown to balance post-prandial blood glucose (the spike in blood sugar after eating).
A great mood booster and natural antidepressant because it increases tryptophan which builds our mood regulating neurotransmitter serotonin.
Honey:
The active compounds in honey are polyphenols like flavonoids and catechins, so this sweet, natural substitute for refined sugar has excellent antioxidant effects.
Honey might actually making us happier and calmer with its anti-depressant and anti-anxiety effects, and enhance our memory.
You might also enjoy: