Garlic Turmeric Bone Broth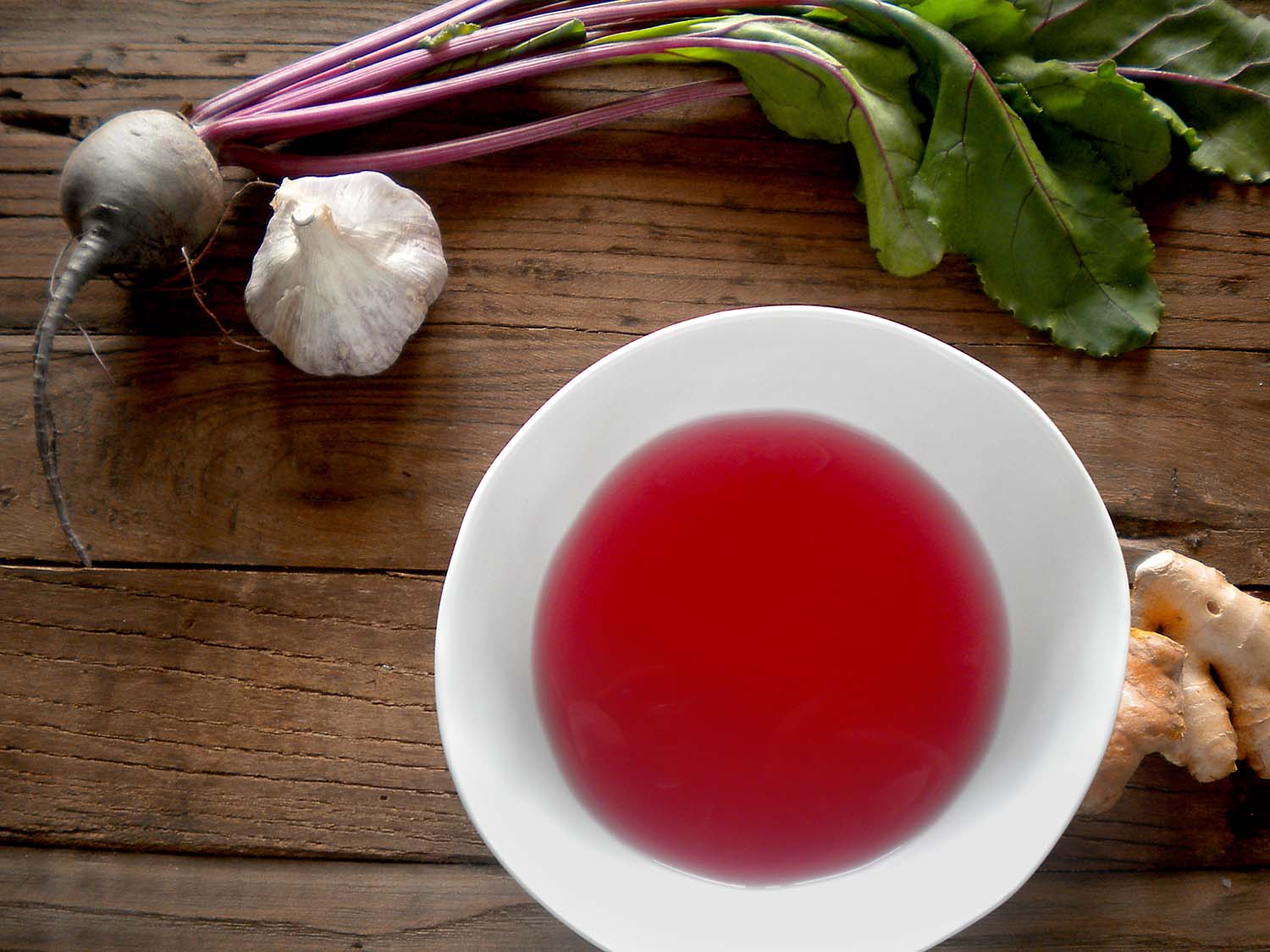 We think bone broth is just awesome. A wonderfully understated superfood, really, when you consider the sheer amount of nutrition you can jam pack into a cup of it.
We love to savour a cup when we are fighting a cold or flu, or when our immunity needs a gentle but firm kick in the butt. And after we've had a long night working (or playing, it works wonders as a natural hangover helper). We love it just about anytime, really.
Sticking to liquid fuel in the morning and moving onto solids from noon throughout the latter part of your day can really improve your digestion.
Lately though, we're really into it as a quick breakfast on the run. Sticking to liquid fuel in the morning and moving onto solids from noon throughout the latter part of your day can really improve your digestion, which will do wonders for your mood, concentration and memory, not to mention ward off brain drain. This way of eating, or rather drinking, your breakfast is thought to give your digestive organs a well deserved rest, allowing your body and brain to do a little housekeeping. Maybe you've heard of intermittent fasting? It's all the rage these days for weight loss, but what you may not know is that you shouldn't do it if your blood sugar isn't balanced (which for most of us is the sad reality). That means intermittent fasting, and its proven weight loss benefits, is out until we can get our blood sugar under control. But we don't want to lose out on its benefits so we have found a way to still reap them: bone broth for breakfast.
In addition to the crazy amount of nutrition from the bones, our broth also contains beta-carotene rich carrots and prebiotic containing beets to feed your gut-brain axis. We've also added neuron loving turmeric and black pepper (whose active ingredient piperine makes turmeric work better), and some apple cider vinegar to help your digestive, and brain health out even more.
Garlic Turmeric Bone Broth
Ingredients
4-5 lbs. of poultry bones, feet, backs, wings and necks (organic and free-range if possible)
1 gallon of cold water (enough to cover the bones)
3 large carrots, cut in half
3 beets, peeled and cut in half
1/4 cup apple cider vinegar
10 whole peppercorns
5 garlic cloves
2 bay leaves
1 1/2 Tbsp turmeric
Coarse sea salt, to taste
Method
Preheat oven to 210F.
In a large stock pot*, add bones, vinegar, peppercorns, garlic and bay leaves and cover with cold water.
Allow this mixture to sit for about 30 minutes to help draw out some of the minerals.
Place stock pot on medium heat until hot but do not let it come to a boil.
With a spoon, skim off any froth that forms on the surface. Cover pot with a lid for about an hour, leaving it slightly ajar so the broth doesn't overheat and boil.
Place in oven and let cook for 12 hours at least, up to 24 hours. Add water as necessary to keep solids covered.
Line a large mesh sieve with cheese cloth, and strain your bone broth.
Stir in salt to taste.
Place 4-5 large sealed ice packs directly into strained bone broth to expedite cooling.
Stir turmeric into the cooled broth.
Once cooled, broth can be stored for up to 1 week, or used for our yummy gummy whole food supplement candies!
Notes
*Alternatively this broth can be made using the same method, in a crock pot. Just cook on low.

LET'S DIG IN AND MAKE SOME OF THE SCIENCE EASIER TO DIGEST!
Apple Cider Vinegar:
Just might be what you need to keep your energy up throughout the day and beat that mid-afternoon or early evening crash, because it's shown to balance post-prandial blood glucose (the spike in blood sugar after eating).
A great mood booster and natural antidepressant because it increases tryptophan which builds our mood regulating neurotransmitter serotonin.
Turmeric:
Its active compound (the part that makes it work), curcumin, helps decrease inflammation and free radicals in the brain to improve memory and has potential to be a treatment for Alzheimer's.
It's a natural antidepressant since it increases a protein called Brain-Derived Neurotrophic Factor (BDNF) which grows new neurons (brain cells) and allows them to talk to one another.
Peppercorns:
One of its main ingredients, piperine, is getting superstar status because of its ability to increase serotonin in the brain areas responsible for learning, memory and problem solving.
Dopamine is involved in motivation for rewards but it also facilitates movement, depending on it's location in the brain. Piperine seems to prevent the loss of dopamine neurons, showing promise in the fight against Parkinson's Disease.
You might also enjoy: