Refried Black Bean & Chickpea Tacos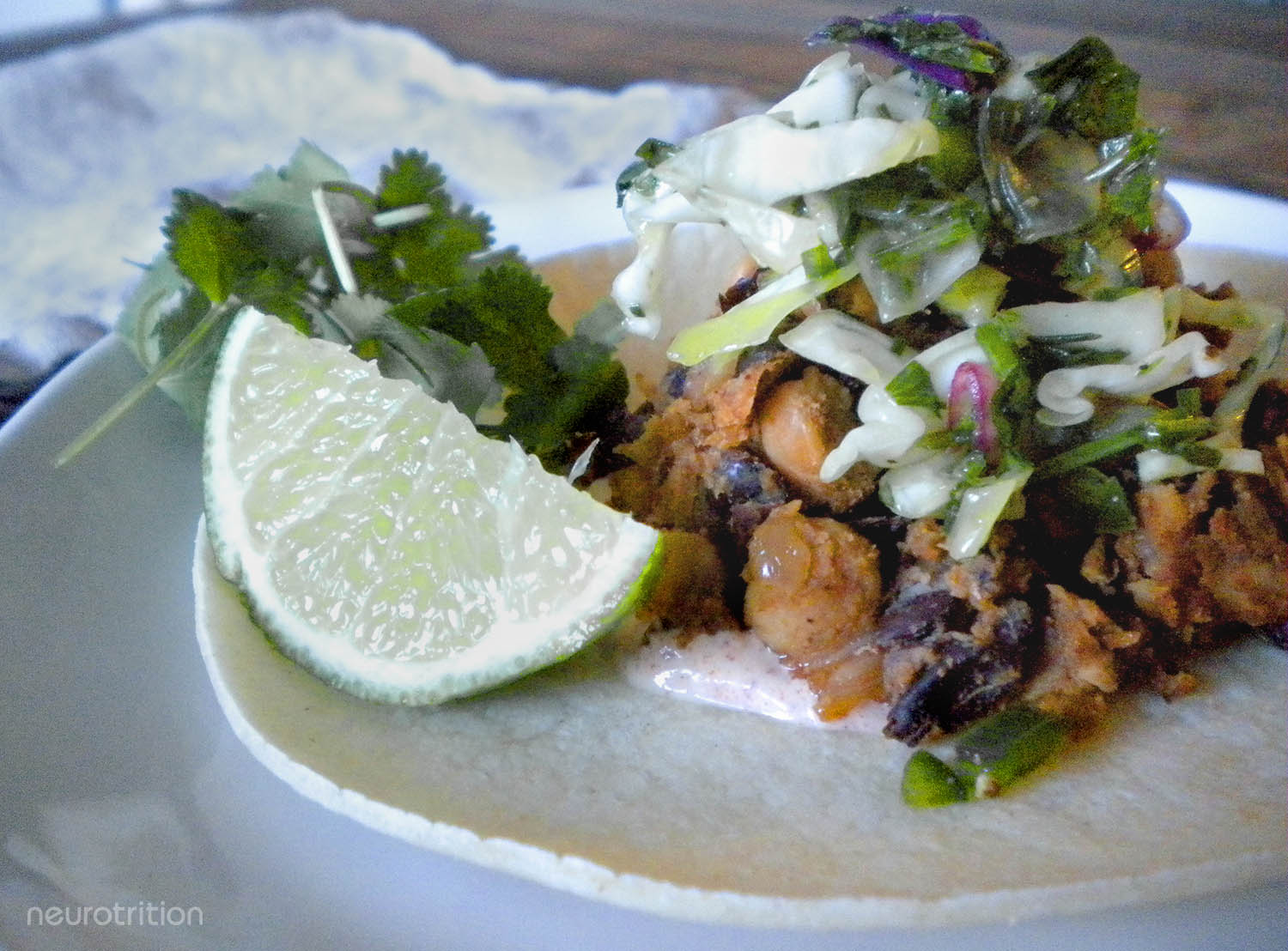 Refried just sounds bad, doesn't it? Well, it doesn't have to . In fact, these gluten free, grain free, vegan tacos are the opposite of bad. They're so good and so good for you, loaded with mood boosting protein, B vitamins and MCTs (medium chain triglycerides, thank you coconut oil!). They're also ridiculously simple, and budget-friendly to make, too. This recipe is definitely one to make for company (or just for yourself, since it is so quick and easy).
These tacos pair beautifully with our Cinco de Mayo Brown Rice Salad for the full fiesta experience. Want a fish taco instead (or with)? Our Blackened Mahi Mahi Tacos are perfect to summon up some brain loving aloha spirit.
Refried Black Bean & Chickpea Tacos
Ingredients
1 can BPA-free black beans, rinsed and drained
1 can BPA-free chickpeas, rinsed and drained
5 Tbsp cold pressed coconut oil
1 head of garlic, roasted
1 Tbsp lemon zest, (approximately 1 lemon)
1 white onion, finely chopped
1 Tbsp chili powder
1 tsp cumin
Sea salt and pepper, to taste
12 Homemade Corn Tortillas or store-bought non-GMO corn tortillas
Better Slaw (optional)
Chili Lemon Crema (optional)
Method
Place the coconut oil in a skillet on medium heat.
Sauté onions until translucent.
Add roasted garlic, lemon zest, and seasonings. Allow to sauté for 3 minutes.
Add black beans and chickpeas, and mash with the back of a wooden spoon or potato masher.
Continue to sauté this mixture for another 3-5 minutes, until thoroughly heated.
Divide the black bean & chickpea filling equally among the tortillas, then top with slaw and crema.
Notes

LET'S DIG IN AND MAKE SOME OF THE SCIENCE EASIER TO DIGEST!
Black Beans:
The magnesium in black beans will keep you sharp, as it has been associated with better learning and memory!
Expectant mothers would be wise in keeping their folate levels high (black beans have an abundance) as low levels have been tied to DNA damage, which could in turn have drastic repercussions for baby!
Chickpeas:
With their high fibre content, chickpeas can improve the bacteria in your gut, which can have a huge impact on how your brain functions.
Lower intake of the B vitamin thiamine, abundant in chickpeas, has been linked to depression in older adults. 
Onions:
Onions, which contain the amino acid methionine, can help restore brain functioning in those with Alzheimer's disease.
Fisetin, a metabolite found in onions, has been shown to decrease degeneration of areas in the brain associated with making new memories. 
You might also enjoy: