Blackened Mahi Mahi Tacos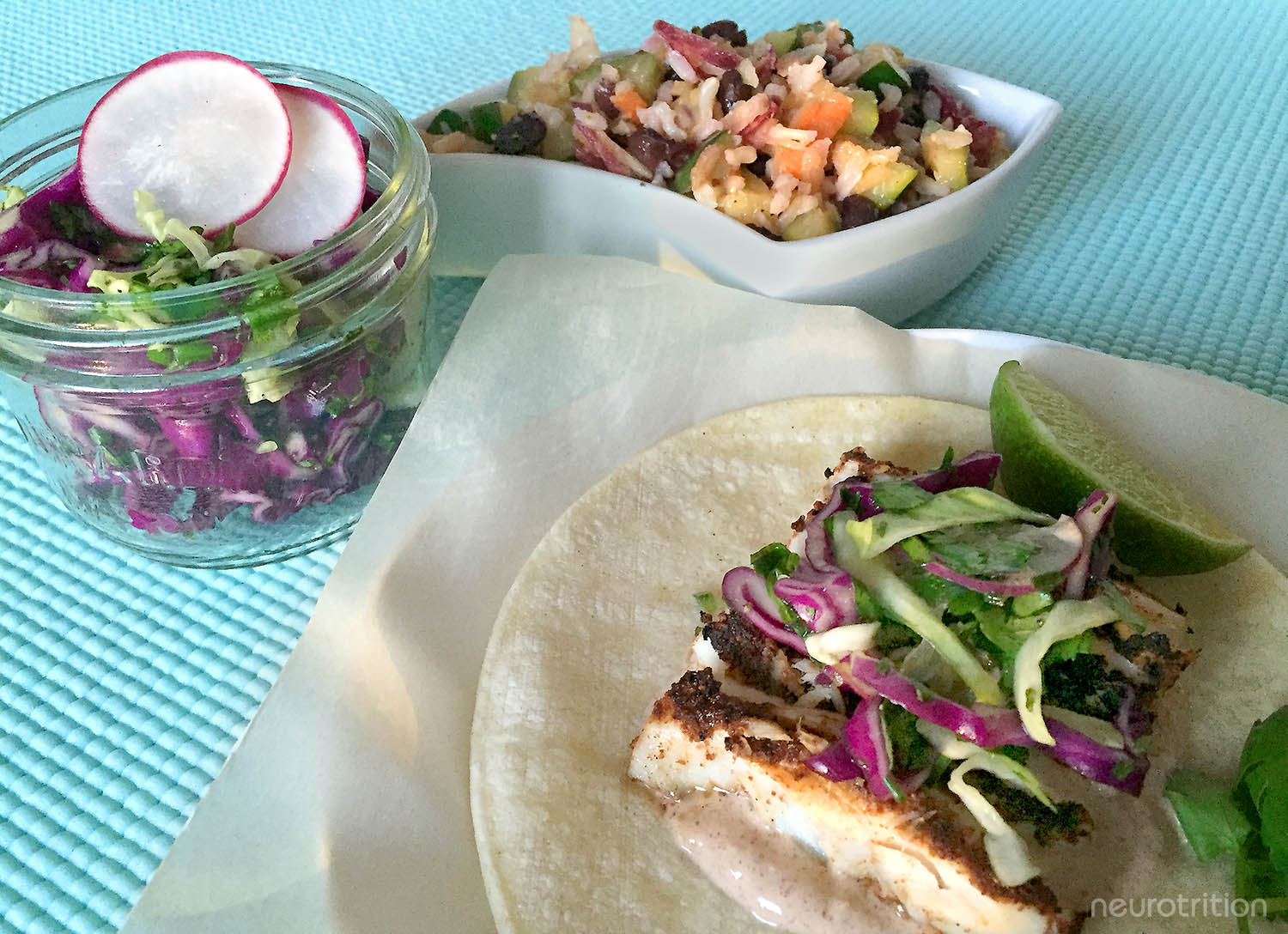 Fish tacos just might be my favourite food.
When I think fish tacos I think Summer. Most recently, after a trip to Hawaii where I think I ate fish tacos every single day (often for more than one meal a day) for a week, I now also think Hawaii and holiday when I think of fish tacos. So basically, they are a big love for me.
We wanted to recreate this happiness of Summer and holidays (and for those of you who have had the chance to fall in love with Hawaii, that aloha spirit), and bring some brain healthiness to the table, too. We also wanted to make it super simple. So voila: our summer holiday inspired fish tacos. Any white fish will work for these tacos, and if you're eating fish for brain and mental health our top picks are black cod (aka. sablefish) and halibut for their hefty dose of omega-3s, protein, vitamin D and calcium. But we went with mani mahi to capture that real aloha spirit.
Go all out and have an authentic Mexican fiesta by pairing this taco recipe with our Cinco de Mayo Brown Rice Salad. Want a vegan alternative? Our Refried Black Bean and Chickpea Tacos are also awesome.
Blackened Mahi Mahi Tacos
Ingredients
Method
Completely pat dry the 2 fish fillets with paper towels.
Mix all seasonings together to create the blackening spice.
Sprinkle the blackening spice over both sides of the fillets, making sure to pat and lightly massage the spices into the fish.
Heat a cast iron skillet on medium high.
Keeping the pan completely dry, place the fillets in the skillet.
Cook for approximately 2-4 minutes per side, depending on the thickness of the fillet.
Once the fish fillets are cooked through, let them rest on a plate for about 5 minutes.
Flake fillets apart with two forks, pulling in opposite directions.
Divide the mahi mahi filling equally among the tortillas, then top with slaw and crema.
Notes
* If using frozen fillets, defrost before starting!

LET'S DIG IN AND MAKE SOME OF THE SCIENCE EASIER TO DIGEST!
Mahi Mahi:
The high amounts of selenium in Mahi Mahi can help keep your levels optimal, which has been associated with lower depressive symptoms.
Mahi Mahi contains niacin, which along with other B vitamins, has been found to be a key player in teens' mental health and behaviour. 
Cumin:
Cumin's powerful antioxidant properties might help curb damage to all cells in our body, as everything from pollution to stress can create oxidative stress.
For those curious types (or future NeuroTritionists), some new evidence has emerged on the mechanics of cumin's anti-inflammatory effects in the brain.
Chili Powder:
The vitamin C content in chili powder might help to save some of our brain cells as it has been shown to decrease neurodegeneration!
Good news for women who may be experiencing higher amounts of inflammation and depressive symptoms, as the vitamin B6 content in chili powder has been shown to reduce these symptoms. 
You might also enjoy: