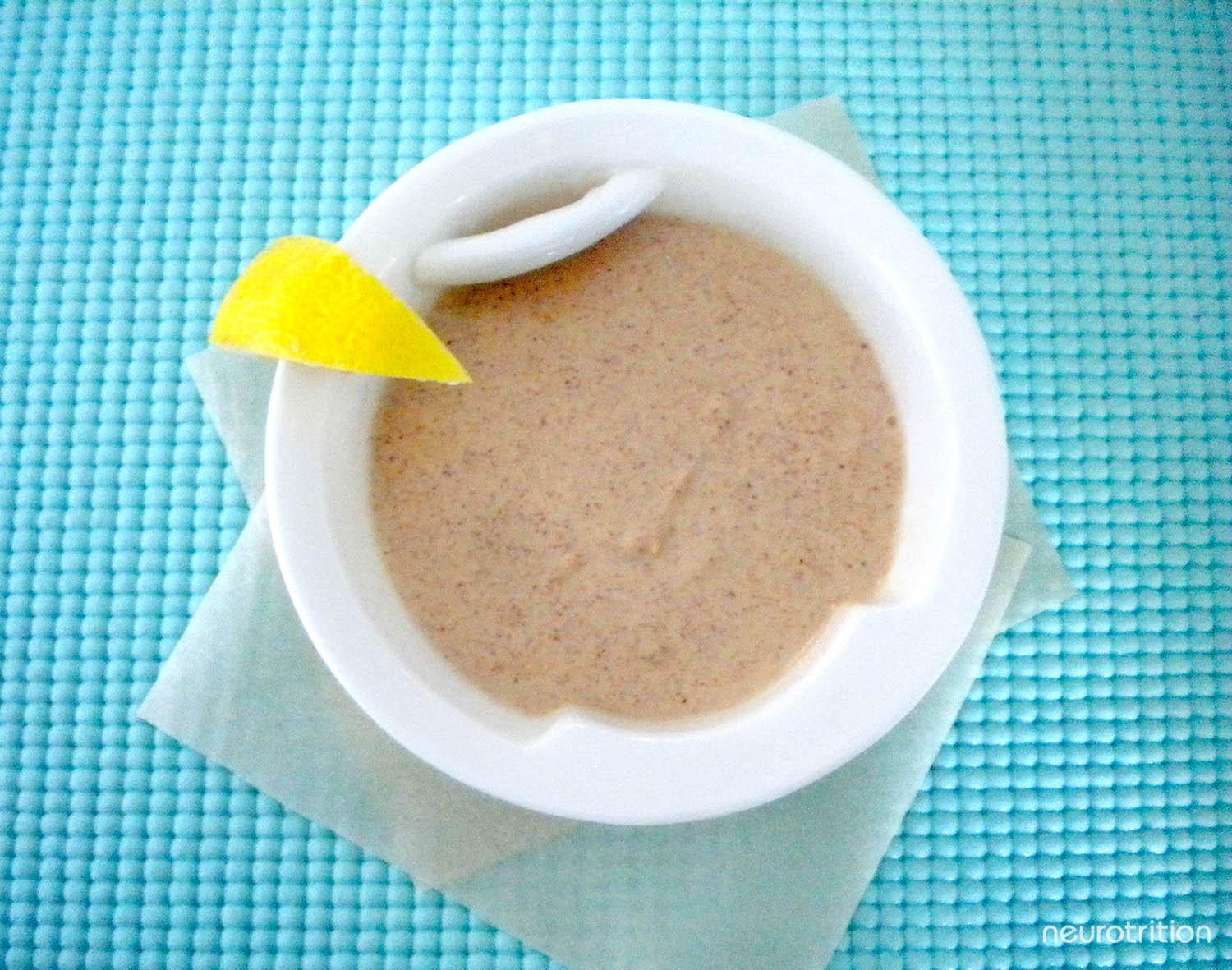 This simple crema will take any dish you put it in to the next level. The Greek yogurt, lemon, chili powder and garlic it's made from are all brain (and gut!) power superstars. And the beautiful flavour profile they create when married together will put a smile on your face (which, in turn, will make your brain happy even if it wasn't before, according to research).
It's so easy to make, and has almost infinite uses because you can add it to just about anything (savoury, please!) A few of our brainy Favs include:
Chili Lemon Crema
Ingredients
1/2 cup plain Greek yogurt
1 lemon, juice and zest
1 1/2 tsp chili powder
2 cloves raw garlic, grated or finely chopped
Method
Combine all ingredients.
Allow crema to sit in the fridge for about an hour, so the flavours can meld together.
Notes

LET'S DIG IN AND MAKE SOME OF THE SCIENCE EASIER TO DIGEST!
Greek Yogurt:
Greek yogurt is packed full of protein and lots of healthy probiotics which are key in digestion and a healthy gut.
There is a big connection between gut bacteria and mental health, and this type of yogurt may balance the brain activity affected by stress, stabilize moods and lower anxiety. 
Lemon:
It is high in vitamin C and has amazing antioxidant properties, getting rid of dangerous free radicals and decreasing inflammation in our brains!
It is actually alkalizing, and balances out acidity in the body as it aids in digestion. 
Chili Powder:
Chili powder adds quite the punch and flavour to foods, and one of its main ingredients, capsicum, is a powerful antioxidant that also decreases inflammation!
It contains vitamins A and C, which help protect our cell membranes and decrease oxidative stress damage.
This powder can cause the release of endorphins, nature's painkiller and happy hormone! 
Caturia, N., Funes, L., Penez-Fons, L., & Micol, V. (2011). A Randomized, Double-Blinded, Placebo-Controlled Study of the Effect of a Combination of Lemon Verbena Extract and Fish Oil Omega-3 Fatty Acid on Joint Management. Journal of Alternative and Complimentary Medecine. 17(11), 1051-1063.
Jolayemi, A., & Ojewole, J. (2013). Comparative anti-inflammatory properties of Capsaicin and ethyl-aAcetate extract of Capsicum frutescens linn [Solanaceae] in rats. African Health Sciences, 13(2), 357–361.
Takada, M., Nishida, K., Kataoka-Kato, A., Gondo, Y., Ishikawa, H., Suda, K., Kawal, M., Watanabe, O., Igarashi, T., Kuwano, Y., Miyazaki, K., & Rokutan, K. (2016). Probiotic Lactobacillus casei strain Shirota relieves stress-associated symptoms by modulating the gut-brain interaction in human and animal models. Neurogastroenterology & Motility. In Press.