Cinco de Mayo Brown Rice Salad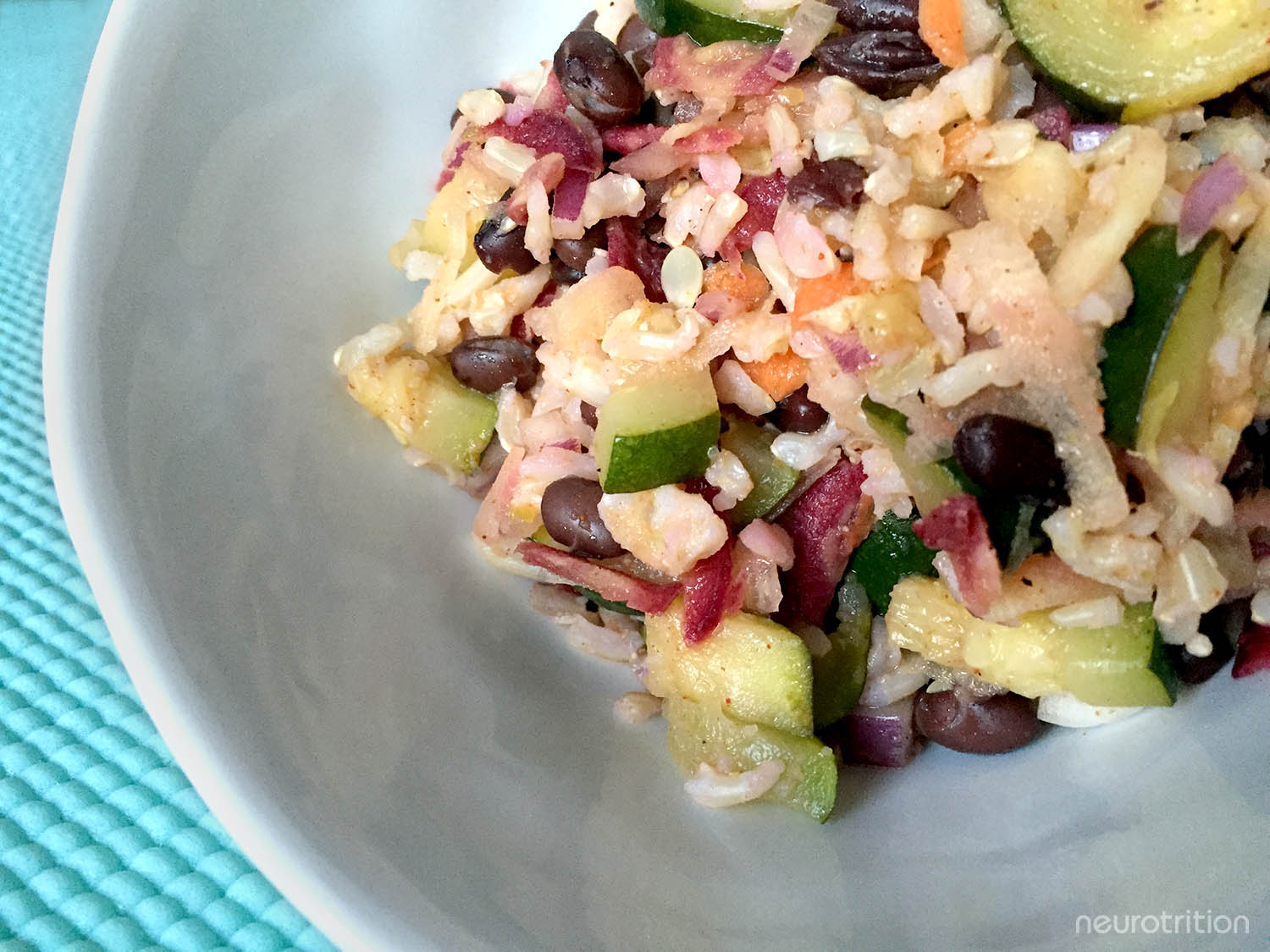 Cinco de Mayo is all about celebrating Mexican heritage and enjoying good food. So we decided to bring a little bit of these festivities to a dish that otherwise is anything but festive: brown rice salad. Say goodbye to blah and hello to fun with this colourful, flavourful, brain loving dish.
Serve this dish hot or cold, on its own as a salad, side or main. The combination of brown rice and black beans (or any whole grain plus legume for that matter – so mental note!), makes a complete protein that supplies all your amino acids, the same way meat, dairy and eggs do—but in a vegan form. This means you can transition to eating more plant based (and save mega money buying grains and beans in bulk, while improving your health) without feeling like you're skimping on the protein. That alone is worth celebrating, in our books!
Want to go all out? Prepare a gluten free Mexican fiesta and serve this salad with our Blackened Mahi Mahi Tacos or Refried Black Bean and Chickpea Tacos.
Cinco de Mayo Brown Rice Salad
Ingredients
2 cups brown rice
4 cups low sodium, organic chicken stock (or water)
1 cup raw carrots, shredded
2 zucchini, cut into 

1/2

 inch cubes
1 Tbsp cold pressed coconut oil
1/2 red onion, diced small
1 can BPA-free black beans, rinsed and drained
1 Tbsp extra-virgin olive oil
1 lemon, juice and zest
1 lime, juice and zest
1 clove garlic, grated

1/2

 tsp cumin

1/2

 tsp chili powder
Sea salt and pepper, to taste
Method
Prepare rice to package instructions, with stock or water.
Allow rice to cool to room temperature, and then set aside in refrigerator.
Lightly sauté your zucchini for 2 or 3 minutes, then allow to cool in the refrigerator.
In the bottom of large bowl mix the lemon juice, zest, garlic, and all the seasonings together.
Add the remaining ingredients, along with the cooled rice and zucchini.
Notes

LET'S DIG IN AND MAKE SOME OF THE SCIENCE EASIER TO DIGEST!
Zucchini:
Zucchini is rich in flavonoid antioxidants such as carotenes and lutein as well as vitamin C, which decrease brain inflammation and gobble up free radicals.
They are a great source of potassium, which increases blood flow and can increase thinking ability and concentration, as well as folate to slow the decline in our cognitive abilities.
Coconut oil:
Ketones made from the breakdown of the fat in coconut might actually have temporary effects when treating Alzheimer's Disease by enhancing memory.
Ketones may improve our thinking ability so we can break through that mental fog and crash we experience throughout the work day.  
Lime:
Not only is lime great for adding some flavour to water, but it is also a great anti-inflammatory packed with tons of vitamins and minerals!
Since lime is an excellent source of vitamin C, it is a great protective factor against free radical damage in the brain.  
You might also enjoy: