Macadamia Mocha 'Neuroccino' with Salted Caramel Drizzle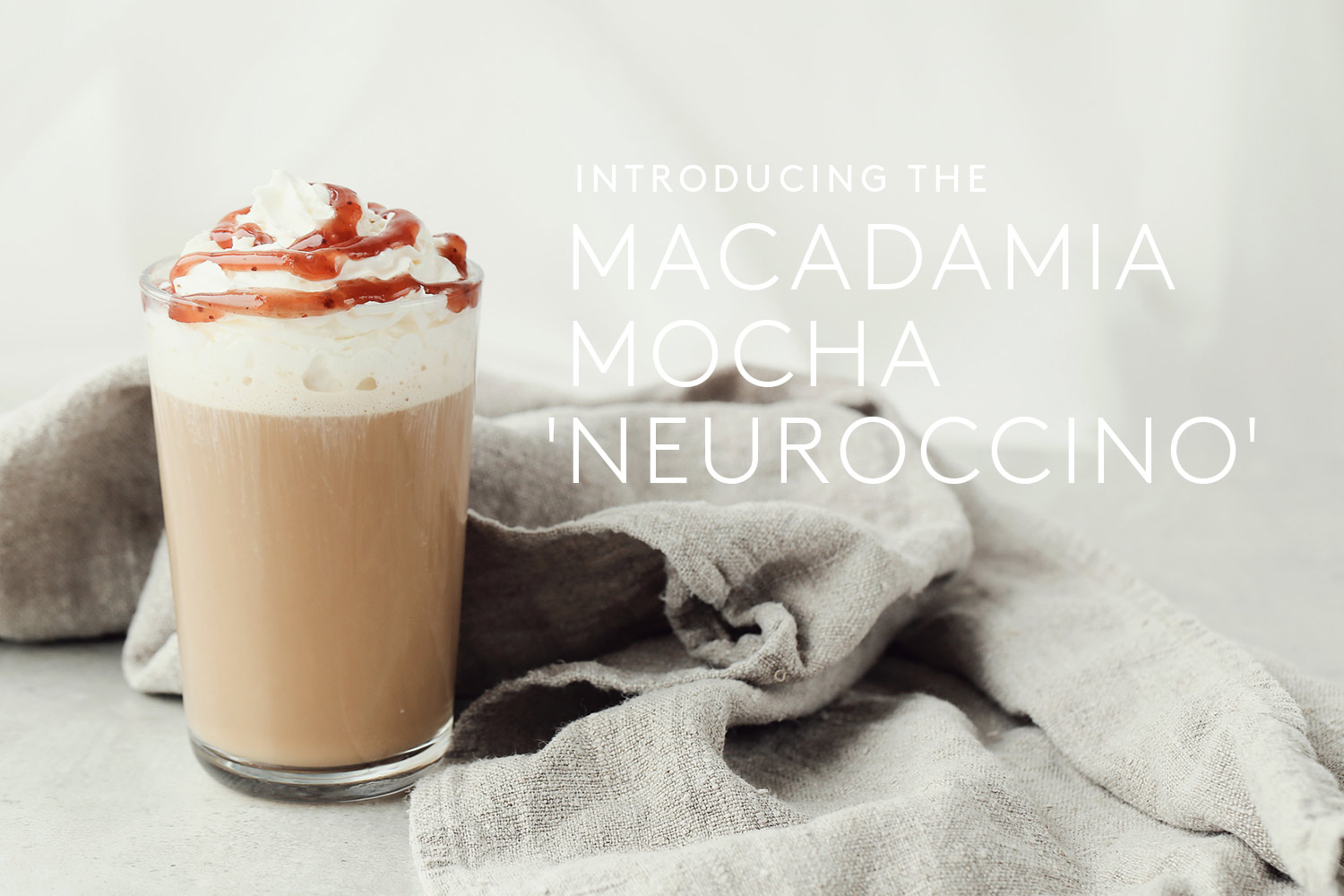 I treat myself to ONLY ONE Frappuccino every year at Starbucks. Because I love how they taste but I hate what they're made of. This love/hate relationship with the Frappuccino is what inspired me to make our own version of it, only better. Ours has loads of brain loving ingredients (and, I think it tastes way better, too!)
Welcome to the Neuroccino, the brain and mental health supporting evolution of the Frappuccino.
This one's good enough (and good enough for you) to have for breakfast, instead of just as a treat. It's even great for your little ones' noggins, too (no actual mocha was used in the making of this Neuroccino).
Need nut-free solutions, due to an allergy or for the no-nut policy at your child's school? No problem : the Neuroccino tastes really great made nut-free, too! We've got a note below on how to go nut-free with this recipe if you choose to.
Macadamia Mocha 'Neuroccino' with Salted Caramel Drizzle
Yield:
1 large or 2 small
Ingredients
Neuroccino Ingredients:
1 cup ice
1 can full fat coconut milk (BPA-free)
2 Tbsp raw macadamia nuts*
1 Tbsp maca powder
1 Tbsp raw cacao powder
1 tsp pure vanilla extract
2 Tbsp pure maple syrup
1/2 Tbsp coconut sugar
Drizzle Ingredients:
4 medjool dates, pitted and soaked
2 Tbsp raw almond butter*
1 Tbsp coconut sugar
1 lemon, zest and juice
1/2 tsp sea salt
1 Tbsp hot water
Coconut whipped cream (optional topping)
Method
Place all Neurouccino ingredients into a high-power blender, blend for about 2-3 minutes, until smooth. Pour into a tall glass.
Place all ingredients for caramel drizzle in blender, blend until smooth. Set aside.
Top Neurouccino with coconut whipped cream if using, and drizzle with salted caramel.
Notes
*Make it nut-free:
Remove macadamia nuts & almond butter to make this recipe into a delicious nut-free mocha! If you want, you can add some of our homemade coconut butter instead.

LET'S DIG IN AND MAKE SOME OF THE SCIENCE EASIER TO DIGEST!
Coconut:
The medium-chain triglycerides (healthy fats) in coconut provide an efficient source of energy for the body (the less strain on our body, the better our brain runs).
Ketones made from the breakdown of the fat in coconut might actually have temporary effects when treating Alzheimer's Disease by enhancing memory.
Ketones may also improve our thinking ability so we can break through that mental fog we experience throughout the work day.
Maple Syrup:
A newly discovered compound found in maple syrup, quebecol, was found to be associated with a reduction in pro-inflammatory cytokines (chemical messengers that initiate the immune response and jack inflammation).
Another naturally occurring compound from maple syrup extract might be able to reduce the amount of antibiotics necessary to combat infectious bacteria, which could in turn affect brain functioning. 
Vanilla Extract:
Vanilla extract has antioxidant properties that help neutralize damaging effects of free radicals on the brain to help mental health diseases including depression.
Vanillin, a compound found in vanilla extract, has been shown to reduce levels of inflammation in the blood (which can gain access to, and wreak havoc on the brain).
You might also enjoy: