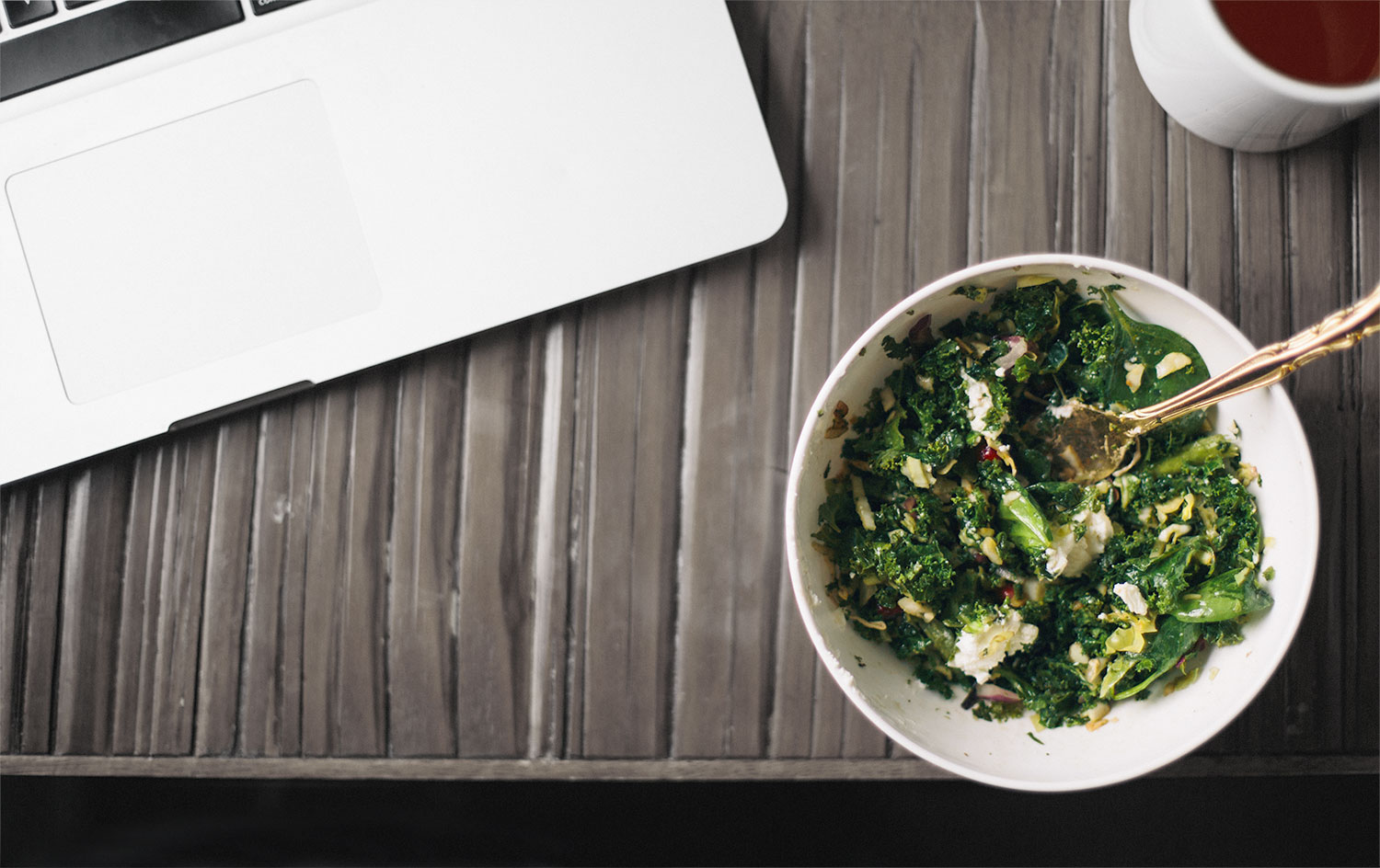 I really, really love caesar salad when it's made using fresh, whole food ingredients. And, contrary to popular belief, it's not bad for you. I'm not talking about poor quality caesar salads using God knows what "caesar dressing" — those are not good. But the simple, basic ingredients in a real caesar salad (I'm talking real anchovies, eggs, lemon, garlic, extra virgin olive oil and mustard) are actually good for your brain.
Want to make your caesar salad even brainier? Swap half the lettuce in the recipe below for even more kale and take a deliciously swinging punch at brain diseases like ALS, Alzheimers, brain cancer and stroke, too!
Kale Caesar Salad
Ingredients
Salad Ingredients:
2  bunches kale, woody stems removed rough chopped (or, when it's out of season and super expensive, an extra head of lettuce)
1 head of romaine, roughly chopped
Dressing Ingredients:
5 anchovy fillets, canned in olive oil
3 garlic cloves
1 tsp sea salt
2 egg yolks
2 tsp grainy dijon mustard
2 lemons, zest and juice
1 tsp black pepper
4 Tbsp extra virgin olive oil
1/3 cup avocado oil
Optional toppings: free range bacon or coconut bacon, poached egg, goat cheddar, crushed raw almonds
Method
Place all dressing ingredients, except oils, in high-power blender. Blend until a smooth paste forms, about 1 minute.
With the blender on low, slowly drizzle both oils in until it comes together, and becomes a thick creamy dressing.
At this point taste and adjust your seasoning to preference.
Toss dressing with kale and romaine* in large bowl just before serving.
Top with any optional toppings you like**!
Notes
* Fun leftover fact: This salad, if dressing and kale are stored separately, can be used to make a caesar wrap the next day for a new lunch. Simply roll up your salad in a sprouted or whole grain tortilla! You can store the dressing in an airtight container for 1 week.
** Protein Boost: You can top this salad with a baked chicken breast for a bit of extra protein! Just rub a chicken breast with a 1 teaspoon of avocado oil, 1/4 teaspoon chili flake, pinch of salt and black pepper. Roast in a 350ºF oven for about 20 minutes, or until the center is 170ºF.

LET'S DIG IN AND MAKE SOME OF THE SCIENCE EASIER TO DIGEST!
Kale:
A bona fide superfood with some of the highest amounts of the free radical killer beta carotene (which makes vitamin A)
Showing potential for brain disorders including Alzheimers, ALS, brain cancer and stroke!
Free Range Eggs:
High in the brain loving nutrient choline. Choline creates the important neurotransmitter, acetylcholine, which is a key ingredient in thinking and memory!
High in lecithin, a compound that helps improve memory and increases the "happy" cholesterol HDL while lowering the "lousy" LDL. 
You might also enjoy: