Sweet Potato Pancakes with Peach Compote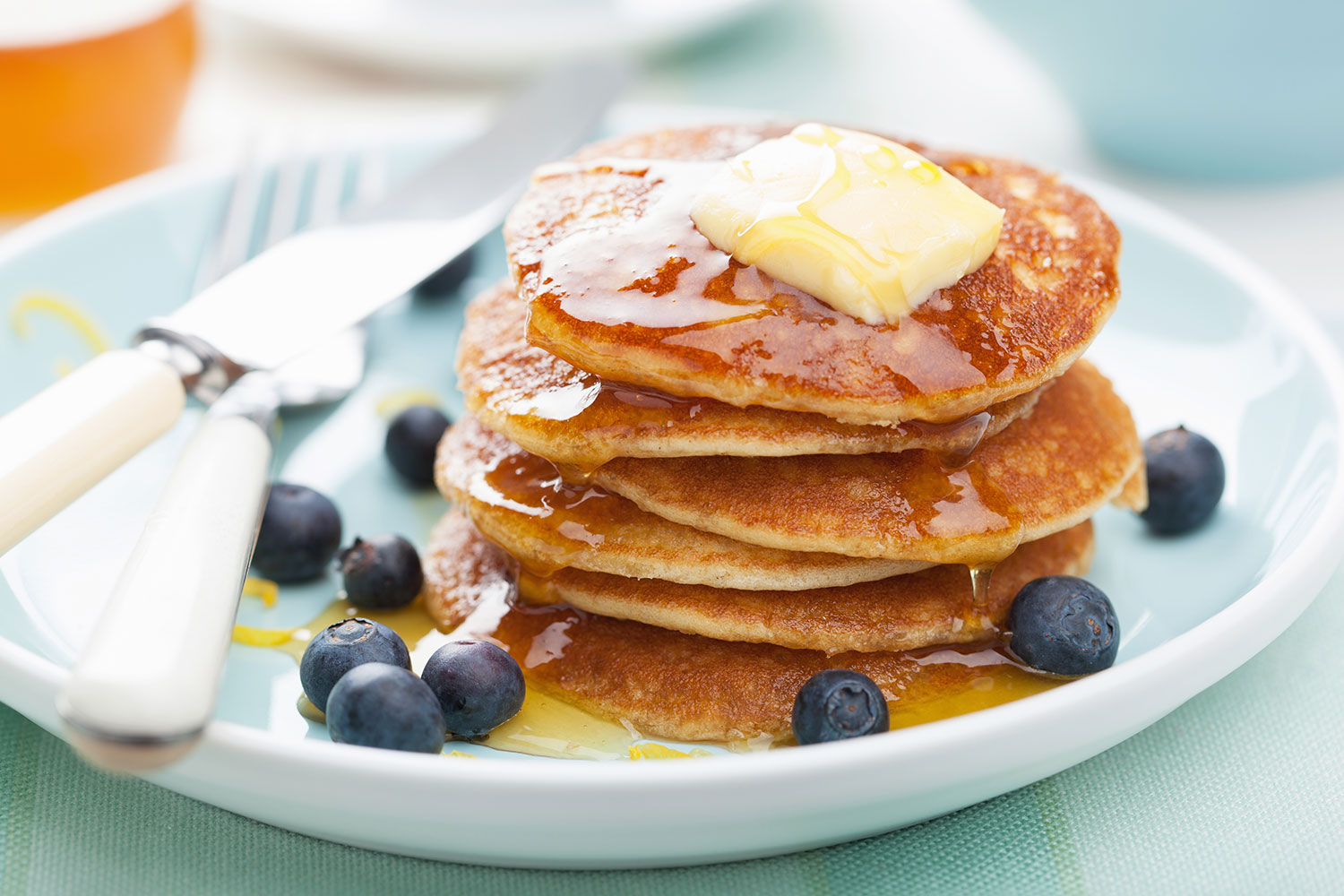 Pancakes don't usually make it onto our NeuroTrition Rx for brain and mental health. But. The good news is: They can. These paleo-friendly (and vegan-friendly, with a little swap) little babies are lower carb and much higher fibre than your traditional pancakes, not to mention completely free of processed, refined white carbs and poor quality sweeteners. Our chosen healthy fats are great for your brain, and they also boost the absorption of the sweet potato's brain-loving nutrient, beta-carotene! It's true synergy. And, these pancakes are brimming with brain healthy ingredients that make it on our list of Brain Food Essentials, including sweet potato, coconut flour, coconut oil, coconut sugar and cinnamon!
Did you by any chance grow up with Eggo waffles and continue to crave them to this day? Well, we made sure these pancakes could freeze well, for up to 3 months, so they can double as a waffle — so L'Eggo YOUR Eggo and try ours, instead!
Jam can be a real brain drain. But it tastes so good. So, we've created this little peach compote as a wonderful alternative to store-bought jam. We've made sure it stores nicely in your fridge for up to 2 weeks so you can ditch those sugar (or artificial sweetener) laden jams and keep things sweet with this healthy delicious option, instead.
Sweet Potato Pancakes with Peach Compote
Ingredients
Pancake Ingredients:
1 large mashed sweet potato*
3 Tbsp coconut flour
4 free range eggs**
1/2 tsp baking powder
1/2 tsp baking soda
1 tsp true cinnamon
3 Tbsp coconut sugar or pure maple syrup
Cold-pressed coconut oil, for greasing pan
Optional toppings: Grass fed butter, coconut whipped cream, coconut butter, or blueberries
Compote Ingredients:
4 cups fresh peaches (use frozen if not in season)
3/4 cup coconut sugar
1 tsp pure vanilla extract
1/2 tsp vanilla beans (approximately 3 vanilla pods scraped)
Zest & juice of 1 lemon
1/4 tsp sea salt
Method
Pancake Method:
Place all ingredients, except coconut oil, in a high power blender, and blend for a few minutes until smooth.
In a non stick skillet, heat a small amount of coconut oil.
Place 1/8 cup pancake batter in skillet. Allow air bubbles to form around edges, about 2 minutes, then flip. Cook another minute and remove, then repeat this with all of batter.
Top with peach compote, and coconut whipped cream or grass fed butter or coconut butter, if using.
Compote Method:
Place all ingredients into a medium sauce pan, bring up to a boil, then back down to a simmer.
Allow to simmer for 20-30 minutes, until sauce has slightly reduced.
Mash with a fork or immersion blender, and slather all over some pancakes.
Notes
*Mashed Sweet Potato:
You can do this ahead of time, when you know you're going to want these pancakes sometime during the week or on the weekend! Preheat oven to 400ºF. Peel and roughly chop 1 sweet potato, toss in some melted coconut oil, sprinkle with a pinch of sea salt and black pepper and place on a baking sheet lined with parchment. Bake for 40 - 50 minutes, depending on the thickness and size of sweet potato, and mash.
**Make It Vegan:
To make this recipe egg free and thus vegan, use flax eggs & 1/2 of a banana instead! To make one egg equivalent, simply mix 1 Tbsp flaxseed meal with 2 1/2 Tbsp water, and allow to sit for 5 minutes. For this recipe, use 2 Tbsp flaxseed meal and 5 Tbsp water, to make 2 flax eggs. Mash 1/2 of a banana & incorporate in to your flax egg and continue with the recipe replacing eggs with this mixture! 
Fun Leftover Fact: These pancakes can last up to 3 months in an airtight container in the freezer! Just make sure they are cooled to room temperature before sealing them up and popping them in the freezer. They can also be made into waffles, and are a great replacement for those yummy frozen waffles we grew up with.
Compote can be stored in an airtight container for up to 2 weeks as a delicious alternative to store bought jams.

LET'S DIG IN AND MAKE SOME OF THE SCIENCE EASIER TO DIGEST!
Sweet Potatoes:
Sweet potatoes contain fibre, mostly insoluble fibre. These insoluble fibres are known to reduce the risk of diabetes, improve gut health and help you manage your weight—all of which are good for your noggin.
A particular sweet potato extract known as "caiapo" has been termed a "natural insulin sensitizer" because it seems to help improve blood sugar regulation.
Free Range Eggs:
High in the brain loving nutrient choline. Choline creates the important neurotransmitter, acetylcholine, which is a key ingredient in thinking and memory!
High in lecithin, a compound that helps improve memory and increases the "happy" cholesterol HDL while lowering the "lousy" LDL. 
Bovell-Benjami, A.C. (2007). Sweet Potato: A Review of its Past, Present, and Future Role in Human Nutrition. Advances in Food and Nutrition Research, 52:1-59.
Cevallos-Casals, B.A. and Cisneros-Zevallos, L.A. (2002). BIOACTIVE AND FUNCTIONAL PROPERTIES OF PURPLE SWEETPOTATO (IPOMOEA BATATAS (L.) LAM). Acta Hortic. 583, 195-203.
Poly, C., Massaro, J., Seshadri, S., Wolf, P., Cho, E., Krall, E., . . . Au, R. (2011). The relation of dietary choline to cognitive performance and white-matter hyperintensity in the Framingham Offspring Cohort. The American Journal of Clinical Nutrition, 94(6), 1584-1591.
You might also enjoy: