Pomegranate Gin+ger Spritzer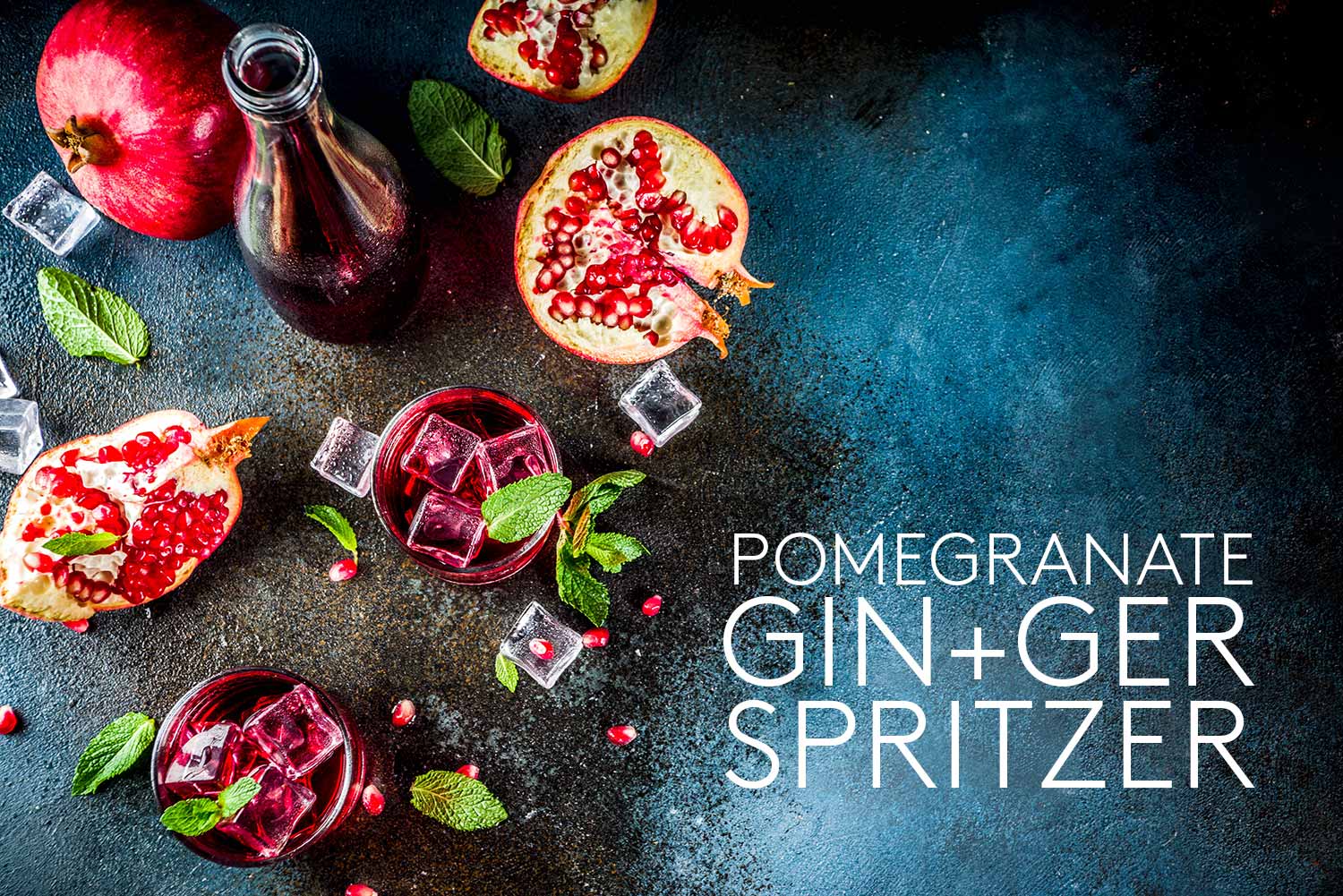 This is one of my FAV cocktails and I promise after one sip, it will become one of yours too! I have to be honest, our NeuroTrition Rx does not include alcohol. Alcohol can really take a toll on our brain (and body) in a negative way. But that is not to say you can never ever have it – we're all about the 80/20 principle and fully support partaking in the occasional indulgence. Because the holidays can be challenging when it comes to healthier options, we are continuing our series for brainy and healthy holiday recipes. If you haven't already tried them we created the perfect potluck dish, Jalapeño Poppers, Gluten Free Sugar Cookies for those of you with a sweet tooth like me, and our Cranberry Dark Chocolate Cookie Mix in a Jar, a gift you can feel good about giving.
Our Pomegranate Gin+ger Spritzer is a reviving drink filled with pomegranates, gin, ginger, honey, mint and rosemary. Alcohol or gin in this case, is a nutrient depleter, which is not so great for our mental health. So when we created this spritzer, we partnered it up with lots of brain-friendly ingredients to keep in line with our 80/20 principle.
There is nothing quite like the taste of ginger. It can be hot, zesty with a bit of bite or soothing, sweet and warm. This healing herb has been used for thousands of years for its medicinal properties (we dive more into them in our Brain Food Essentials: Ginger blog). We now know one (of the many) reasons ginger is very effective, is due to its high antioxidant capacity. Antioxidants (a.k.a. inflammation fighters) protect our brain by combating free radicals (little molecules that can damage our DNA and cells like our neurons). Free radicals can be produced by our own body or consumed by us through alcohol, and refined and processed foods. Overproduction or high consumption of free radicals leads to inflammation, but with the super antioxidant powers of ginger, we can keep those free radicals at bay and help keep our brains in tip top shape.
And speaking of superpowers, pomegranates are also a potent source of antioxidants (more than 3x as many than other antioxidant beverages such as green tea and red wine)! This berry (yes, technically a pomegranate is classified as a berry), is also rich in antioxidant vitamin C, fibre (for healthy gut bugs), potassium (to increase our concentration), vitamin K (to keep your memory in tip-top shape), folate (to slow cognitive decline) and magnesium (the anti-anxiety mineral). So, yes, it has nutritional superpowers.
And unlike many cocktail drinks that are crafted with sugar laden simple syrups, we created a honey ginger syrup which won't spike your blood sugar but still gives you a little bit of sweetness and a whole lot of brain love. We've also included other brainy ingredients like rosemary and honey. Check out the Brainy Bites at the end of the recipe to learn the science. I cannot wait for you to try this drink, I promise your taste buds and brain will love it!
Pomegranate Gin+ger Spritzer
Ingredients
Pomegranate Gin Spritzer
1 lime, juiced
1 cup unsweetened blueberry pomegranate juice
1/3 cup sparkling water
4 oz gin
Ice
4 Tbsp honey ginger syrup (recipe below)
Fresh mint for topping
Pomegranate arils (a.k.a. the seeds) for topping*
Honey Ginger Syrup:
2 Tbsp fresh, sliced, peeled ginger
1/3 cup water
1/4 cup raw honey
1/2 cup mint leaves
Sprig of rosemary
Method
Bring 1/3 cup water, honey and ginger to a boil over high heat. Simmer 1-2 minutes, remove from heat. Add mint and rosemary, cover and let sit for 10-15 minutes. Strain out the ginger, mint and rosemary. Syrup can be stored for 1-2 weeks in the fridge.
Fill two glasses halfway with ice, set aside.
Add equal parts to each glass, sparkling water, blueberry pomegranate juice, lime juice, syrup and gin. Stir to combine.
Garnish with fresh mint and pomegranate arils*. Enjoy!
Notes
*To remove arils from the pomegranate we have two methods:
Roll the pomegranate to loosen the arils. Score around the middle of the pomegranate and tear it open into halves. Hold each half over a bowl, arils facing down and tap the skin with a wooden spoon, squeeze slightly to release the arils. Easy peasy!
Quarter the pomegranate. Submerge into a bowl of water and pull apart the quarters, releasing the arils with your hands. The seeds will sink, while the membrane of the pomegranate will float and you can then drain the arils.

LET'S DIG IN AND MAKE SOME OF THE SCIENCE EASIER TO DIGEST!
Honey:
The active compounds in honey are polyphenols like flavonoids and catechins, so this sweet, natural substitute for refined sugar has excellent antioxidant effects.

Honey might actually making us happier and calmer with its anti-depressant and anti-anxiety effects, and enhance our memory.
Rosemary:
Two cool compounds in it, carnosic acid and carnosol, account for over 90% of the antioxidant activity of rosemary AND may also help this culinary herb fight neuroinflammation (inflammation in your brain that scientists are now linking to depression and anxiety).
Because of its ability to inhibit brain cell death and slow the production of an Alzheimer's disease related protein called beta-amyloid, rosemary is being looked at as a key brain food for Alzheimer's free aging!
Pomegranate:
Pomegranates have 3x more antioxidants than green tea and red wine.
The anti-inflammatory potential of pomegranate extract is very promising, with research suggesting positive improvements in arthritis, cardiovascular disease, diabetes, and Alzheimer's Disease.
Ginger:
The antioxidant effects of ginger root are thought to safeguard the neurons (nerve cells) of the brain against the oxidative stress that is common in many neurodegenerative diseases including Parkinson's and Alzheimer's Disease.
Chemicals found in ginger have been shown to directly interact with the serotonin 5-HT1A receptor believed to be responsible for antidepressant effects.
You might also enjoy: