Sparkling Cranberry Kombucha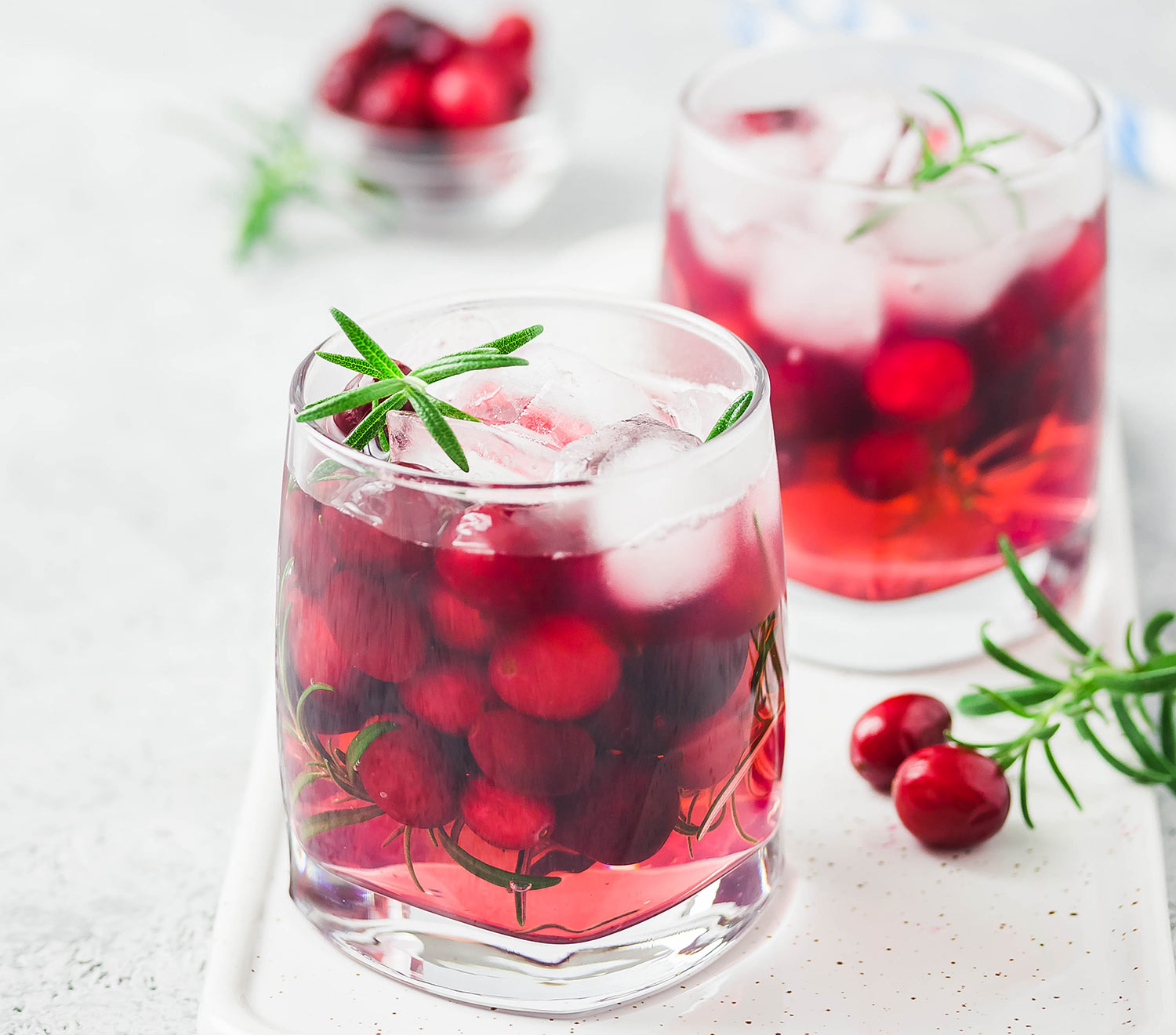 With the new year approaching in a few weeks, how many of you have already decided on your New Year resolutions? I bet there is a high chance that "Dry January" or "drinking less" may be on your list? If this is your resolution, you are among the many – it appears to be a growing trend.
There was a global study published in 2019, and over 50% of the surveyed population (and upwards of 90% in select countries) wanted to decrease their alcohol consumption. And in Germany, a country known for their beer, there has actually been a decline in alcohol sales, and an increase in low and non-alcoholic beverages. So what has changed? There are different factors such as better awareness about the health effects, new laws to protect against drinking and driving, and the simple fact that no one wants to feel hungover.
But one common deterrent of people actually reducing consumption is that low and non-alcoholic drinks can be, well, BOR-ING. We've heard this over and over from our clients, so we created a delicious alternative for them, Sparkling Cranberry Kombucha. This drink uses kombucha instead of alcohol, so it won't leave you with a dreaded hangover.
If you haven't heard of kombucha, in the simplest of terms, kombucha is a fizzy, fermented drink. It is made of black tea (sometimes green tea), a SCOBY (symbiotic culture of bacteria and yeast) and sugar (to feed the bacteria and yeast). It can be described as a living cocktail of: tea polyphenols (a type of antioxidant), fibre, sugar, alcohol (typically less than 1%*), amino acids, vitamins, minerals, probiotics and enzymes.
And because of all these wonderful nutrients, kombucha has gained popularity in recent years for its four properties: detoxification, antioxidation, energizing potencies, and immune boosting - all of which we know in theory should have positive effects on our brain, gut and mental health. But because the research is so new, there is limited science on human subjects. But there are very promising trials that have been done in rats!
We also included the little but mighty cranberry in this drink. Cranberries are loaded with antioxidants, anti-inflammatories, and antibacterial compounds that are beneficial to our health. Antioxidants are extremely important to keep inflammation and neuro-inflammation in check. When inflammation builds up too much in our bodies and brains, we may begin to feel its physical effects (aches, pains, stiffness) and mental effects (brain fog, depression, anxiety, cognitive decline).
When making the transition from booze to booch, another common deterrent can be habit. Habits are hard to break. And we get that. Our solution (and part of the NeuroTrition Rx) is to have our clients enjoy their kombucha or other non-alcoholic drink in a wine or cocktail glass. Our clients have had great success with this little brain hack because they still feel that the habitual part of enjoying some wine in a fancy wine glass is there.
***DISCLAIMER: If you have a sensitivity to alcohol or are in recovery from alcohol addiction, please avoid kombucha. There is a very small amount (<1%) of alcohol that is naturally occuring in kombucha. At this level, the alcohol is undetectable to most people but it can have an effect on those in recovery or with sensitivities. If you need or want to avoid the booch, we have a perfect alternative for you. NeuroTrition's Ginger Ale Fizz has all the brainy nutrients (and delicious flavor) of ginger, but with zero alcohol. Recipe in the notes below.***
Whether you use ginger kombucha or our Ginger Ale Fizz, you'll gain the benefits of ginger's super antioxidant powers! You can read more about this essential brain food, here.
Sparkling Cranberry Kombucha
Ingredients
For the drink:
1 414 ml True Büch Ginger Kombucha*
1 3/4 cup sparkling water
1 cup unsweetened cranberry juice (we used Patience Fruit and Co.)
1/4 cup fresh cranberries
2 Tbsp fresh rosemary sprigs
Ice
For the garnish:
Fresh cranberries
Fresh rosemary sprigs
Method
Fill six double old-fashioned glasses with ice, set aside.
In a pitcher, muddle together the cranberries and rosemary.
Add cranberry juice, kombucha and sparkling water, stir gently to combine.
Strain as you pour into ice filled glasses and garnish with rosemary and cranberries.
Notes
* If you need or want to skip the kombucha, try our NeuroTrition's Ginger Ale Fizz:
Combine 1 cup peeled, finely chopped ginger and 2 cup boiling hot water, simmer for 8 minutes and strain.
Add 2 tsp of raw honey and 1/2 cup of carbonated water to 1 cup of your ginger tea.
Voila! Ginger Ale Fizz with all the brainy nutrients.

LET'S DIG IN AND MAKE SOME OF THE SCIENCE EASIER TO DIGEST!
Kombucha:
Four key properties, namely detoxification, antioxidation, energizing potencies, and immune boosting may underlie its positive effects on brain and mental health.
In rats (so far, humans need to be looked at next!), it helps protect against a cholesterol-raising diet due to its antioxidant power.
Rosemary:
Two cool compounds in it, carnosic acid and carnosol, account for over 90% of the antioxidant activity of rosemary AND may also help this culinary herb fight neuroinflammation (inflammation in your brain that scientists are now linking to depression and anxiety).
Because of its ability to inhibit brain cell death and slow the production of an Alzheimer's disease related protein called beta-amyloid, rosemary is being looked at as a key brain food for Alzheimer's free aging!
Cranberries:
These little berries have proven to be very beneficial to human health because of their activity as antioxidants, anti-inflammatories, anti-bacterial and even anti-adhesion towards viral pathogens.
Recent research is exploring the incredible neuroprotective benefits of cranberries due to their high antioxidant capacity of flavanols, phytochemicals, anthocyanins, proanthocyanidins, phenolics, etc.
You might also enjoy: