Cranberry Dark Chocolate Cookie Mix in a Jar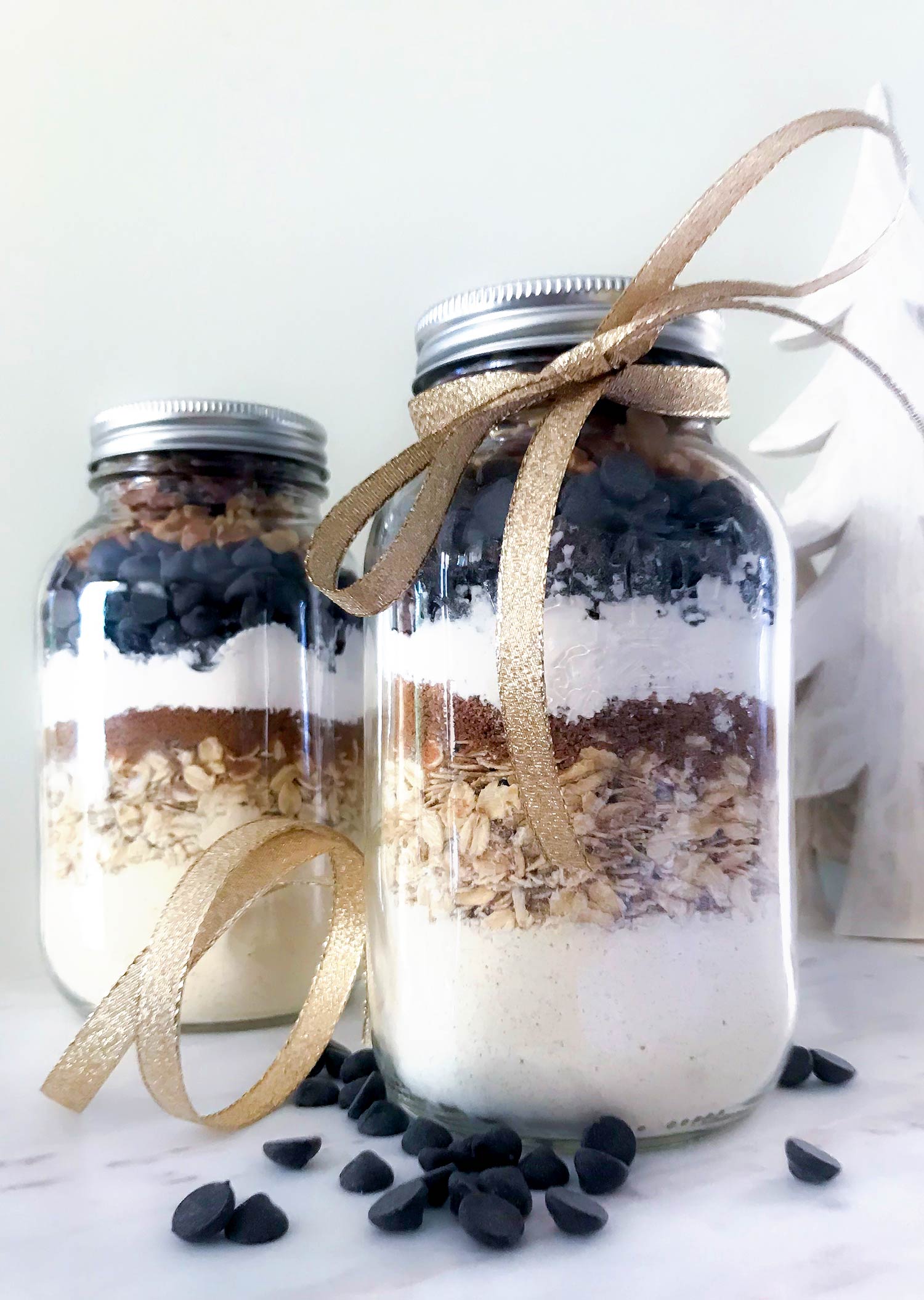 Finding the perfect holiday gift can be tricky sometimes. But we've got you covered with a healthy, yet decadent gift that you can feel good about giving. Our Cranberry Dark Chocolate Cookie Mix in a Jar is a fun way to show your love and appreciation this holiday season. Add an extra personal touch by dressing the jars up with a cute ribbon and handwritten tag. Or skip the jar altogether and just gift these delicious, brain-friendly cookies to yourself.
What makes these cookies so brainy and delicious? Let's talk about a few of our favourite ingredients (and check out many more below in the Brainy Bites).

Walnuts are a fan favourite amongst the NeuroTeam, and for good reason too. This little nut is jammed packed full of brain-loving nutrients like anti-inflammatory phytochemicals (phyto=plant), healthy fats - particularly omega-3s (these are essential for brain function), fiber (for your friendly gut bugs), and electrolytes which are crucial for your nervous system and brain. Plus, we love that they look like little brains! Want to learn more about why walnuts are an ultimate brain food? Check out this blog we wrote dedicated to the beloved walnut.
Pecans are an excellent source of the antioxidant Vitamin E. Vitamin E is one of many antioxidants which support improved cognitive function (our ability to think). Pecans are also loaded with zinc, a key mineral we need for communication in areas of our brains involved in memory.
And who could possibly resist a cookie with dark chocolate? Did you know cocoa has a higher antioxidant capacity than green tea, black tea or red wine? This is one reason it's an amazing brain food! On top of this, it is a great source of magnesium - a.k.a. the anti-anxiety mineral. Make sure to choose chocolate with 70% cacao content to get all the health benefits.
Instead of refined sugar, we used antioxidant-rich, low glycemic coconut sugar and monk fruit sweetener which won't spike your blood sugar, and won't leave you with any nasty sugar crash side effects (a.k.a. sleepy, mood swings, emotional, etc).  We explained the science of low glycemic and blood sugar in a recent recipe, here, if you want to learn more.
In this recipe, you fill a jar with all the pre-measured dry ingredients, so the gift-receiver only has to add the wet ingredients and bake. But you could fill a jar with the finished cookies, too! Either way, your foodie (and non-foodie) family and friends will love this cookie gift, as much as they love you!
Cranberry Dark Chocolate Cookie Mix in a Jar
Ingredients
1L glass jar*
1 1/4 cup gluten free flour
1 cup gluten free rolled oats
1 tsp baking soda
1/3 cup coconut sugar
1/3 cup sugar free powdered monk fruit sweetener
1/2  cup dried cranberries (we like Patience Fruit & Co)
1/2 cup dairy-free dark chocolate chips**
1/3 cup chopped raw walnuts
1/3 cup chopped raw pecans
Method
Method To Create Jar:
Layer the following ingredients in a 1L jar in any order:
- Gluten free flour
- Gluten free rolled oats
- Baking soda
- Coconut sugar
- Sugar-free powdered monk fruit sweetener
- Dried cranberries
- Dairy-free dark chocolate chips
- Walnuts
- Pecans
Include a tag or card with the recipe and the best before date. We have provided exactly what you need to say below (and there are vegan substitutions in the notes). It's a great personal touch to include this as a handwritten label or gift tag or scroll. But if you're planning on gifting several jars, you can also create a fun and festive little card on the computer, which can be a big timesaver during the busy holidays.
Recipe To Include With Jars:
---
CRANBERRY DARK CHOCOLATE COOKIE MIX (Gluten free)
To make this recipe you will need these wet ingredients:
- 1/2 cup salted grass-fed butter***
- 1 large free range egg***
- 2 tsp pure vanilla extract
Directions:
Preheat oven to 325F.  Line a baking sheet with parchment.
In a mixer, cream together the butter, egg and vanilla until light and fluffy.
Add the entire jar of ingredients. Mix all together until fully incorporated.
Drop the dough onto parchment paper using a cookie scoop (about 1 1/2 Tbsp).
Bake for 8-10 minutes.
Cool on a baking sheet. Serve and enjoy!
Note:
Ingredients will stay fresh for up to 3 months. To ensure please keep jar tightly sealed and stored in a cool, dry place.
---
Notes
* We recommend a clean and dry glass jar with an airtight lid to keep the ingredients as fresh as possible.
** We recommend at least 70% dark cocoa to get all the health benefits.
*** To Make It Vegan:
You can substitute grass-fed butter for the same amount of coconut butter. And substitute the free range egg for a flax egg. To make one egg equivalent, simply mix 1 Tbsp flaxseed meal with 2 1/2 Tbsp water, and allow to sit for 5 minutes before using.

LET'S DIG IN AND MAKE SOME OF THE SCIENCE EASIER TO DIGEST!
Coconut Sugar:
Undergoes far less processing than refined white sugars, and does not wreak havoc on blood sugar like they do.
It contains good amounts of inulin fiber, balancing our blood sugar levels to stabilize mood and increase energy.
It boasts impressive amounts of antioxidants, iron and zinc. Essential for brain development, zinc in particular is also key for communication in the brain areas involved in memory.
Vanilla Extract:
Vanilla extract has antioxidant properties that help neutralize damaging effects of free radicals on the brain to help mental health diseases including depression.
Vanillin, a compound found in vanilla extract, has been shown to reduce levels of inflammation in the blood (which can gain access to, and wreak havoc on the brain).
Dark Chocolate:
One class of compounds found in chocolate (flavonoids), has been found to limit the loss of function in brain cells, which might reduce the risk of developing neurodegenerative disorders such as Alzheimer's disease.
Rich in antioxidant flavonoids (especially ones called catechins) that can actually reach the brain directly and may help protect your brain cells.
It boosts memory, attention span, reaction time, and problem-solving skills by increasing blood flow to the brain.
Free Range Eggs:
Choline is abundant in egg yolks (yes, the yolks are healthy in moderation). Lower levels of this mood elevating nutrient have been found among depressed individuals.
Long-term consumption of B vitamins, which are plentiful in egg yolks, were found to be associated with decreased risk factors for depression.
High in lecithin, a compound that helps improve memory and increases the "happy" cholesterol HDL while lowering the "lousy" LDL.
You might also enjoy: