Dark Chocolate Whoopie Pies (Dairy Free Option)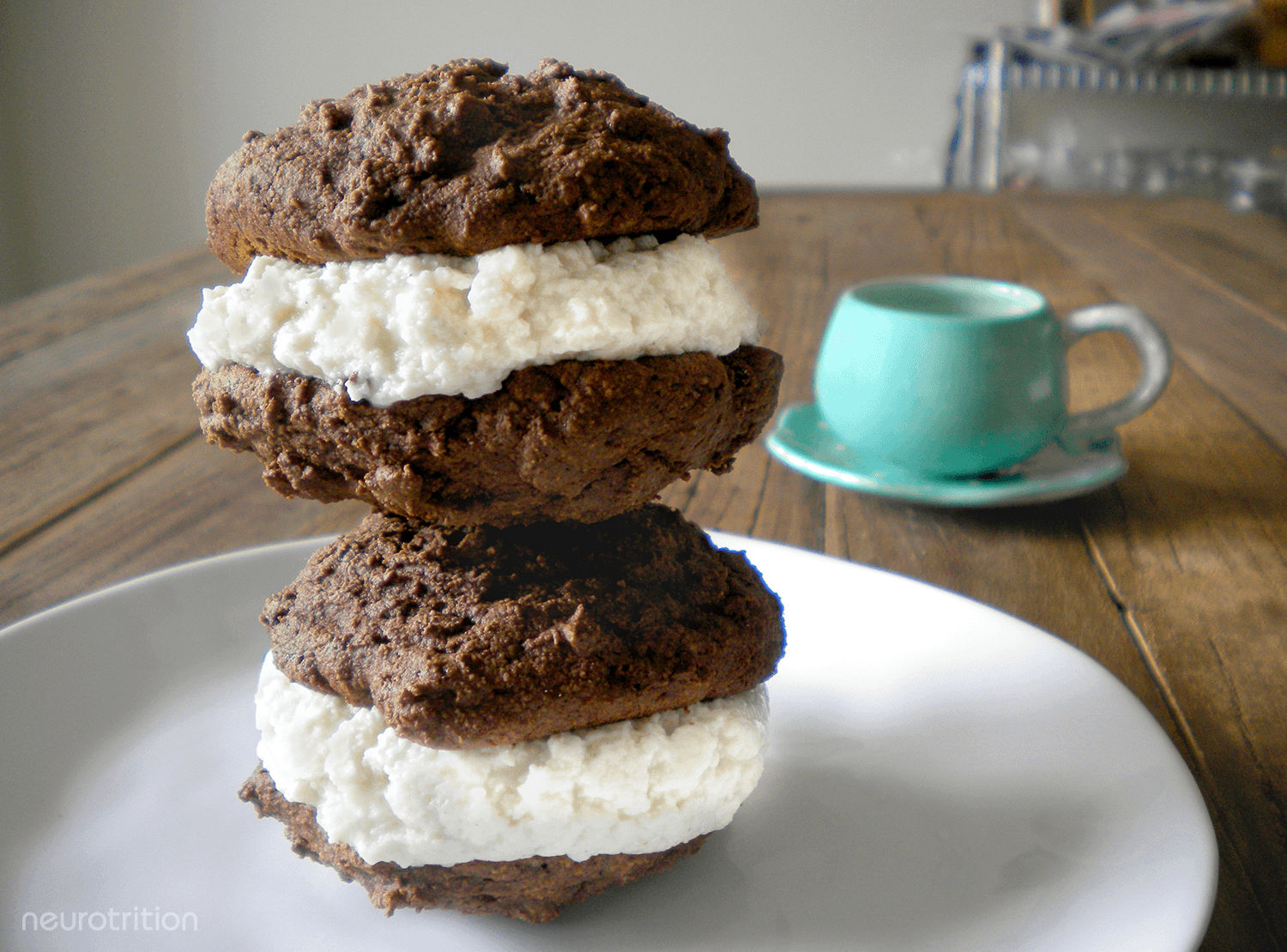 We've done it! We've created a healthy version of the classic Whoopie Pie that is delicious and packed full of stress-busting nutrients. Our gluten-free Whoopie Pies are made with coconut flour, which is high-fibre and high-protein. We also provide options to make them dairy-free!
This recipe uses coconut sugar and raw honey to ensure a deliciously sweet flavour, that is lower glycemic than the processed, refined sugar often used in other desserts. That means you won't ride the blood sugar roller coaster after eating our Whoopie Pies!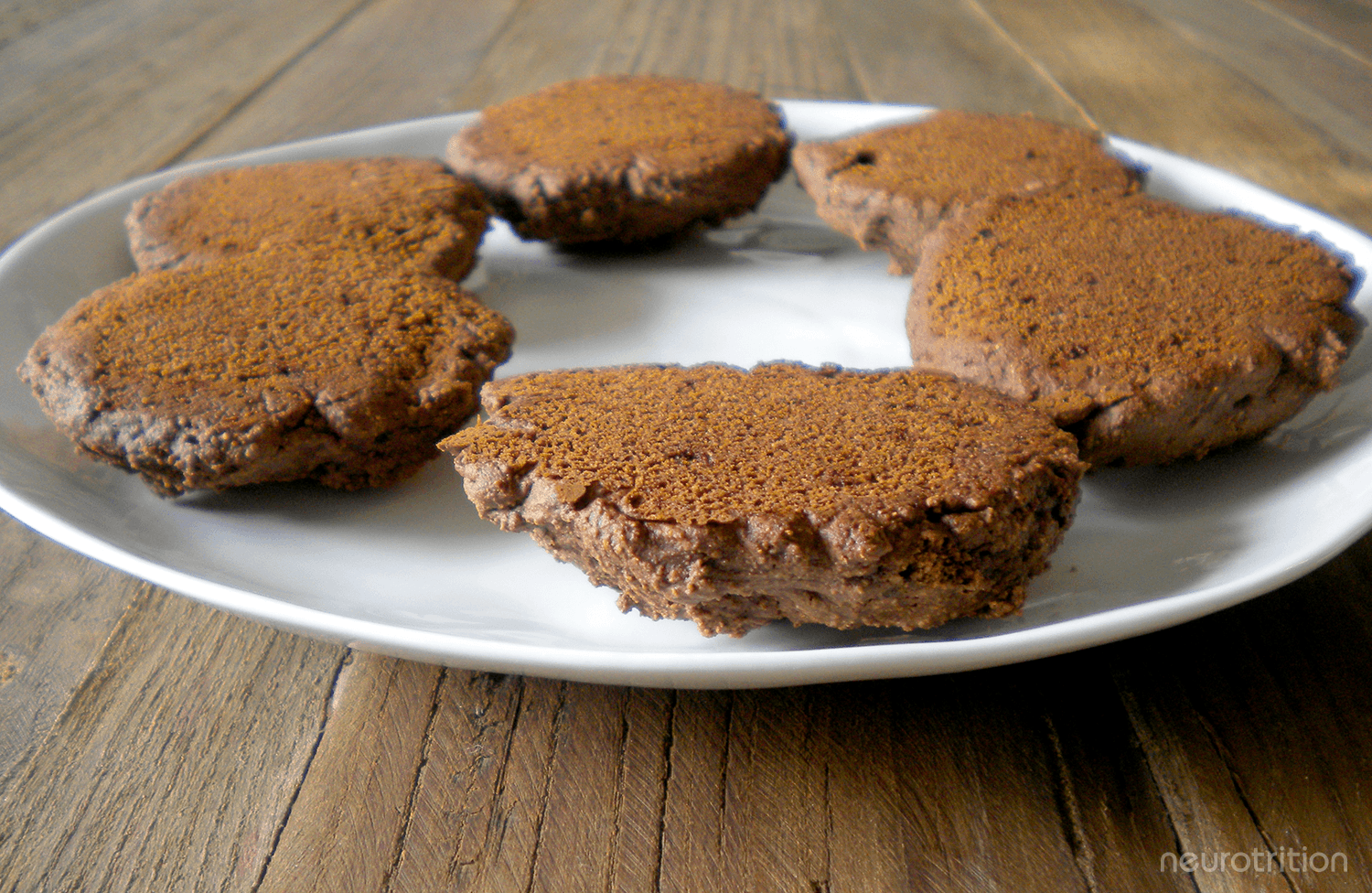 The coconut milk is a key ingredient with a perfect fibre-to-protein ratio that helps to maintain stable, steady energy and mood all day. And, perhaps best of all, the special fats in coconut milk are less likely to be stored as fat but actually help burn fat and boost metabolism (perfect for the holiday season).
This Whoopie Pie recipe pairs perfectly with our Peppermint Mocha for a brain-loving holiday treat.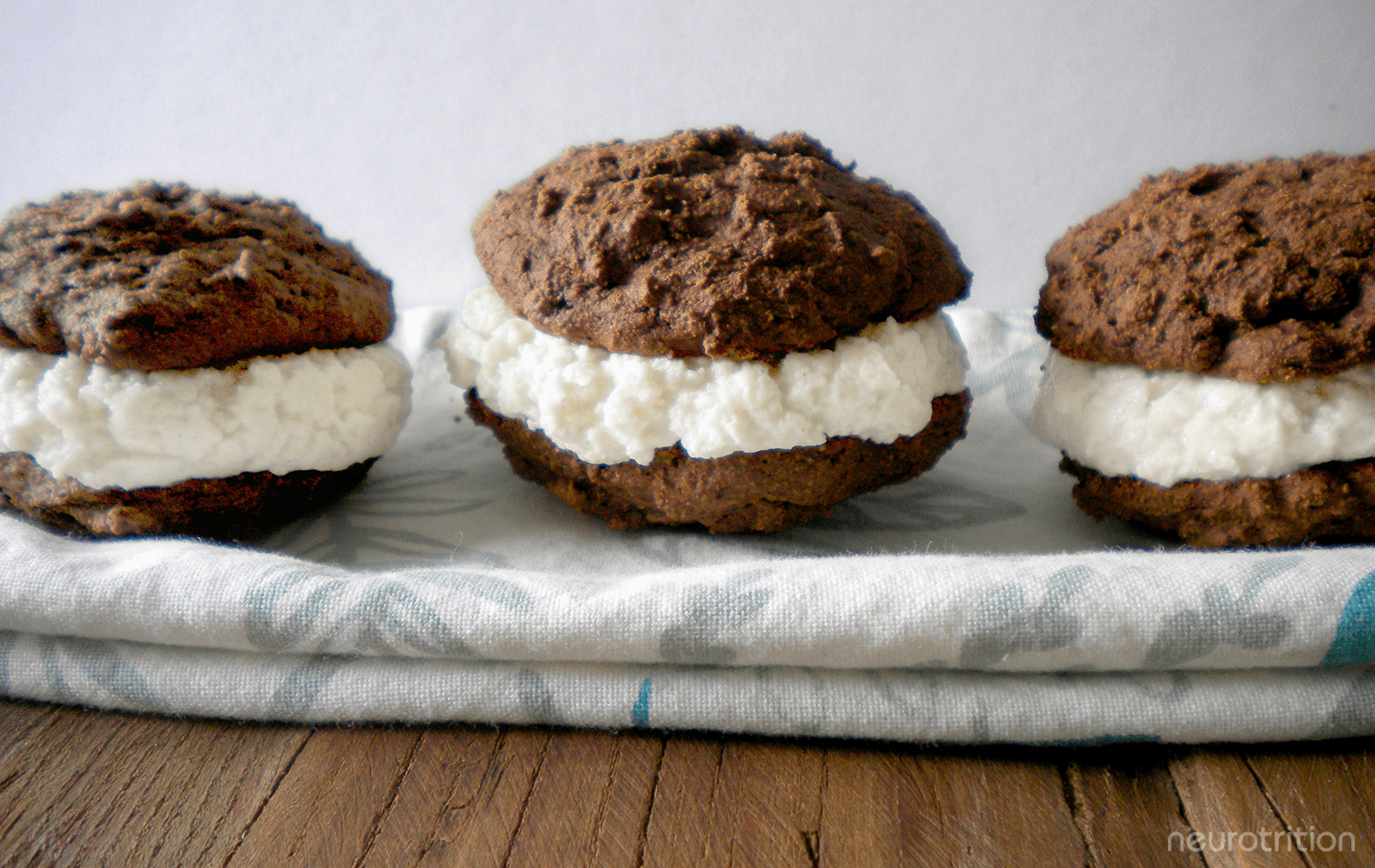 Dark Chocolate Whoopie Pies (Dairy Free Option)
Ingredients
Whoopie Pie Ingredients:
1 1/2 cups oat flour (certified gluten free)
1/2 cup coconut flour
1/2 cup cocoa powder
1 

1/2

 tsp baking soda

1/2

 tsp sea salt
1/4 cup butter* (preferably unsalted, organic and grass-fed)
1 cup coconut sugar
2 eggs
1 tsp apple cider vinegar
1 tsp vanilla extract
1 1/4 cups unsweetened coconut milk
Frosting Ingredients:
1/2

 cup butter* (preferably unsalted, organic and grass-fed)

1/2

 cup cream cheese* (preferably organic and grass-fed)
1 

1/2

 cups Coconut Whipped Cream
1 Tbsp coconut flour
8 drops orange essential oil**
2 vanilla beans, seeds reserved***
2 Tbsp raw honey
Method
Whoopie Pie Method:
Preheat your oven to 375F. Line two baking sheets with parchment paper.
Sift together flours, cocoa, baking soda and salt in a medium bowl, set aside. This is your dry mix.
In a separate medium bowl, cream butter and sugar together until light and fluffy.
Add in the eggs, apple cider vinegar, vanilla and coconut milk, and mix thoroughly. This is your wet mix.
Add your dry mix to the wet mix, and thoroughly incorporate. Let sit for 3-4 minutes to allow coconut flour to absorb some moisture.
Place 2 

tablespoons

 of batter 2 inches apart on baking sheets. Loosely form into circles with back of scoop or spoon. Bake for 8-9 minutes or until the tops spring back when touched. Take extra care to not overcook.

Cool for 5 minutes on the baking sheet and then transfer to a wire rack. Cool completely and before filling.
Frosting Method:
Cream your butter and cream cheese together, until light and fluffy, about 5 minutes.
Whip in Coconut 

Whipped 

Cream

, coconut flour, vanilla bean seeds, orange oil, and honey.

Pipe filling on to flat side of one of the cakes. Top with another cake of similar size and enjoy!
Notes
* These ingredients can be replaced with equal amounts of Coconut Butter, to create a dairy free Whoopie pie! Ensure that the coconut butter is refrigerated overnight and solid before using in the filling. 
** Ensure this is food-grade orange oil, and not 'aromatherapy' grade.
*** In this recipe, you will only use the inner seeds of the vanilla bean, but don't throw those leftover vanilla pods away! You can save these to infuse coconut sugar to use in tea, coffee, and just about anywhere else you'd like. All you need is 3 cups coconut sugar to every 2 vanilla bean pods, place in an airtight container, stirring every 4 days for 2 weeks, and voila!

LET'S DIG IN AND MAKE SOME OF THE SCIENCE EASIER TO DIGEST!
Eggs:
Choline is abundant in egg yolks (yes, the yolks are healthy in moderation). Lower levels of this mood elevating nutrient have been found among depressed individuals.

Long-term consumption of B vitamins, which are plentiful in egg yolks, were found to be associated with decreased risk factors for depression.
Apple Cider Vinegar (ACV):
Along with curbing the blood glucose spike after a sugary snack, ACV will keep you feeling full longer, which will ultimately keep you from indulging in teeth (and brain!) rotting high glycemic carbohydrates.
Like other organic compounds found in fruit, ACV contains polyphenols which are powerful antioxidants.
Orange Essential Oil (OEO):
Even opening that bottle of essential oil may reduce feelings of stress as the aroma has been shown to have anxiolytic (anxiety reducing) effects. In kids it's even shown to reduce their cortisol (stress hormone) response to a stressor.
Although studied in fish, OEO was found to improve immune functioning, which has a major impact on brain functioning and risk for brain and mental health issues.
You might also enjoy: