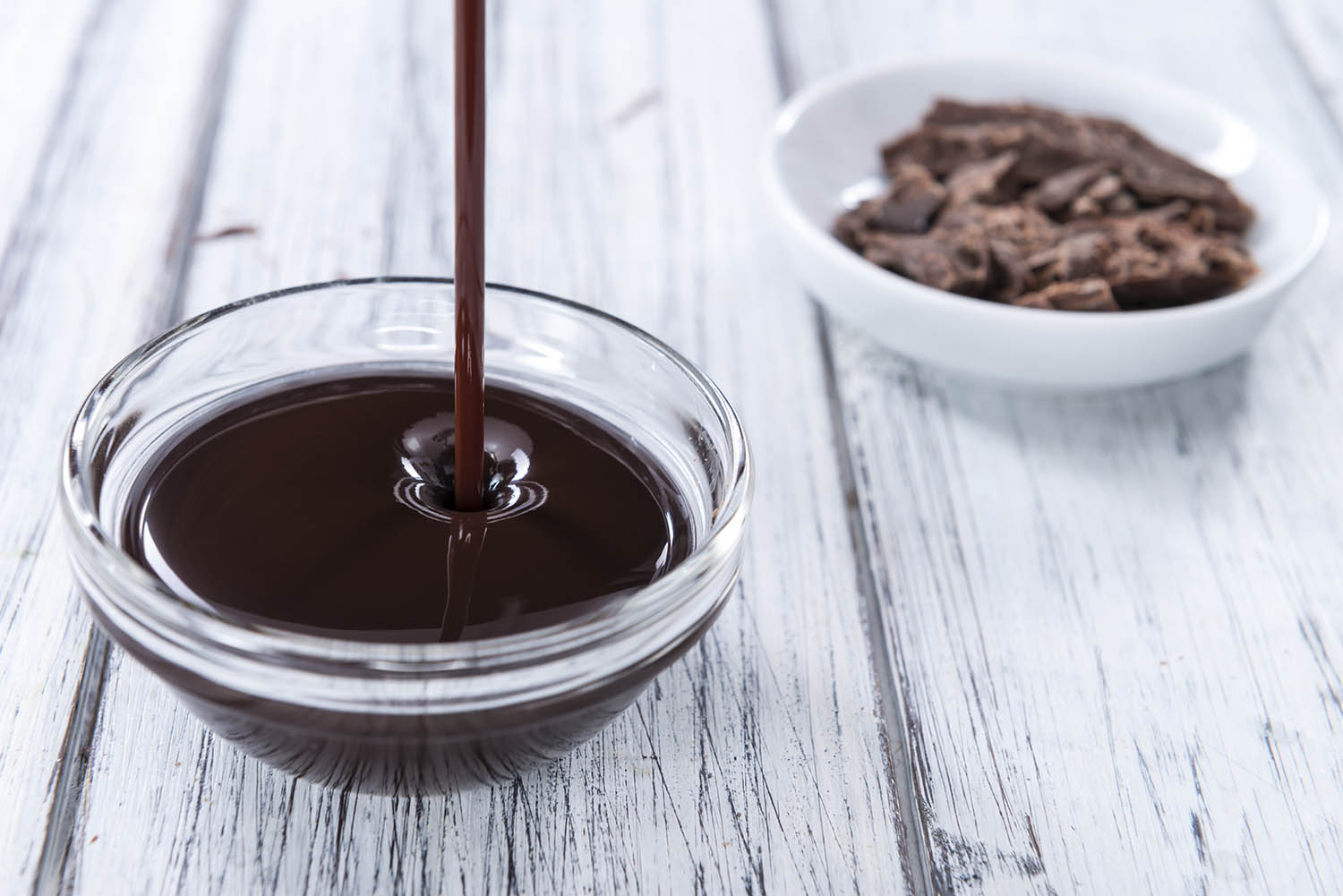 We recommend you steer clear of syrups at coffeeshops as they are full of brain draining ingredients including refined sugars, rancid or hydrogenated fats and a list of other ingredients we struggle to pronounce let alone swallow.
But.
We want some syrup sometimes. And while we won't touch the stuff from coffeeshops we thought we could recreate our favourite peppermint mocha syrup — minus the nasties. So we played around with it and developed this brainy version using only 3 ingredients that are proven to be brain healthy: dark chocolate, peppermint oil, and extra virgin coconut oil.
You can add this syrup to your coffee, or make a really decadent latte or Chocolate Peppermint Mocha. And for you non-coffee doers, this makes a lovely addition to tea for a divine Chocolate Peppermint Tea Latte. Other fun uses include drizzling it on top of ice cream, making chocolate covered strawberries with it, drizzling it on oatmeal with some coconut flakes or adding it to yogurt with some raw nuts.
Peppermint Mocha Syrup
Ingredients
2 oz. 84% dark chocolate
5 drops peppermint oil*
1/2 Tbsp cold pressed extra virgin coconut oil
Method
Using a double boiler, melt down the chocolate.
Then add in peppermint and coconut oil to the melted chocolate. Stir to combine thoroughly. Keep sealed in airtight container for up to 2 weeks.
I recommend making at least a double batch of this recipe. It is super tasty and handy to have around when the moment hits for a Peppermint Mocha. Or you can add a touch to other drinks, oatmeal, smoothies, or any yummy treat!
Notes
* Ensure this is food-grade peppermint oil, and not 'aromatherapy' grade. If you are unable to find food-grade peppermint oil, it can also be swapped out with 1/2 teaspoon of peppermint extract. If using extract, you will need to adjust the method, and add in extract prior to melting!

LET'S DIG IN AND MAKE SOME OF THE SCIENCE EASIER TO DIGEST!
Coconut:
The medium-chain triglycerides (healthy fats) in coconut provide an efficient source of energy for the body (the less strain on our body, the better our brain runs).
Ketones made from the breakdown of the fat in coconut might actually have temporary effects when treating Alzheimer's Disease by enhancing memory.
Ketones may also improve our thinking ability so we can break through that mental fog we experience throughout the work day.
Dark Chocolate:
One class of compounds found in chocolate (flavonoids), has been found to limit the loss of function in brain cells, which might reduce the risk of developing neurodegenerative disorders such as Alzheimer's disease.
Feeling a little anxious? Moderate intake of cacao, found in high quality chocolate, has been shown to have anxiolytic (anxiety reducing) effects!
Peppermint:
Found to possess special antioxidant properties that include scavenging free radicals and boosting chelation (elimination of harmful substances) in the body and brain.
Enteric-coated peppermint oil may be helpful for symptoms of irritable bowel syndrome, a condition common in those with depression and other mental health conditions
Applying peppermint oil topically may be an effective natural in the treatment of tension headaches.
You might also enjoy: