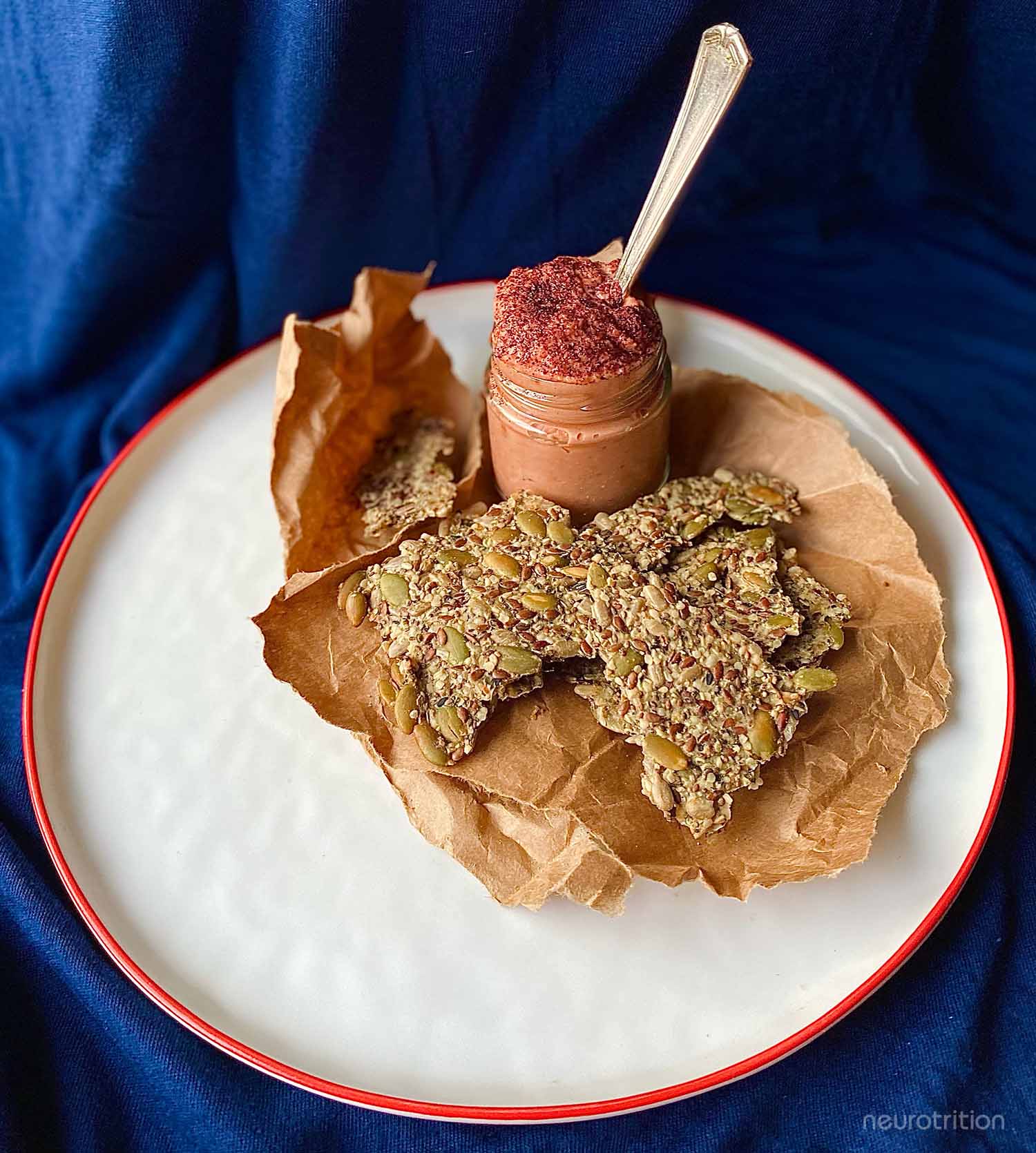 Hummus can be easily, and very quickly, made at home. So it's a great food to prepare yourself if you're aiming to eat less packaged, store-bought items! Personally, I think homemade hummus tastes better than even the fancy store-bought varieties. Hummus is a great source of complex carbs, healthy fats, and high-quality protein to fuel all your brain-related needs while keeping you full and curbing sugar cravings. What's not to love about it? Around here we love hummus with just about anything, from eggs to fresh cut veggies to some fruit (pears and apples), or with crackers. Our new Hemp Seed Crackers (pictured here with the red beet hummus) are a must try!
Since we recommend hummus a lot, we want to give our clients options of different ones so it doesn't get boring. For example, we also have an anti-inflammatory powerhouse Golden Ginger Turmeric Hummus on our site that you can try too! Our latest version boasts a pretty reddish hue from beets and an ultra-creamy texture from cashews. However, these two special ingredients were selected for reasons above and beyond making this dish look and feel fancy. You can read about some of the cool science on beets and cashews below in our Brainy Bites, and I've linked to two great open access (free) review papers in our References (Spoiler Alert: Beets bring gut-loving prebiotics while cashews bring heart healthy fats to the table)!
Red Beet Hummus
Ingredients
2 large beets, washed
1 can chickpeas, drained and rinsed
2 lemons, juiced
1/4 cup cashews, soaked*
1/4 cup tahini
1/4 cup extra virgin olive oil or cold-pressed canola oil**
4 cloves garlic, minced
Sea salt, to taste
Method
Begin by cooking the unpeeled beets in a medium pot of salted boiling water. Boil them for 30-40 minutes until they are tender. Allow the beets to cool and peel them.
In a food processor, combine the ingredients until a smooth purée is formed. Season the hummus with salt, to taste, and transfer it to a bowl. Cover and refrigerate for at least 2 hours.
Notes
* By soaking the cashews overnight, the overall texture of the hummus will be creamier (but you can omit this step if desired).
** We love Highwood Crossing cold-pressed canola oil (and we are not paid to say that, we just love the family behind this brand the superior quality products they produce)!
The entire dish can be stored in the refrigerator for 3 days. It can also be made ahead of time and frozen.

LET'S DIG IN AND MAKE SOME OF THE SCIENCE EASIER TO DIGEST!
Beets:
Beets are a prebiotic food! Compounds in them, like pectin and pectic-oligosaccharides, have been shown to positively affect gut microbe types and activity, and to promote the growth and metabolism of the "good gut bugs."
Cashews:
You may have heard that nuts are good for your heart, and they are! Cashews are shown to reduce systolic blood pressure (no effect on diastolic) without having any effect on cholesterol or triglycerides.
de Olivieri, S. P.A., do Nascimento, H.M.A., Sampaio, K.B., & de Souza, E. L. 2021. A review on bioactive compounds of beet ( Beta vulgaris L. subsp. vulgaris) with special emphasis on their beneficial effects on gut microbiota and gastrointestinal health. Critical Reviews in Food Science and Nutrition, 61(12), 2022-2033.
Jalali, M., Karamizadeh, M., Ferns, G.A., Zare, M., Moosavian, S. P., & Akbarzadeh, M. 2020. The effects of cashew nut intake on lipid profile and blood pressure: A systematic review and meta-analysis of randomized controlled trials. Complementary Therapies in Medicine (in press).
You might also enjoy: