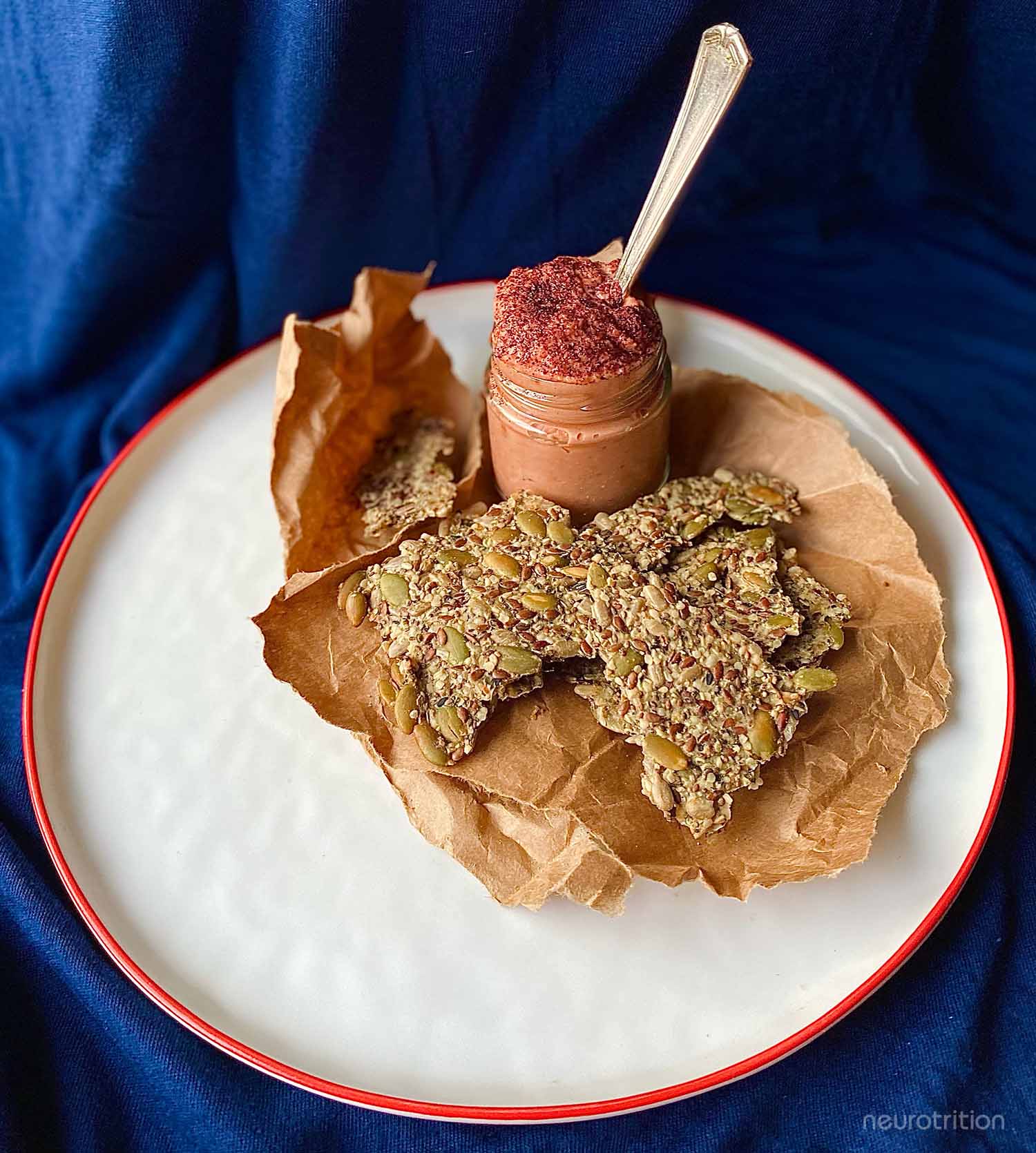 We love a good cracker around here - after all, it's the ultimate vehicle for a delicious hummus (you have to try our newest Red Beet Hummus, pictured here) or accompaniment to a soup. I have even been known to crumble crackers on top of my salads for that extra crunch and texture balance.
Unfortunately, most store bought crackers don't meet my criteria for a brain-healthy cracker (even the "healthy" ones at the health food stores, I'm sorry to say). I don't want to eat blood sugar upsetting or inflammatory ingredients - and I certainly don't want my clients to eat them. Instead, I want us all to enjoy crackers that balance blood sugar and calm inflammation. In addition, because I and my clients are only human: If we're going to make crackers at home, they need to be SIMPLE!
Here is a vegan, gluten free, paleo and keto-friendly cracker loaded with blood sugar regulating and anti-inflammatory fats and herbs. And they take only 15 minutes to prepare (plus, they stay tasting fresh for 6 weeks)!
Hemp Seed Crackers
Ingredients
1/2 cup sunflower seeds
1/2 cups hemp seeds
1/4 cup chia seeds
1/2 cup flax seeds
1/4 sesame seeds
1 1/4 cup water
1/2 tsp toasted fennel seed
1/2 tsp cumin
1/2 tsp dried oregano
1/2 tsp black pepper
1 tsp sea salt
Method
Preheat oven to 250 degrees Fahrenheit.
Mix all the ingredients into a medium stainless steel bowl and allow the seeds to soak up all the water.
Gather 2 bake trays and line them with parchment paper. Separate the seed mixture evenly between the two trays and spread as thinly as possible. You can use wet hands to do this or, alternatively, you can use another piece of parchment paper and roll the crackers.
Bake the crackers in a preheated oven for 1 hour, checking them often, or until they are fully hydrated.
Allow the crackers to cool completely and break them apart.
Notes
Ensure the crackers are fully dry before taking them out of the oven. They can be stored in an airtight container for up to 6 weeks.

LET'S DIG IN AND MAKE SOME OF THE SCIENCE EASIER TO DIGEST!
Hemp Seeds:
Learn about why hemp seeds are a brain food essential, here.
Cumin:
Cumin's powerful antioxidant properties might help curb damage to all cells in our body, as everything from pollution to stress can create oxidative stress.
For those curious types (or future NeuroTritionists), some new evidence has emerged on the mechanics of cumin's anti-inflammatory effects in the brain.
Thippeswamy, N. B., & Naidu, K. A. (2005). Antioxidant potency of cumin varieties—cumin, black cumin and bitter cumin—on antioxidant systems. European food research and technology, 220(5-6), 472-476.
Wei, J., Zhang, X., Bi, Y., Miao, R., Zhang, Z., & Su, H (2015). Anti-Inflammatory Effects of Cumin Essential Oil by Blocking JNK, ERK, and NF-κB Signaling Pathways in LPS-Stimulated RAW 264.7 Cells. Evidence-Based Complementary and Alternative Medicine, 2015, 1-8.
You might also enjoy: