Charred Cabbage with Almond Butter Yogurt Sauce & Seaweed Furikake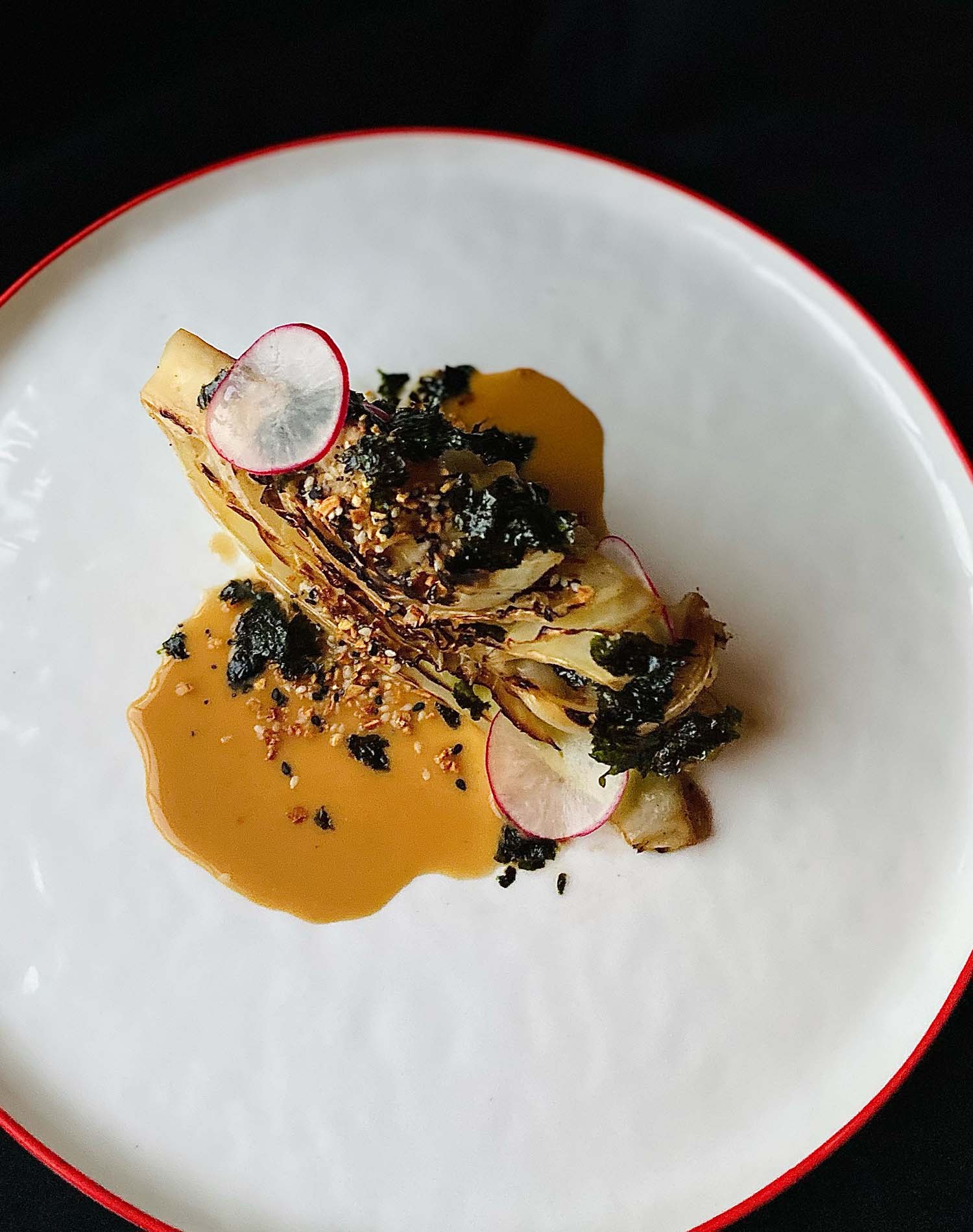 Who doesn't love a good side dish?
Be warned: This one is so good that it just might upstage the main course!
We started with the humble cabbage (which is usually fermented to make sauerkraut and rarely seared then baked) because this under-appreciated nutritional powerhouse is full of prebiotics. Prebiotics are a special type of fibre that happens to be the favourite food of your happy, healthy gut bugs and can increase their numbers and activity.
Keeping this dish with a gut-brain theme, we then wanted to add a creamy plant-based sauce that contains not only prebiotics in the nut (or seed) butter but also probiotics in the coconut yogurt as well as polyphenols (ie. anti-inflammatory and antioxidant compounds that our good gut bugs also love) in the garlic and ginger.
Then, as a little topper delivering both colour and crunch (and a ton of minerals), we made a seaweed furikake containing prebiotic-rich seaweed as well as black and white sesame seeds high in prebiotics and omega-3 fats (another nutrient that science says can nourish our gut garden; we also used sesame oil for this reason in the sauce).
The three components of this side dish come together perfectly. But if you're like me (and because you can make both the sauce and the topper ahead of time), I like to double the sauce and furikake recipes to also use the sauce as a dip for veggies or salad dressing and to shake the furikake onto salads, soups and popcorn.
Charred Cabbage with Almond Butter Yogurt Sauce & Seaweed Furikake

Ingredients
Charred Cabbage:
1 medium sized head of cabbage
2 Tbsp avocado oil
Himalayan salt & pepper
1 cup vegetable stock*
Almond Butter Yogurt Sauce:
1/4 cup natural almond butter, cashew butter or sunflower seed butter
2 Tbsp natural apple cider vinegar
1 Tbsp toasted sesame oil
1 Tbsp coconut aminos
1 tsp grated, fresh ginger
1 clove garlic, minced
2 Tbsp coconut yogurt
Seaweed Furikake:
2 Tbsp toasted white sesame
2 Tbsp toasted black sesame
1 Tbsp garlic flake
3 Tbsp crushed up dried seaweed
Method
Preheat an oven to 350F.
Cut the cabbage into wedges, making sure to keep the core intact as it helps hold the shape while cooking. Season the cabbage lightly with salt and pepper.
Preheat a large cast iron pan, add the oil, and sear the wedges for 3 minutes on each side.
Once seared, deglaze the pan with the vegetable stock and transfer the cabbage, keeping it in the cast iron pan, into a preheated oven. Bake for 8-10 minutes.
To make the almond butter yogurt sauce, combine all the ingredients in a small stainless-steel bowl. Set aside.
For the seaweed furikake, mix all the ingredients in a small stainless-steel bowl. Set aside.
To serve, place a cooked cabbage wedge on a plate and spoon over the almond butter yogurt sauce, and sprinkle it with seaweed furikake. To garnish, you can add radishes to make it stand out visually.
Notes
* You can use broth instead of vegetable stock and try our Basic Bone Broth recipe, here.
The almond butter yogurt sauce can be made ahead of time and stored in the refrigerator for up to a week.
The seaweed furikake can be made and stored in an airtight container for two months.
You can use other types of cabbage for this recipe, but keep in mind that varieties such as Napa or Savoy will not require as much cooking time as the leaves are thinner and more delicate.

LET'S DIG IN AND MAKE SOME OF THE SCIENCE EASIER TO DIGEST!
Cabbage:
Cabbage is full of antioxidants like vitamin C and manganese. Apigenin, a free radical scavenger found in cabbage, provides anti-inflammatory protection against the beta-amyloid plaques found in the brains of Alzheimer's patients.
Compounds in cabbage increase blood flow in the brain and can improve learning and memory.
Ginger:
Learn about the brainy benefits of this irresistible root that is one of the oldest medicinal foods, here.
Seaweed:
Anything but a pesky "weed," seaweeds are full of neuroprotective compounds that nourish the brain!
Liu et al., (2011). The flavonoid apigenin protects brain neurovascular coupling against amyloid-β₂₅₋₃₅-induced toxicity in mice. The Journal of Alzheimer's Disease, 24(1), 85-100.
Schepers, M., Martens, N., Tiane, A., Vanbrabant, K., Liu, H.B., Lütjohann, D. et al. (2020). Edible seaweed-derived constituents: an undisclosed source of neuroprotective compounds. Neural Regeneration Research, 15(5),790-795.
You might also enjoy: