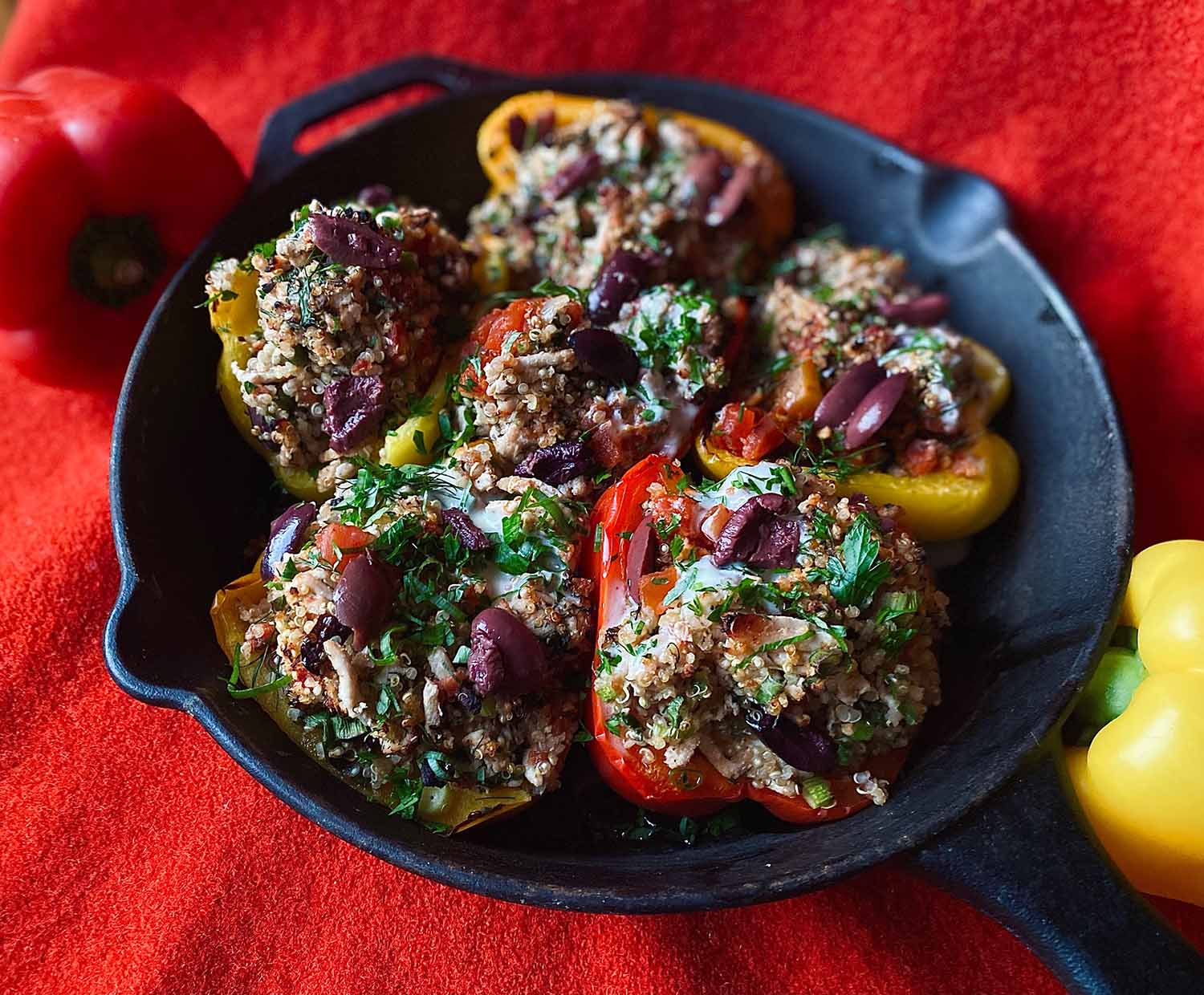 I love a good stuffed pepper, it's so fast and flavourful - and there's something about eating a meal out of its own edible little bowl that's really appealing to me!
Our version is a perfect twist on a Thanksgiving classic, and is still loaded with tryptophan (the amino acid precursor to serotonin, found in turkey) so is guaranteed to make you happy. It also has quinoa, a complete protein and pseudo-grain (fun fact: quinoa is not a grain at all but rather a seed). Moreover, this version of "turkey dinner" touts polyphenols (plant compounds shown to promote brain and mental health) in all the fresh herbs (oregano, parsley, basil, dill AND mint) as well as the bell pepper - something usually lacking in the traditional holiday meal.
I love this dish when a special occasion calls for turkey but it's just my husband and me instead of a family gathering - or whenever, really. I love that I can make the turkey mix ahead of time and freeze it, then only need to spend a few minutes prepping before tossing it in the oven! Sometimes when I'm alone and want a super quick meal minus any meat prep, I substitute the turkey for cooked lentils or chickpeas.
Turkey Stuffed Peppers
Ingredients
4 large bell peppers
2 Tbsp olive oil
1 lb ground turkey*
1 small onion, small dice
3 gloves garlic, minced
1/4 tsp each chili flakes, toasted fennel seeds
1/2 tsp Himalayan salt
1/2 tsp pepper
2 Tbsp tomato paste
1 can diced tomatoes
1 cup quinoa, cooked according to package instructions
1 green onion, sliced thinly
1 Tbsp oregano, chopped
2 Tbsp parsley, chopped
2 Tbsp fresh basil, chopped
2 Tbsp dill, chopped
2 Tbsp mint, chopped
1 lemon, juiced and zested
10 kalamata olives
1/2 feta cheese or cashew cheese, crumbled
Method
Preheat an oven to 400F.
Begin by slicing the peppers in half, stem down. Remove the pith and seeds.
In a heavy medium sized pan, sauté the onion in oil, followed by the garlic. Add the ground turkey, the spices, salt, pepper.
Add the tomatoes paste, cooked quinoa, and diced tomatoes. Stir and cook lightly for 5 minutes.
Mix in the prepared herbs, olives, lemon, and feta (or cashew cheese).
Place the peppers in a lightly oiled baking dish and fill them with turkey filling.
Bake the peppers for 20 minutes until the peppers are cooked through. Sprinkle with chopped parsley to garnish.
Notes
The turkey mix can be made ahead of time and frozen to use for future meals.
*Plant-based? We got you! For a vegan version, substitute the turkey for cooked lentils, chickpeas, or organic non-GMO tofu.

LET'S DIG IN AND MAKE SOME OF THE SCIENCE EASIER TO DIGEST!
Fresh Herbs:
High in antioxidants and other important compounds, fresh herbs can improve memory and reduce blood sugar, possibly aiding in the fight against cognitive decline and even Alzheimer's disease (which is correlated with both oxidative stress and high blood sugar).
Black Pepper:
Piperine, an active compound in pepper, in combination with curcumin (another powerful antioxidant), is showing promise as a natural antidepressant.
Although pepper may add a little heat to some dishes, it has the ability to cool down spikes in inflammation.
Quinoa:
In an animal model of obesity, quinoa was able to reduce obesity, regulate sugar and fat metabolism, help replenish the gut microbiome, regulate markers of free radical damage and increase tight junction proteins in the gut and brain. Holy quinoa!
Agatonovic-Kustrin, S., Kustrin, E. & Morton, D.W. (2019). Essential oils and functional herbs for healthy aging. Neural Regeneration Research, 14(3), 441 - 445.
Butt, M. S., Pasha, I., Sultan, M. T., Randhawa, M. A., Saeed, F., & Ahmed, W. (2013). Black pepper and health claims: a comprehensive treatise. Critical reviews in food science and nutrition, 53(9), 875-886.
Wang, T.Y., Tao, S.Y., Wu, Y.X., An, T., Lv, B.H., Liu, J.X., Liu, Y.T., & Jiang, G.J. (2022). Quinoa Reduces High-Fat Diet-Induced Obesity in Mice via Potential Microbiota-Gut-Brain-Liver Interaction Mechanisms. Microbiology Spectrum, 10(3): e0032922
You might also enjoy: