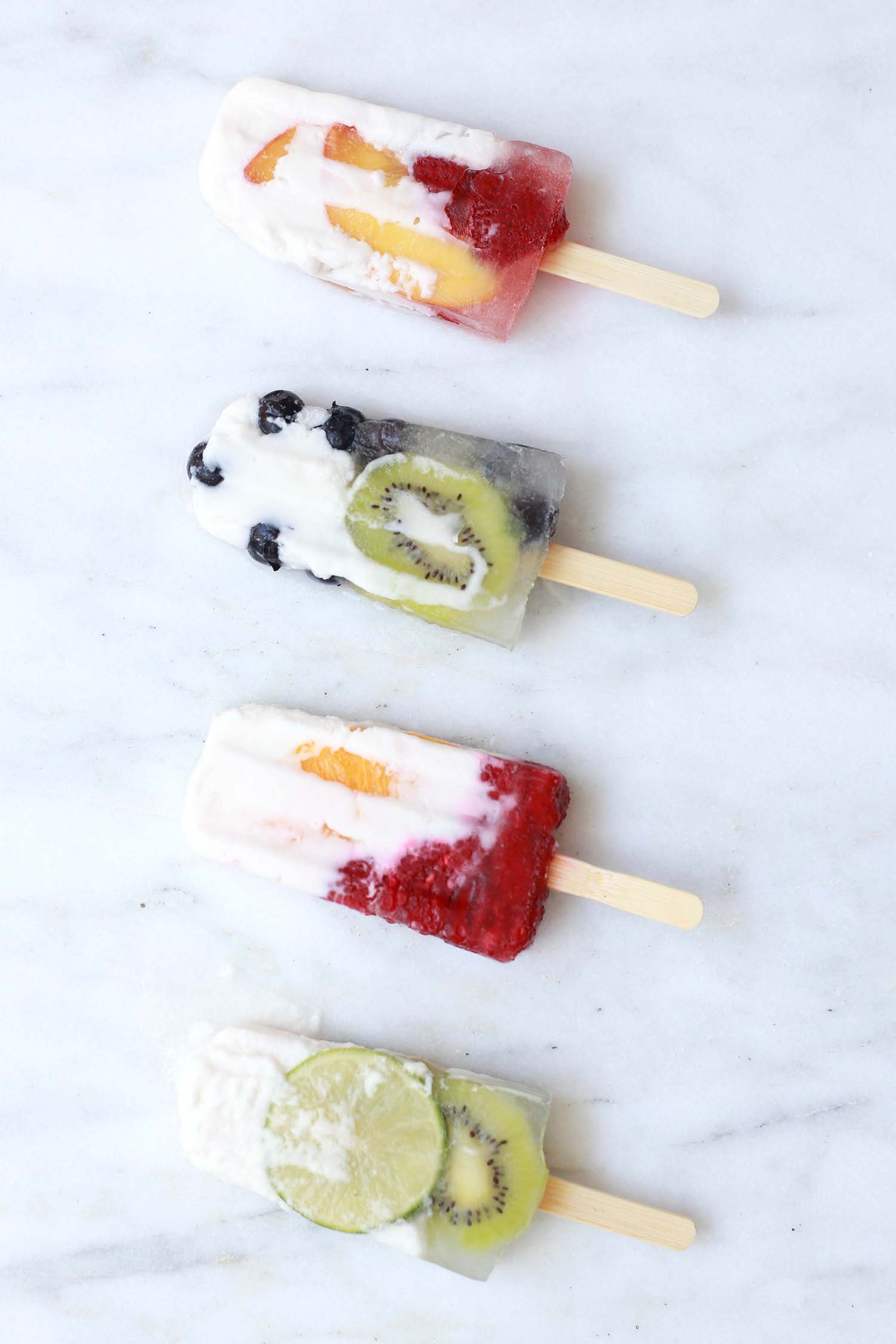 Ditch the sugar-laden, artificial colour and fake flavour-filled popsicles we all grew up on (you know the ones, I know you loved them too). And try our version this Summer - and beyond - instead!
Our popsicles are seasonally-inspired because fresh fruit is so much more affordable when in season. So in Summer think berries and peaches, whereas in Fall opt for apples and pears. Want a berry popsicle in Fall, but the berry prices have gone way up? Frozen fruit is perfectly fine and comparable nutritionally to fresh fruit, according the the research (especially if the fruit has been flash frozen at its prime, which many brands do). You can also freeze your own berries on a cookie sheet lined with parchment paper, then transfer them to a freezer-friendly container - and, voila, you have your own flash frozen, nutritious frozen berries.
Besides the antioxidants and other phytonutrients (ie. plant nutrients) in the fruit, we add coconut water brimming with electrolytes to help your brain cells talk to one another as well as probiotic-rich plain yogurt to fuel your gut-brain axis.
These take all of five minutes to prep, are so delicious and oh-so good for you!
Seasonal Fruit Popsicle
Ingredients
2 cups seasonal fruit*
3 cups coconut water
8 Tbsp plain, Greek yogurt**
Method
In an empty popsicle mold, place yogurt on the bottom (2 Tbsp per POP), and add fruit until it almost reaches the top.
Pour coconut water into mold until you reach the top.
Add lids and freeze for 6 hours until hard.
Notes
* A few Summer variations we love include peaches (peeled and sliced) and berries, whereas in Fall we enjoy apples (peeled and sliced) and pears (peeled and sliced). Other fun fruits to use for these include kiwi (sliced), watermelon (cubed) - or even cucumber (yes, also a fruit).
** Dairy-free? Try plain, unsweetened coconut yogurt instead.
If you want to make this a protein popsicle, you can add protein powder instead of (or in addition to) the yogurt. Just mix it in with your coconut water in Method 2). I love the PERFECT PROTEIN – VANILLA by my friends over at Botanica and recommend it to a lot of clients (because, p.s., protein builds neurotransmitters)!

LET'S DIG IN AND MAKE SOME OF THE SCIENCE EASIER TO DIGEST!
Greek Yogurt:
Greek yogurt is packed full of protein and lots of healthy probiotics which are key in digestion and a healthy gut.
There is a big connection between gut bacteria and mental health, and this type of yogurt may balance the brain activity affected by stress, stabilize moods and lower anxiety.
Coconut Water:
Coconut water is rich in many nutrients, including the arguably best family of vitamins for nerves system health, the B vitamins. It contains B1, B2, B3, B5, B6, B7 and B9 specifically.
Takada, M., Nishida, K., Kataoka-Kato, A., Gondo, Y., Ishikawa, H., Suda, K., Kawal, M., Watanabe, O., Igarashi, T., Kuwano, Y., Miyazaki, K., & Rokutan, K. (2016). Probiotic Lactobacillus casei strain Shirota relieves stress-associated symptoms by modulating the gut-brain interaction in human and animal models. Neurogastroenterology & Motility, 28(7), 1027-1036.
Yong, J.W.H., Ge, L, Ng, Y.F. & Tan, S.N. (2009. The Chemical Composition and Biological Properties of Coconut (Cocos nucifera L.) Water. Molecules, 14 (12), 5144 - 5164.
You might also enjoy: