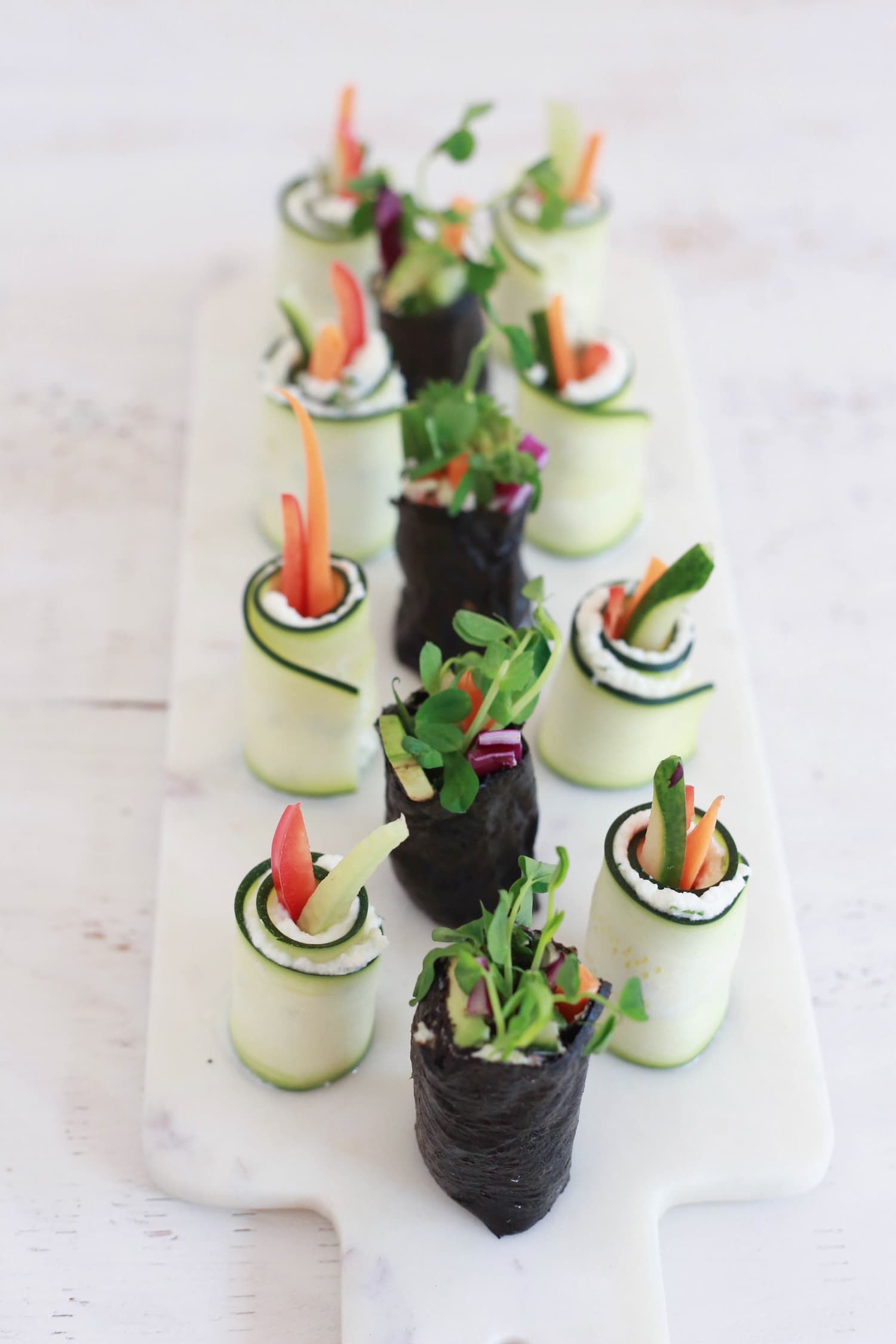 Have you ever wanted to make your own sushi roll, but maybe felt a little intimidated? I know that I sure did, with all the fancy rolls I've seen over my many years enjoying sushi at restaurants. So I wanted to learn, and then teach you, to make a super simple one. This one, as a bonus, also happens to be incredibly healthy because it is chock full of veggies - but minus the sugar-laden sushi rice.
We opted for our version to be rice-free, for a few reasons. First and foremost, who wants to turn on the stove in the summer? I know I don't, so I didn't want our roll to require any cooking at all. Eliminating the rice also takes out grains, for those of you who may be sensitive or trying to cut back. And it also takes out the need for sushi rice, which uses sugar and rice vinegar (which includes sugar). I like providing options, because I know that no two of my beautiful clients are the same - so you can make our sushi roll dairy-free if you please, and even seaweed-free (we have a great zucchini swap if you're not feeling the nori sheets).
This ultra easy-to-make meal is loaded with probiotics along with prebiotic fibres, as well as anti-inflammatory and antioxidant phyto (aka. plant) nutrients to please not only your eyes (because these rolls turned out SO PRETTY) but your gut and brain as well. If you have little ones, they will love to help you roll these up, too!
RICE-FREE VEGGIE SUSHI
Ingredients
Spread Ingredients:
1/2 cup plain, unsweetened Greek yogurt*
1/2 avocado
1 tsp fresh garlic, minced**
Sea salt and pepper, to taste
Sushi Ingredients:
2 sheets of nori paper***
1 carrot
1/2 avocado
1 cucumber
1 red cabbage
1 handful sprouts (optional)
1 handful fresh cilantro (optional)
Sea salt and pepper, to taste
Method
Cut avocado in half, remove pit and reserve other half for sushi, and scoop out one half of avocado for the spread.
Combine all Spread ingredients in a bowl, and mash!
Cut carrots, cucumber and cabbage into matchstick sized pieces, and slice other half of avocado into thin pieces.
Lay one sheet of nori on a flat surface and spread 1 Tbsp of Spread onto nori, about 1 inch from bottom of sheet to top of sheet.
Lay cut vegetables horizontally onto the sheet, add sprouts (if using) horizontally, and sprinkle cilantro (if using), salt and pepper on top.
Take bottom part of nori, with no spread, and roll into itself tightly. Continue rolling nori until a full cylindrical roll has formed.
Cut into 1 inch pieces, and enjoy this sushi fresh!
Notes
*Dairy-free? We got you! Use plain, unsweetened coconut or cashew yogurt or, if sending to school for your little one, a nut-free oat yogurt.
**Garlic powder works nicely here, too.
***Not feeling the nori? That's ok, because you can make this sushi using zucchini instead. In Step 4. peel strips off one large zucchini with a peeler, and lay flat. Then continue with Steps 5 - 7.
If you'd like to add a protein to this sushi roll, try sashimi-grade ahi tuna or wild salmon. Cut the fish into small pieces and add to Method Step 5. then roll it up alongside the veggies in Step 6.

LET'S DIG IN AND MAKE SOME OF THE SCIENCE EASIER TO DIGEST!
Nori:
Edible seaweeds have numerous compounds, including phytosterols, carotenoids, and polysaccharides, that show up in both the blood and the brain (showing that they make it into systemic circulation and even across the blood brain barrier!). Phytosterols in particular are being studied for their possible role in the fight against neurodegenerative disease because of their anti-inflammatory effect and ability to potentiate neuroplasticity.
Marine algae (aka. seaweeds) have been shown to reduce depressive-like symptoms and behaviours in both preclinical (animal) and clinical (human) studies and, while they have not (yet) been compared to antidepressant medications, they are shown to have effects on the development of depression, thus suggesting their potential as an antidepressant.
Garlic:
Various compounds in garlic are shown to protect the brain against both inflammation and degeneration, thus imparting many brain health benefits.
Because of its high antioxidant activity, garlic has neuroprotective effects on learning and cognition. It may also provide protection against Alzheimer's disease, due to its beneficial effects on memory and brain plasticity.
Avocado:
The National Health and Nutrition Examination Survey 2011-2014 found that in 2886 participants aged 60 or older, those who ate avocado had significantly better cognitive scores across various cognitive tests.
You might also enjoy: