Kombucha-Battered Fish & Chips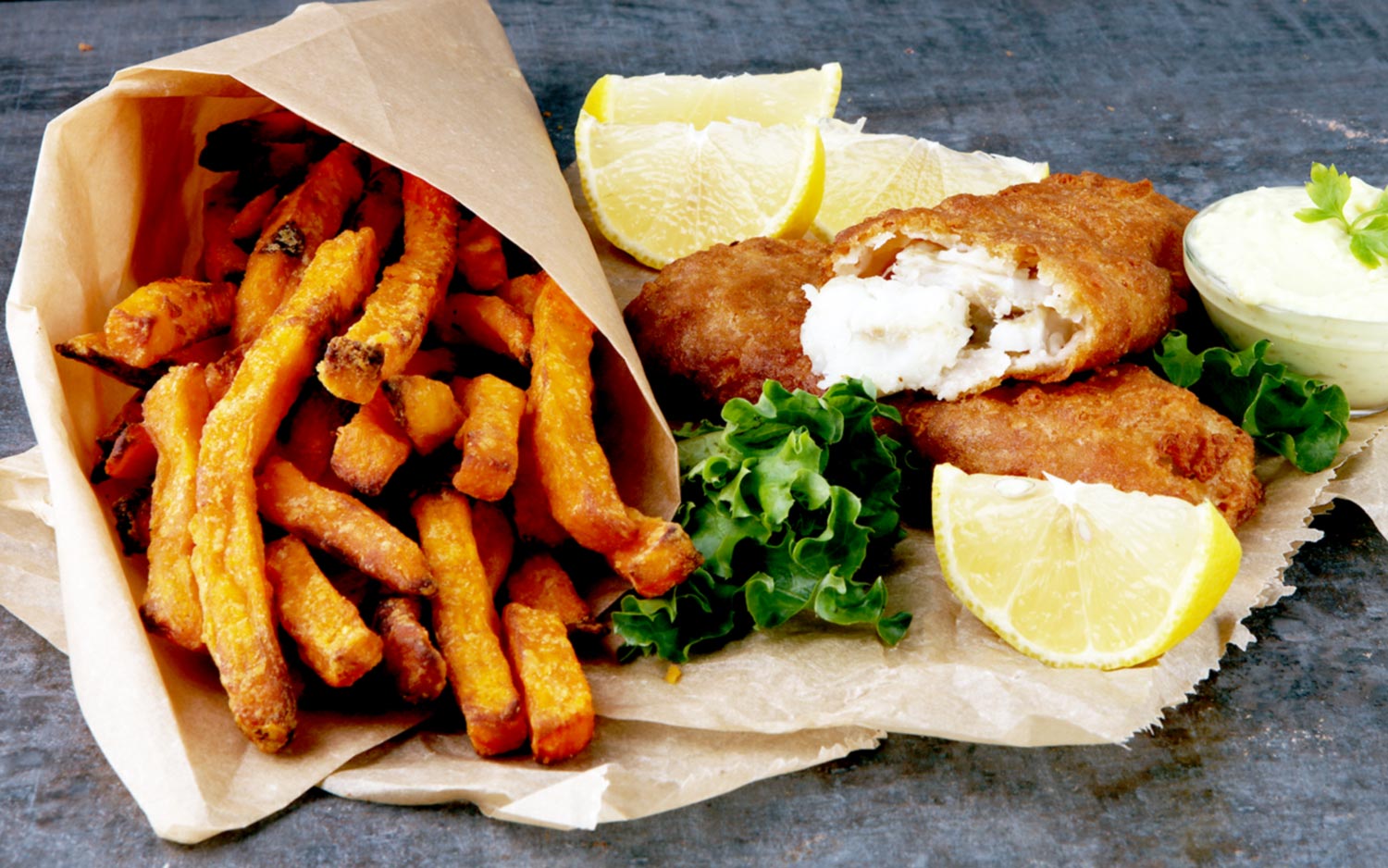 I loooooove fish and chips, even though I'm a relatively healthy eater so, in theory, I probably shouldn't love them as much as I do.
Being a neuroscientist, I understand classical conditioning (you know, Pavlov and his dogs that ended up salivating to the bell that was paired with food). So I get all too well why when I think about the ocean (which I do a lot, having being in Vancouver for 11 years at UBC on the Pacific before moving to Calgary), I think of fish and chips and I must have them.
Enter the nutritionist side of me. The side of me that knows what refined then over-heated oils do to the body and brain. Not to mention the effects of the white flour that is typically used (if you're celiac or gluten-sensitive watch out!), the low-quality eggs that typically go in there (or, for egg-intolerant, any eggs!), and the white potatoes that are fried in the aforementioned gross oils.
We decided to put our spin on this classic dish, and make them so good (and good for you) that they could make it onto our NeuroTrition Rx. Enter top-notch fish (obviously, and see our fish suggestions below) but then enter (and this took some playing around with) grain- and gluten-free flour. We used prebiotic-rich cassava flour but if you can't find it then protein-loaded garbanzo (chickpea) flour will also work great. Good-quality eggs are also important. Look for eggs that are organic and/or pasture-raised and/or have certified humane status. And if you have an allergy or sensitivity to eggs, you can use vegan eggs instead (see the formula below). Then, there's our star ingredient, kombucha. Yes: Kombucha. This gut-supporting powerhouse makes the fish a golden brown with amazing crunch.
The chip recipe calls for sweet potatoes, but you can use regular potatoes (we recommend blue or red for more phytonutrients). Check out the "notes" section were we also give recommendations for making prebiotic (that's food for your probiotics) jicama or beet chips. I love the texture and flavour of jicama and beets in this recipe, and they make for a clever prebiotic side dish to the probiotic kombucha-battered main.
Kombucha-Battered Fish & Chips
Ingredients
Fish Ingredients:
3-4 pounds fish of choice, cut into large chunks (we love cod, black cod, aka. sablefish, steelhead or rainbow trout, or wild salmon)
1 cup cassava flour*
1/4 cup plain or ginger kombucha*
2 eggs (or combine 2 Tbsp flax seeds with 6 Tbsp water and let sit until thickened, for two vegan eggs)
Pinch sea salt
1 cup avocado oil or high-quality canola oil, for frying
Chips Ingredients:
2 sweet potatoes**, peeled and cut into matchstick fries
3 Tbsp arrowroot starch
3/4 tsp garlic powder
1/4 tsp smoked paprika
1/2 tsp coarse sea salt or Malden salt
1/4 tsp black pepper
1 1/2 Tbsp fresh chopped parsley
1 1/2 Tbsp coconut oil, melted
Method
Preheat oven to 450°F and line a baking sheet with parchment paper.

In a small bowl, combine arrowroot starch, garlic powder, paprika, parsley, and pepper.

Place sweet potatoes in bowl and sprinkle the dry ingredients on top.

Drizzle coconut oil over fries and toss until everything is coated evenly.

Lay sweet potatoes on parchment, giving each space on the paper (not touching).

Sprinkle coarse salt on top.

Bake for 20 minutes, turn at 20 minutes and bake for another 5-7 minutes.

While chips are baking, preheat avocado or canola oil in a deep cast iron skillet or heavy bottom stock pot over medium high heat, until it reaches at least 325F.

Combine batter ingredients in bowl and whisk.

Take the chunks of fish, and pat dry on a clean dish towel, ensuring very dry.

Then dip fish into batter and fry in pre-heated oil until golden brown and fish flakes apart.
Notes
* If you have a hard time finding these items, you can substitute sparkling water for the kombucha and garbanzo bean flour for the cassava flour. Still in the same measurements!
** You can use prebiotic-rich jicama or beets for your chips, too! For Jicama: cut 4 jicamas into matchstick slices and use in lieu of sweet potato. For beets: cut 8 beets into matchstick slices and use in lieu of sweet potato (USE GLOVES to prevent dyeing your hands pink). Or, you can opt for potatoes (but maybe not the white kind): use 4 large purple/red potatoes in lieu of sweet potato. Or, you can do a combination of potatoes, jicama, beets and sweet potatoes.

LET'S DIG IN AND MAKE SOME OF THE SCIENCE EASIER TO DIGEST!
Black Cod (aka. sable fish):
Also called "butter fish," and praised for its rich, buttery flavour and mouth feel, it contains as much brain-loving omega-3 DHA and EPA as wild salmon.
It is also a great source of vitamin B12, which is used to fight fatigue and improve energy.
Kombucha:
Four key properties, namely detoxification, antioxidation, energizing potencies, and immune boosting may underlie its positive effects on brain and mental health.
In rats (so far, humans need to be looked at next!), it helps protect against a cholesterol-raising diet due to its antioxidant power.
Sweet Potatoes:
Sweet potatoes contain fibre, mostly insoluble fibre. These insoluble fibres are known to reduce the risk of diabetes, improve gut health and help you manage your weight—all of which are good for your noggin.
A particular sweet potato extract known as "caiapo" has been termed a "natural insulin sensitizer" because it seems to help improve blood sugar regulation.