Kabocha Squash Toast with Caramelized Onions & Ricotta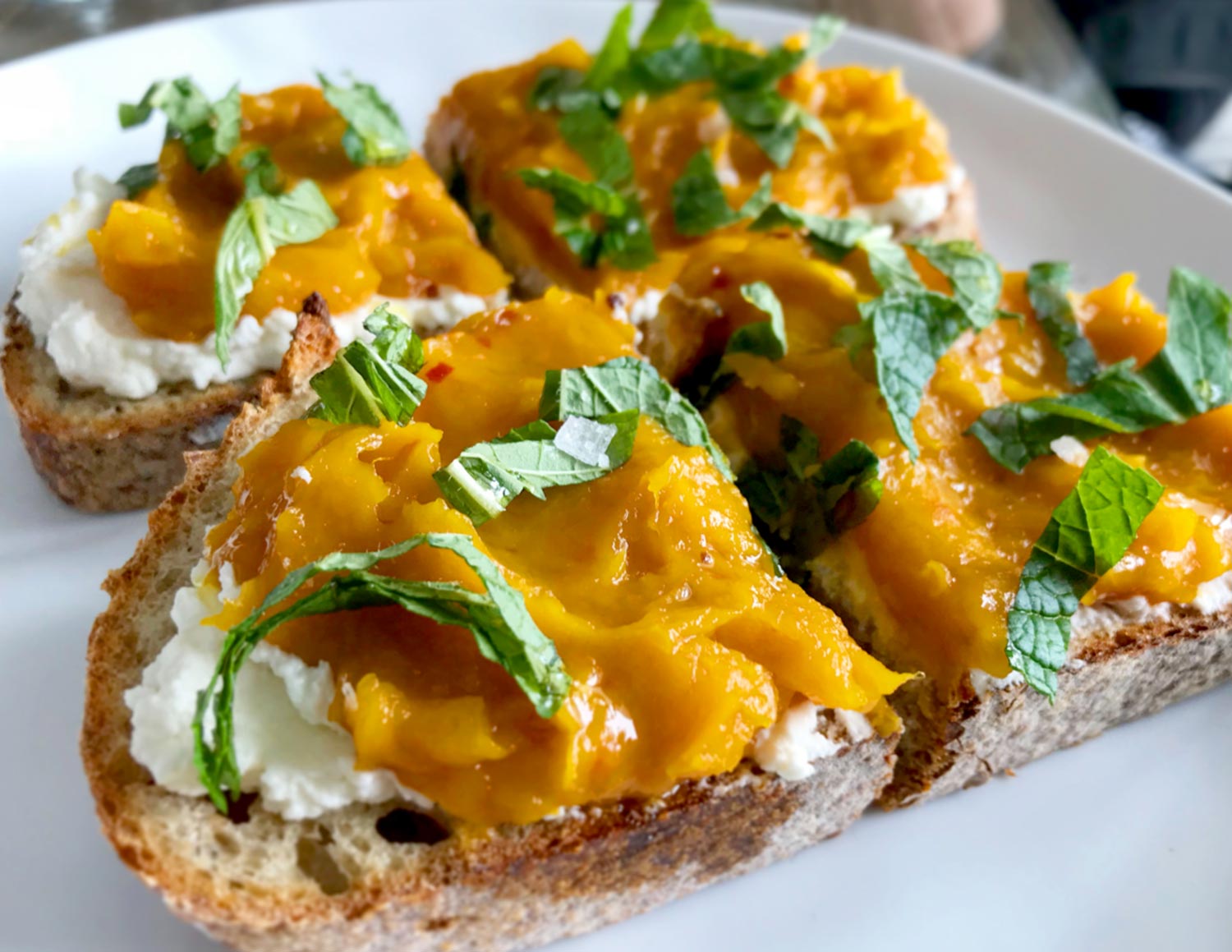 I'm very honest and admit that, in part, I started NeuroTrition so I could eat and travel. I am incredibly grateful that I am now able to do this (8 years of hustle are paying off!), and I regularly get asked for recommendations on where to eat when friends, colleagues and clients travel. So, I thought I would start sharing the standout dishes I have adored on my deliciously inspired travels as of late.
This recipe hails from one of my all-time favourite restaurants in New York City, ABC Kitchen, and is by the acclaimed Chef Jean-Georges Vongerichten. I make a point of popping in to ABC Kitchen every time I'm in New York for the health-conscious, modern, nourishing food (not to mention the boho chic decor, the first time I stepped into the space I remember going "this is me as a restaurant!"). And this past January, when I was in NYC for 3 days, I had this little appy, and haven't been able to get it out of my mind since.
I've had avocado toast to death, and still do enjoy it but am rarely inspired by it anymore. But this. THIS. This has inspired me and rekindled my appreciation for the Toast. Imagine jammy, nutty roasted kabocha squash with richly intense caramelized onions and silky smooth ricotta cheese, finished off with delicate extra virgin olive oil and a deliciously buttery melange of pure maple syrup and slightly acidic apple cider vinegar. Served atop warm, crusty bread with a little pop of freshness from mint sprinkled on top. I was speechless, and savoured every bite - trying to cram each nuance of flavour and mouth-feel into my brain's memory centres. It was bona fide brain food, too: Bonus! As soon as I got home, I had to recreate it - and was thrilled to find the recipe online. It was a bit of a labour of love, taking about an hour to prep, but it was so worth it. Also, I noticed it gets even better if you let it sit in the fridge overnight. As I started writing this, I had to take a break and go pick up ingredients to make it again tonight. I really hope you enjoy it.
Kabocha Squash Toast with Caramelized Onions & Ricotta
Ingredients
1 2 1/2- to 3-pound kabocha squash*
3/4 cup extra-virgin olive oil
1/2 tsp dried chile flakes, more to taste
3 tsp kosher salt
1 yellow onion, peeled and thinly sliced
1/4 cup apple cider vinegar
1/4 cup pure maple syrup
4 slices country bread, 1-inch thick, or other crusty bread**
1/2 cup ricotta***
Coarse salt
4 Tbsp chopped mint
Method
Preheat the oven to 375˚F. Line a cookie sheet with parchment paper and set aside. Cut the stem off of the squash using a serrated knife, and pierce the squash in various spots with a sharp knife.
Put the squash on the cookie sheet and bake for 2 hours (or until it is very soft to the touch - using an over mitt of course!). Rotate it half-way through.
Cut the squash in half, and discard all of the seeds. Scoop out the flesh and put it in a large bowl. Stir in 1/4 cup olive oil, 2 tsp salt and the chile flakes, and toss it all together to combine. Then, smash the squash with a fork.
While the squash is roasting, heat another 1/4 cup olive oil over low-medium heat, add the onions and remaining teaspoon salt and cook, stirring frequently, for about 15 minutes (until the onions are softened and getting brown). Add the vinegar and syrup, reduce the heat a bit, and stir until jammy and broken down, again at least 15 minutes.
Mix the onions in with the squash and stir it all together, and add more salt or chili pepper if desired.
Add the remaining 1/4 cup of oil to the skillet on low-medium-heat. Toast the bread until crispy on both sides. Spread each piece of toast with ricotta, then some squash and a sprinkle of chopped mint.
Notes
* You can also use any orange-fleshed squash like butternut or red kuri squash.
** We love sourdough around our place, and it works really nicely - either a loaf or baguette!
*** You can also use mascarpone, or we actually made it with a soft, mild, spreadable goat cheese because we couldn't find ricotta or mascarpone the day we went shopping to make this. It turned out absolutely divine, and I just picked some of it up again to use in this recipe.

LET'S DIG IN AND MAKE SOME OF THE SCIENCE EASIER TO DIGEST!
Apple Cider Vinegar (ACV):
Along with curbing the blood glucose spike after a sugary snack, ACV will keep you feeling full longer, which will ultimately keep you from indulging in teeth (and brain!) rotting high glycemic carbohydrates.
Like other organic compounds found in fruit, ACV contains polyphenols which are powerful antioxidants.
Maple Syrup:
A newly discovered compound found in maple syrup, quebecol, was found to be associated with a reduction in pro-inflammatory cytokines (chemical messengers that initiate the immune response and jack inflammation).
Another naturally occurring compound from maple syrup extract might be able to reduce the amount of antibiotics necessary to combat infectious bacteria, which could in turn affect brain functioning.