Cinnamon Rolls with Spiced Icing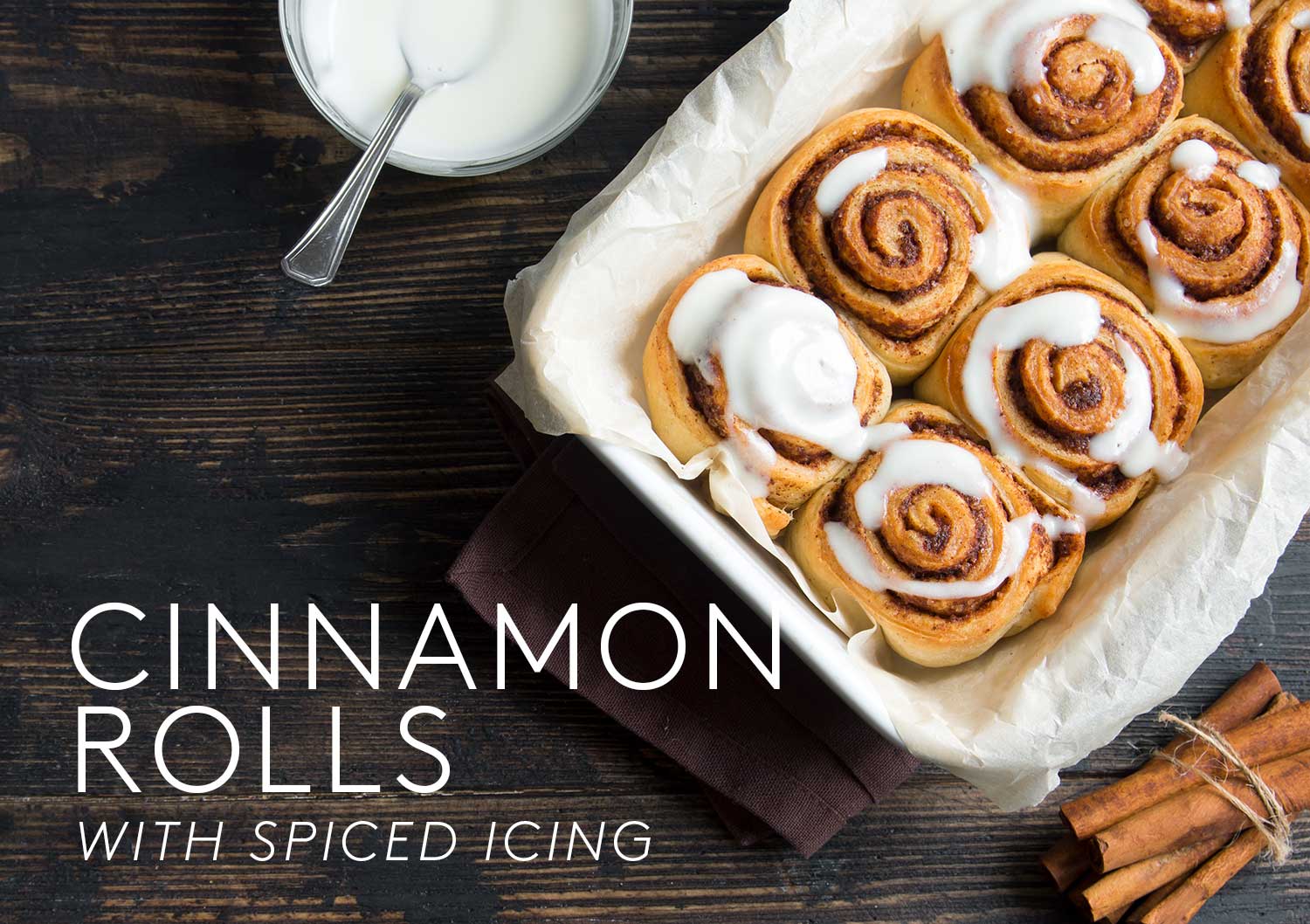 Whether you've been naughty or nice this year (or, like most of us, a bit of both) this recipe is sure to be a hit that I hope becomes a holiday tradition for years to come! I always tell clients to take things a little easier with their eating over the holidays, and to treat themselves. This idea was the inspo for this recipe : something ultra-decadent for a festive holiday breakfast, dessert or party - with our little brain-loving spin.
This recipe uses spelt flour, which is wheat-free but does contain gluten. The gluten in spelt, however, is different than that in other gluten-containing grains because it is water soluble and quite delicate, making it easier to digest. Spelt is also super high in fibre, which further helps digest the gluten. We find that some of our gluten free clients can tolerate spelt (not if you're Celiac, though!), and I believe it's because spelt is just a little (well, a lot) different from other gluten containing grains.
We're all about brain-loving coconut at NeuroTrition, so we used coconut milk, coconut sugar and coconut oil in this recipe. And we love to add little brain health supporting touches to our recipes that also happen to taste ah-mazing. Here, we used maple syrup bursting with brainy micronutrients, and Saigon cinnamon and apple cider vinegar for their blood sugar balancing properties.
Oh, and if you're sensitive to dairy or are vegan, we've got you covered too! Because with a simple swap in the dough and filling, you can make the best vegan cinnamon roll ever (it's so good, I recommend everyone try the vegan version at least once).
Cinnamon Rolls with Spiced Icing
Ingredients
Dough Ingredients:
3 cups sprouted spelt flour, plus 1/2 cup (for kneading/rolling out dough)
3 Tbsp coconut sugar
1 tsp baking powder (aluminum-free, if possible)
1/2 tsp baking soda (aluminum-free, if possible)
1/2 tsp sea salt
1 cup coconut milk (from tetra-pac), mixed with 1 tsp apple cider vinegar
6 Tbsp unsalted butter, melted*
1/3 cup pure maple syrup
Filling Ingredients:
1/2 cup coconut sugar
3 tsp Saigon cinnamon
Dash sea salt
3 Tbsp grass-fed ghee*
Icing Ingredients:
3/4 cup coconut butter, room temperature
3 Tbsp unsweetened almond milk
2 tsp coconut flour
1/4 cup coconut oil
1/3 cup pure maple syrup
1/2 teaspoon Saigon cinnamon
Method
Preheat oven to 425F.
Combine all filling ingredients in a bowl, and stir with a fork. The mixture should be somewhat crumbly, almost like wet sand consistency.
Using a large bowl, sift all dough dry ingredients together.
Next, pour in maple syrup, coconut milk mixture, and only 2 tablespoons of melted 

butter

, and stir. This mixture will be very sticky, which is good.
Sprinkle 1/4 cup spelt flour on counter, and knead your dough just for a few minutes until a smooth ball is formed, no more then a few minutes as spelt can easily be overworked. It will still be a bit sticky.
Lightly flour a medium bowl, and let dough rest in the refrigerator for about 15 minutes.
Then, roll dough to about 1/4-1/8 inch thick.
Brush with 

butter

, and distribute filling mixture evenly.
Now, carefully roll your dough up!
Cut rolls into about 1 inch thick slices.
Place rolls into a pan close together, and brush with more 

butter

.
Cook for about 15-20 minutes.
While the rolls are cooking, make your icing. Incorporate all ingredients in a stand mixer until light and fluffy.
Once rolls are done and fresh out of the oven, smother in icing and enjoy!
Notes
* Vegans (and those of you with a dairy sensitivity) we've got you covered! To easily make this recipe vegan, replace butter with coconut oil in Dough Ingredients, and ghee with coconut oil in Filling Ingredients. If possible, always opt for cold-pressed coconut oil.

LET'S DIG IN AND MAKE SOME OF THE SCIENCE EASIER TO DIGEST!
Apple Cider Vinegar (ACV):
Along with curbing the blood glucose spike after a sugary snack, ACV will keep you feeling full longer, which will ultimately keep you from indulging in teeth (and brain!) rotting high glycemic carbohydrates.
Like other organic compounds found in fruit, ACV contains polyphenols which are powerful antioxidants.
Maple Syrup:
A newly discovered compound found in maple syrup, quebecol, was found to be associated with a reduction in pro-inflammatory cytokines (chemical messengers that initiate the immune response and jack inflammation).
Another naturally occurring compound from maple syrup extract might be able to reduce the amount of antibiotics necessary to combat infectious bacteria, which could in turn affect brain functioning. 
Cinnamon:
Its antioxidant and anti-inflammatory effects have huge potential for addressing many brain and mental health conditions.
It might be one of the ultimate brain foods for improving cognition as we age by preventing the buildup of beta-amyloid, the protein seen in the brain of those with 

Alzheimers disease.
You might also enjoy: