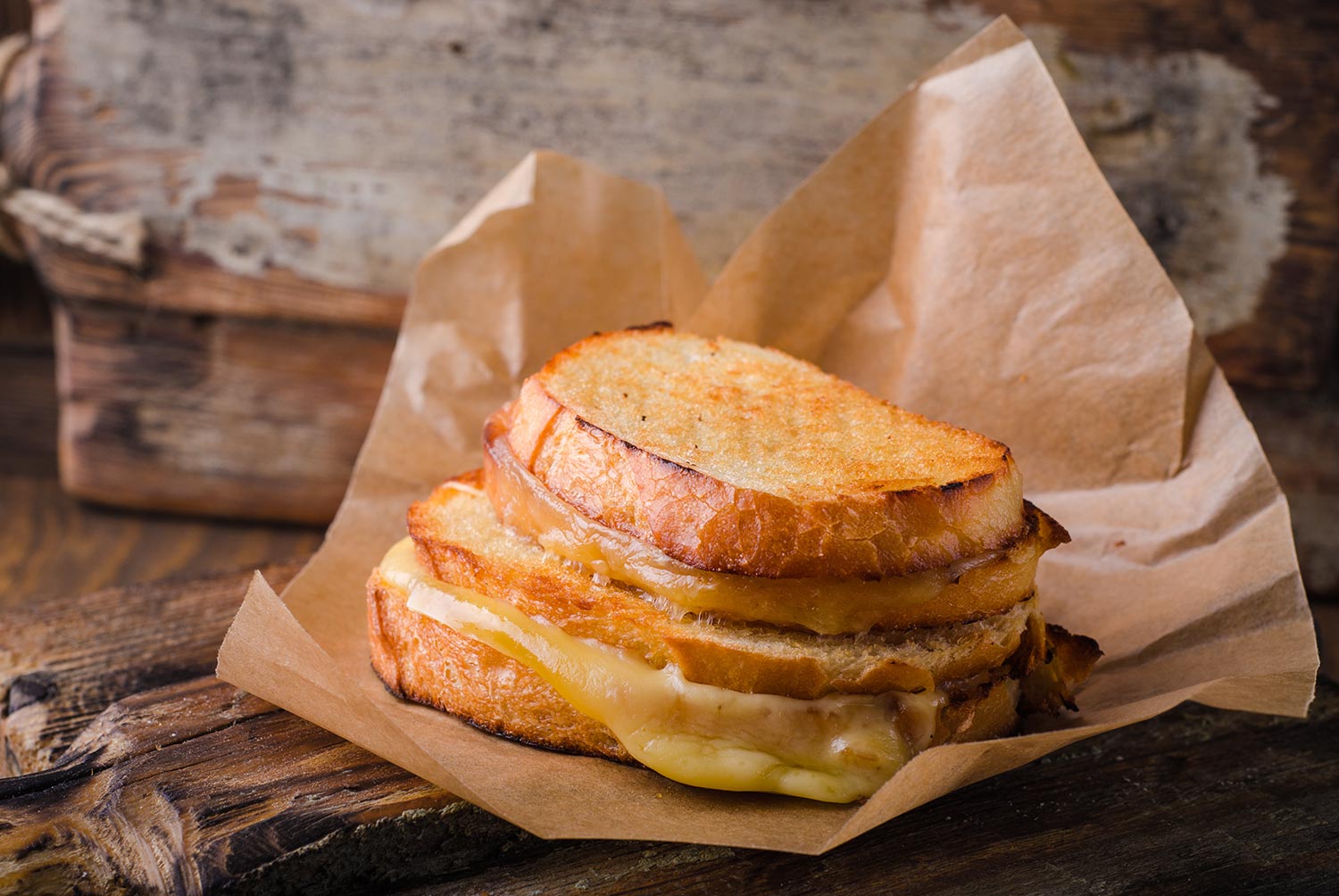 When the weather turns chilly (or sometimes just whenever, let's be honest here) I crave a good grilled cheese. I've had a number of good ones in my day — but the best tasting ones have never been the best ones for my health.
So. I wanted to change that and create a wicked grilled cheese sandwich that was also brain and gut-health promoting. And I think we've done it (but you be the judge).
We started with probiotic-rich sourdough, the only white bread that makes it onto our clients' NeuroTrition Rx. We then used goat cheese because we find that while our clients tend to adore cheese, many are sensitive to cow dairy because of the high lactose (milk sugar) and casein (milk protein) it contains. Goat and sheep dairy have lower levels of these allergenic sugars and proteins, so we always suggest our clients try these instead, if giving up their beloved cheese altogether is not an option!
You'll notice we used two types of goat cheese in this recipe - we find they make such a good blend! We finished off our grilled cheese with a few special touches to make it just a little bit fancy, including some brain boosting coconut oil and dijon mustard. Both of these ingredients are also thermogenic (i.e. fat-burning), and I'll never say no to a bit of fat-burning action in my otherwise total comfort food. We've also included fresh thyme which is brimming with brainiac polyphenols (plant compounds) that are not only good for you but also good for your home (hello to thyme's fungi and mould-fighting power)! Please enjoy our brain and gut-health tribute to the classic grilled cheese.
Sourdough Grilled Cheese
Ingredients
4 slices sourdough bread
2 Tbsp cold pressed coconut oil
1 Tbsp dijon mustard
2 Tbsp soft goat cheese*
1 1/2 cups goat cheddar, shredded*
Small handful fresh thyme, rough chopped (about 1 Tbsp)
Method
Thoroughly mix coconut oil and mustard in small bowl, set aside.
Lay out sourdough bread on parchment paper, and spread the coconut oil mixture equally on one side of the pieces.
Flip bread over to distribute and smear the soft goat cheese evenly on each piece.
Sprinkle goat cheddar and thyme on 2 pieces (this will be the bottom of the sandwich) and top each bottom with the other piece of sourdough.
Place a large heavy bottom skillet over medium heat, and place sandwiches into skillet.
Cook on first side with a sandwich press** on top for about 3 minutes, flip and cook another 3 minutes with sandwich press.
Once golden on both sides, remove from skillet and allow to sit for about 2 to 3 minutes.
Notes
* This sandwich can be made vegan too! Vegan cheese - it does exist. But we're NOT talking about the processed chemical kind of vegan cheese you might be thinking of, nope! We only do whole food here, remember? And there are whole food vegan cheese options out there made from nuts, like cashews. When looking for a plant-based cheese, make sure there are no preservatives, fillers, binders or chemicals in the ingredients. A local Alberta company, called Truffula, is crafting super clean dairy-free cultured products with the same taste and texture as soft goat cheese. Truffula checks everything off on our health-foodie list: only whole foods, probiotic goodness and big flavour. So vegans, you CAN have your (healthy) grilled cheese and eat it too!
** If you do not have a sandwich press, no worries! Use a smaller heavy skillet to press your sandwich!
*** This sandwich is vegetarian, but if you would like to add some animal protein to it, add 1/4 of shredded free range chicken to each sandwich!

LET'S DIG IN AND MAKE SOME OF THE SCIENCE EASIER TO DIGEST!
Mustard:
Shown to enhance diet-induced thermogenesis (aka. heat creation, which leads to increased metabolism) 4 hours after eating it.
Shown in a rat model of diabetes to have antidepressant-like effects.
Thyme:
Shown to have antioxidant, anti-inflammatory, and antimicrobial activities when eaten.
Thyme essential oil may be a natural alternative to synthetic chemical fungicides for the control of fungi and mould indoors.
You might also enjoy: