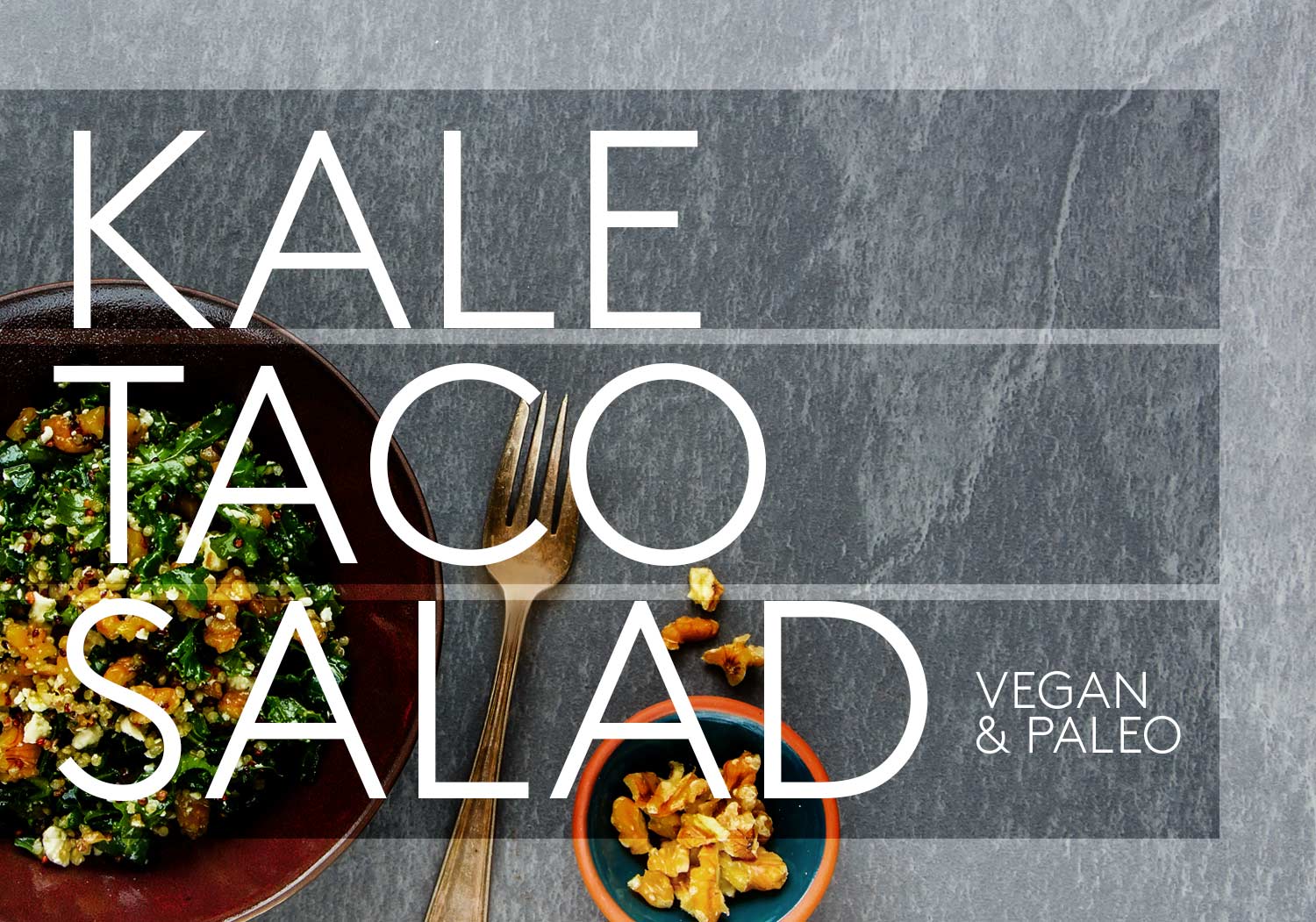 I absolutely love love LOVE tacos. And a solid taco salad is one of my favourite summertime dishes I enjoy when going out to eat.
This 100% plant-based take on a taco salad is a major win for me, as I am proudly "trending on plant-based" these days (this means that while I still love me some good-quality dairy and meat, I am eating it pretty sparingly while being more mindful of choosing plant-based foods most of the time).
The NeuroTrition Rx recommends that we move to a more plant-based, raw way of eating over the Summer months, and this easy-to-make taco salad, which uses walnut meat, is such a great example of this! Walnuts are an ultimate brain food (have you noticed they look like a brain?!) and they are such a smart swap for ground beef (hello omega healthy fats and goodbye meat-based saturated fat). For fun, we used kale in our version to score some serious superfood points, but you can use romaine, butter leaf or any lettuce you like.
Kale Taco Salad
Ingredients
Salad Ingredients
6-8 cups chopped kale (woody stems removed), massaged*
2 diced, ripe avocados
2 sliced green onions
1/2 cup fresh cilantro, chopped**
1/4 cup raw pumpkin seeds
1/4 cup diced red onion
1 cup cherry tomatoes
Walnut "Meat" Ingredients***
2 cups raw walnuts
1/3 cup cherry tomatoes
4 Tbsp water
1 Tbsp cumin
1 Tbsp paprika
1 tsp red pepper flakes
1/2 tsp chili powder
1 jalapeno, seeds removed
4 garlic cloves
Pinch of sea salt
Dressing Ingredients****
1/2 ripe avocado
1 large lime (approximately 4 Tbsp)
1/2 tsp cumin
2 Tbsp extra virgin olive oil or avocado oil
2 Tbsp cilantro
1 garlic clove
1 Tbsp hot sauce (optional)
Pinch of sea salt
Method
Place walnuts in food processor or high-power blender, pulse into meal, larger chunks is okay. Transfer walnuts to medium bowl and set aside.
Place remaining walnut meat ingredients into food processor. Blend until a smooth paste forms, about 1 minute.
At this point taste and adjust your seasoning to preference.
Add mixture to walnuts, stir to combine and set aside.
Place all dressing ingredients into food processor or high-power blender, blend until smooth. Taste and adjust seasonings as needed.
Plate the kale with walnut meat, avocado, green onions, cilantro, pumpkin seeds, red onion and cherry tomatoes. Dressing can be served on the side or tossed prior to serving.
Notes
* Massaging the kale helps to break down the cell structure, giving it a softer texture and a more mild flavour. By massaging the kale it makes it easier for your body to digest, absorb and assimilate all the good stuff in there that makes it a superfood! To give your kale the royal treatment, use your hands to massage for 2-3 minutes. Or, you can add a good oil like extra virgin olive and get silky hands while you massage your kale.
** For those 50% of people who say cilantro tastes like soap, a great substitute is parsley.
*** This walnut meat can also be used in other dishes where ground beef is required. For example, this can be used instead of meatballs by simply forming the walnut meat into balls and placing on top of a dish. The walnut meat can be stored in the fridge for up to 7 days. Freezing is not recommended.
**** This dressing can be stored in the fridge for 3-5 days, but it is best when used fresh.

LET'S DIG IN AND MAKE SOME OF THE SCIENCE EASIER TO DIGEST!
Kale:
A bona fide superfood with some of the highest amounts of the free radical killer beta carotene (which makes vitamin A).
Showing potential for brain disorders including Alzheimers, ALS, brain cancer and stroke!
Studies have found that middle-aged and older adults who eat more nuts seem to have higher cognitive function, and slower decline in cognitive function over the years!
Walnuts have also been shown to be heart-healthy, and heart health is associated with brain health.
Migliozzi, M., Thavarajah, D., Thavarajah, P., & Smith, P. (2015). Lentil and Kale: Complementary Nutrient-Rich Whole Food Sources to Combat Micronutrient and Calorie Malnutrition. Nutrients. 7(11), 9285–9298.
Sikora E. & Bodziarczyk, I. (2012). Composition and antioxidant activity of kale (Brassica oleracea L. var. acephala) raw and cooked. Acta scientiarum polonorum. Technologia alimentaria. 11(3), 239-48.
You might also enjoy: