Raw Dark Chocolate & Almond Protein Bars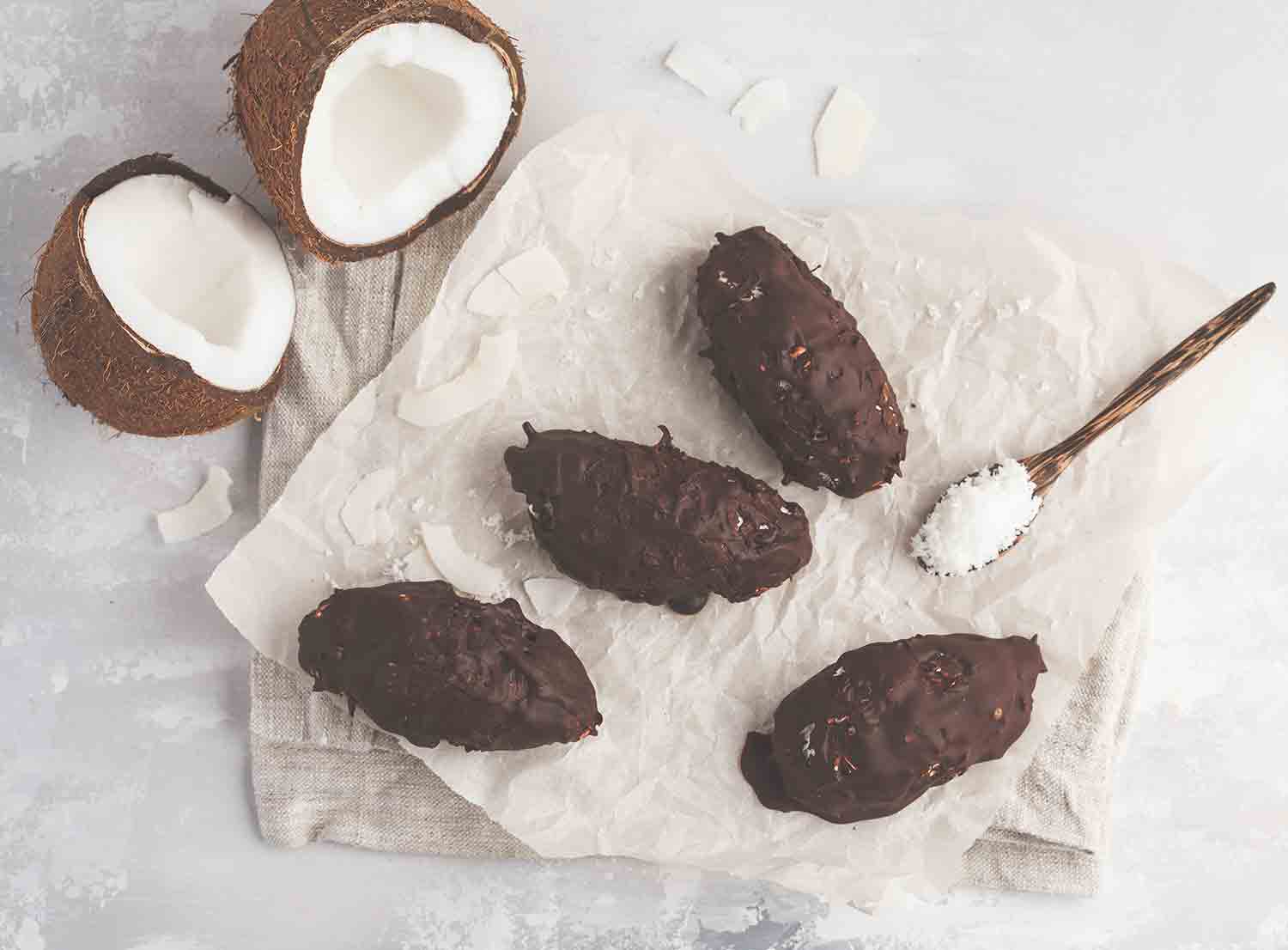 This recipe has been likened by our clients to a brain hacked version of a Bounty Bar. Which I will gladly use for bragging rights, because I love that chocolate-coconut combo a Bounty delivers. Our version just takes it to the next level and gives you coconut THREE ways enrobed in high-quality chocolate.
Plus we've included other brain boosting ingredients like Medjool dates, raw almonds, and healthier sweeteners like real vanilla extract and pure maple syrup. This protein bar is vegan, dairy free and gluten free - and it is the ultimate grab and go travel snack.
We've had great success with these babies with our clients who struggle getting healthy snacks when that mid-morning and mid-afternoon HANGRY HITS (and who tell us they end up just grabbing junk food in a pinch).
We recommend that they take an hour once a month (that's it!) and batch make enough for one month (just double the recipe) and put them in their freezer. Then, we tell them to simply grab 2 in the morning on their way out the door and have one for their mid-morning snack and the other for their mid-afternoon snack.
Raw Dark Chocolate & Almond Protein Bars
Ingredients
Protein Bar Ingredients:
1 1/2 cup Medjool dates, soaked in hot water for 20 minutes
1 cup raw almonds + 25 additional almonds for topping
2 tsp pure vanilla extract
1 cup unsweetened coconut, shredded
1 1/2 Tbsp pure maple syrup
1 Tbsp virgin coconut oil
1/4 cup coconut crème*
Pinch of sea salt
Dark Chocolate Coating Ingredients:
1 cup dairy free dark chocolate, chopped finely
1 Tbsp cold pressed coconut oil
Method
Protein Bars Method:
Put all ingredients into a food processor, blend until thoroughly combined and begins to form a large ball. Place this mixture into the refrigerator for at least 1 hour.
Take the refrigerated mixture and roll into logs, making into a mini bar shape, and then press an almond into the top.
Dip the top of the bars into the dark chocolate coating, place on a cookie sheet and place in the refrigerator to harden.
Once hardened, place in your travel container, and enjoy!
Dark Chocolate Coating Method:
Combine chocolate and coconut oil, and melt**.
Notes
*If you cant find plain coconut crème, get full fat coconut milk and refrigerate for 3-4 hours. You can skim the coconut crème right off the top!
**For melting my chocolate I always use a double boiler, its quick and easy. Not everyone has access or may know how to make one. So if you are using a microwave, just use intervals, microwaving for 30 seconds then stirring, until melted. Keep an eye on your chocolate though, as it burns very easily in the microwave.

LET'S DIG IN AND MAKE SOME OF THE SCIENCE EASIER TO DIGEST!
Coconut:
The medium-chain triglycerides (healthy fats) in coconut provide an efficient source of energy for the body (the less strain on our body, the better our brain runs).
Ketones made from the breakdown of the fat in coconut might actually have temporary effects when treating Alzheimer's Disease by enhancing memory.
Ketones may also improve our thinking ability so we can break through that mental fog we experience throughout the work day.
Maple Syrup:
A newly discovered compound found in maple syrup, quebecol, was found to be associated with a reduction in pro-inflammatory cytokines (chemical messengers that initiate the immune response and jack inflammation).
Another naturally occurring compound from maple syrup extract might be able to reduce the amount of antibiotics necessary to combat infectious bacteria, which could in turn affect brain functioning.
Vanilla Extract:
Vanilla extract has antioxidant properties that help neutralize damaging effects of free radicals on the brain to help mental health diseases including depression.
Vanillin, a compound found in vanilla extract, has been shown to reduce levels of inflammation in the blood (which can gain access to, and wreak havoc on the brain).
You might also enjoy: