Chaga Mushroom Ramen with Jicama "Noodles" and Mushroom Medley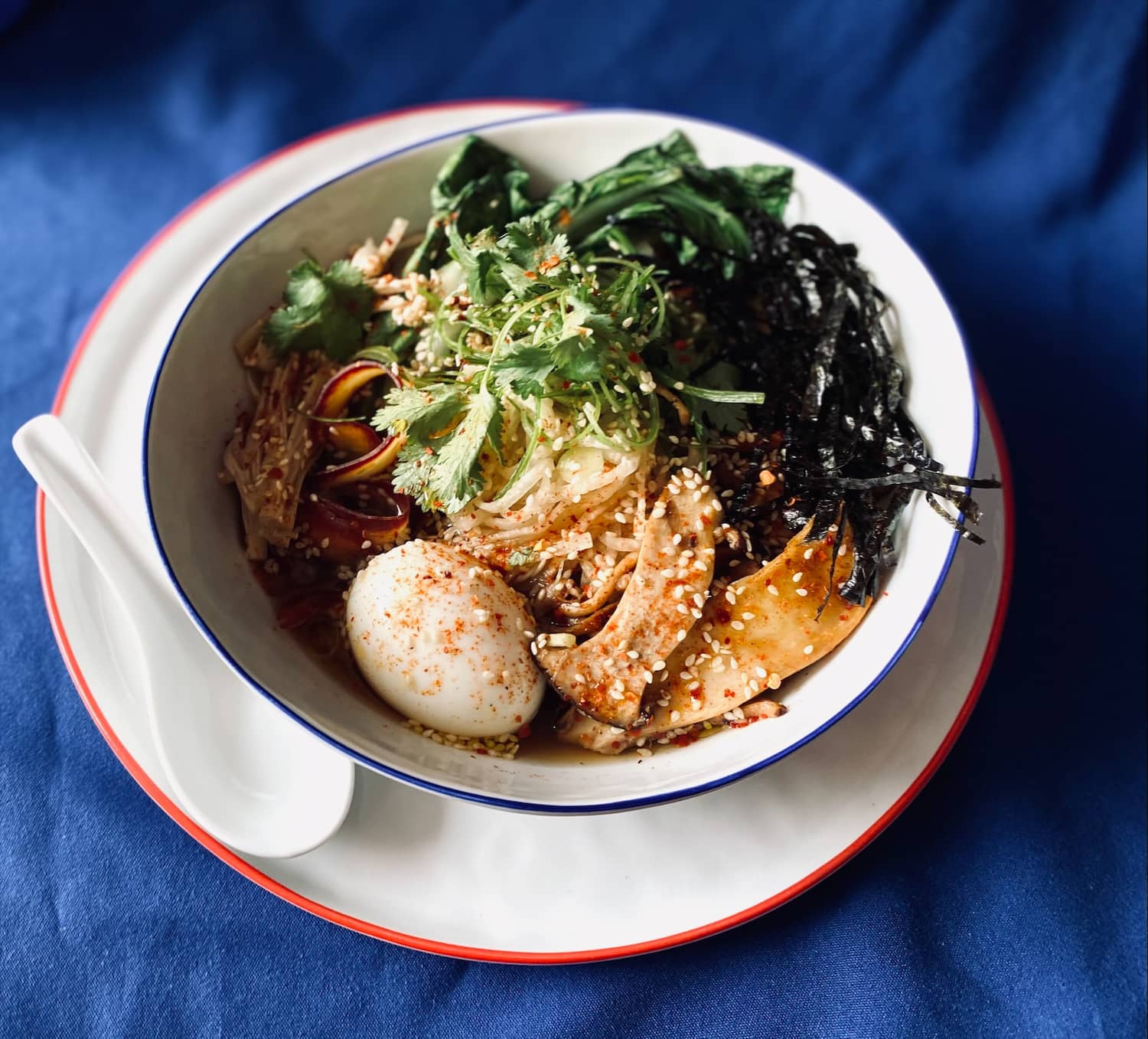 I love a good ramen, especially during the cooler months (but anytime of the year, actually), because I find that it is really the ideal comfort food.
Finding one, however, that is as deeply nourishing for the brain as it is for the mind and soul has been, in my extensive restaurant (and now takeout, too) experience, a bit of a challenge.
So we decided to make our own, first working to remove the not-so-brainy components of the classic such as gluten, dairy, MSG, soy and too much salt. Then we loaded it with some seriously brainiac ingredients such as ginger, garlic, chickpea miso, coconut aminos, apple cider vinegar and kombu, as well as an up-and-coming brain superstar: chaga mushroom powder. We proceeded to make a mind-blowing protein, vitamin and mineral packed mushroom medley to go in it, and finished it by adding some interesting (and bona fide brain loving) garnishes.
This dish is fancy, and sure to impress! But it's also fast and unfussy because you can make the broth ahead of time for a quick 15 minute meal any night of the week (or, like me, try it for breakfast).
Chaga Mushroom Ramen with Jicama "Noodles" and Mushroom Medley
Cooking:
1 hour (broth) 15 minutes (mushrooms & eggs)
Ingredients
Broth Ingredients:
6 cups homemade or store-bought, low sodium bone broth
2 tsp fresh ginger, roughly peeled and chopped
2 cloves garlic, peeled and chopped
1 tsp chickpea miso
1 Tbsp coconut aminos
1 tsp chaga mushroom powder
1 Tbsp apple cider vinegar
1/4 tsp gochugaru pepper flakes
Sea salt, to taste if necessary
Kombu Stock Ingredients:
4" piece of kombu
4 cups water
Mushroom Medley Ingredients:
2 king oyster mushrooms
1 cup shimeji mushrooms
2 portobello mushrooms
1 cup shiitake mushrooms
2 garlic cloves, minced
2 Tbsp grated ginger
2 Tbsp coconut aminos
2 tsp chickpea miso
1 lime, juiced
2 tsp honey
1 Tbsp coconut oil (to cook)
Garnish Ingredients:
2 eggs
2 carrots, shaved in ribbons
1 large head bok choy, quartered
1 jicama, julienned
2 green onions, finely sliced
1/4 cup cilantro, chopped
1 Tbsp toasted sesame seeds
2 large seaweed leaves, julienned
1 pinch gochugaru pepper flakes, to taste
Method
To make the broth, begin by first making the kombu stock. In a large bowl, combine water and kombu, let this stand for 30 minutes. Transfer the kombu and water to a pot and slowly bring it to near boiling point on medium heat. Once the bubbles start to appear and it looks like it's almost boiling, remove the kombu and turn off the heat. Add the other ingredients in the broth to kombu stock and bring to a simmer. Allow flavours to come together for 30 minutes.
To prepare mushrooms, in a medium bowl, combine minced garlic, ginger, coconut aminos, chickpea miso, lime juice and honey. Mix well until no lumps remain and set aside. Prepare and cut mushrooms in large 2" pieces.
Heat up a wok (a cast iron pan or sauté pan will also work) until hot and add coconut oil. Quickly add mushrooms and spread them out evenly to allow them to sear. As browning occurs, mix them, and cook for 4 minutes. Add marinade and stir well. Set aside for serving.
To prepare soft boiled egg, fill a small pot with water and bring to a boil. Gently lower cold eggs into the boiling water and let simmer for 7 minutes (for a runny yolk).
Meanwhile, fill a large bowl with ice water. When the timer finishes, transfer the eggs to the ice bath to stop the cooking process. Wait at least 5 minutes, or until cool enough to handle, then carefully peel away the shell. Set aside.
Clean and prepare carrots, bok choy and jicama. You can use a mandolin, peeler, or box grater to assist with this. When ready to serve, bring the mushroom broth to a boil and add carrots, jicama and bok choy. Allow to cook for 1 minute, making sure not to overcook vegetables. Using a ladle, portion out ramen into deep bowls along with cooked mushrooms and eggs.
Garnish ramen with chopped cilantro, green onions, toasted sesame seeds, seaweed and gochugaru flakes.
Notes
The broth can be made ahead of time and frozen. The entire dish can be stored in the refrigerator for 2 days without the poached egg.
Mushrooms can be substituted to suit personal preferences.
Want to make your own basic bone broth? We got you covered, here.

LET'S DIG IN AND MAKE SOME OF THE SCIENCE EASIER TO DIGEST!
Chaga:
An ideal prebiotic, shown to induce positive changes in the gut microbiota and increase healthy bacterial populations.
A promising medicinal mushroom candidate in the fight against cancer, too.
Kombu:
A type of brown seaweed, kombu is rich in minerals including the anti-anxiety mineral magnesium.
May be helpful in the management of metabolic syndrome (a cluster of various cardiovascular and metabolic conditions, and a known side effect of certain medications for brain conditions).
Ginger:
Learn about the brainy benefits of this irresistible root that is one of the oldest medicinal foods, here.
Jayachandran, M. Xiao, J., Xu, B. 2017. A Critical Review on Health Promoting Benefits of Edible Mushrooms through Gut Microbiota. International Journal of Molecular Science, 18(9),1934.
Gabbia, D., De Martin, S. (2020). Brown Seaweeds for the Management of Metabolic Syndrome and Associated Diseases. Molecules, 25(18), 4182.
You might also enjoy: