Pumpkin Spice Latte Banana Bread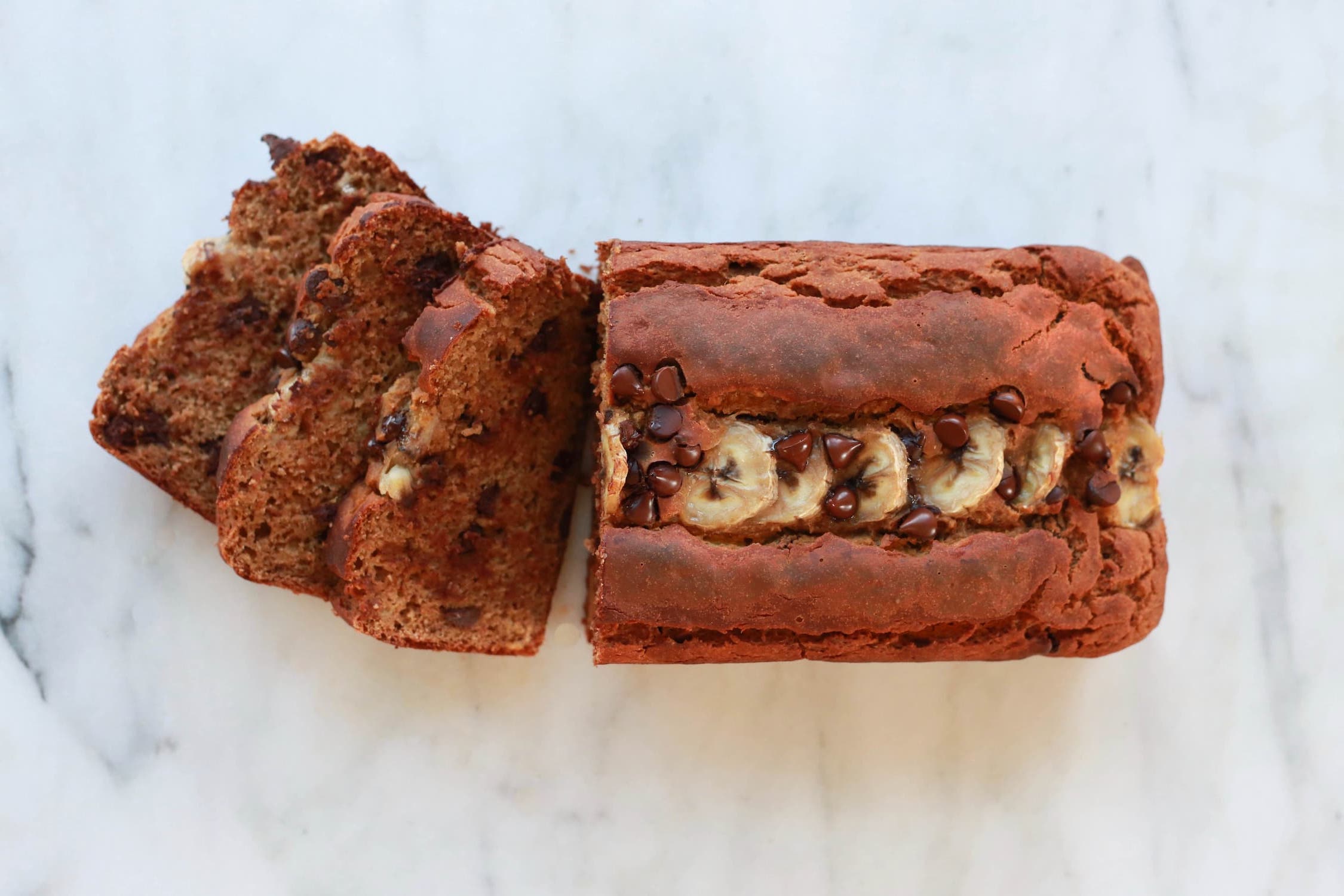 With the seasonal shift into Autumn and Winter, you may notice your body start to crave denser, more carbohydrate-containing foods and rich spices like cinnamon and nutmeg. Taking this into consideration, we took an already-classic fall Favourite, banana bread, and spiced it up with another Fav of mine, PSL (hello, pumpkin spice latte!), to create something you can really sink your teeth into. Say hello to our Pumpkin Spice Latte Banana Bread!
This loaf is not only dressed up in Fall flavours but is also dripping in blood sugar balancing properties that the pumpkin, cinnamon and nutmeg bring. Because I know personally and from many of our clients that this time of year with the upcoming holidays can be particularly hard on our blood sugar biology - which directly impacts our mood and energy. Keeping this in mind, while we did sweeten this recipe, we stuck with pure maple syrup and raw honey so you can reap some brain, gut, and immune loving benefits from the vitamins and minerals they contain. The semi-sweet chocolate chips are optional to keep it on the less sweet side - but if you're really craving chocolate there's a luscious chocolate ganache add-in too! We also made it gluten free, (and included a dairy free option too) so everyone can enjoy it. Happy Fall Y'all!
Pumpkin Spice Latte Banana Bread
Ingredients
PSL Banana Bread Ingredients:
1 1/2 cups Bobs Red Mill Gluten Free Flour
1 tsp xanthan gum
1 1/4 tsp baking powder
3/4 tsp baking soda
1/2 tsp sea salt
2 tsp true cinnamon
1 tsp ground nutmeg
1 tsp fresh lemon juice*
2 whole eggs, whisked
1 banana, mashed (1/2 cup)
1/2 cup pumpkin purée
1/2 cup plain, unsweetened Greek yogurt**
1/4 cup pure maple syrup
1/4 cup raw, unpasteurized honey
2 tsp pure vanilla extract
1/3 cup coconut milk (refrigerated, in carton package)
1/2 cup semi-sweet chocolate chips (optional)**
Chocolate Ganache Ingredients (optional)***:
1/4 cup of dark chocolate, chopped**
1/8 cup of coconut milk
Method
PSL Banana Bread Method:
Preheat oven to 350°F, and line a loaf pan with parchment paper.
Mix dry ingredients (flour, xanthan gum, baking powder, baking soda, salt, cinnamon, and nutmeg) in a mixing bowl.
In a separate bowl, mix eggs, lemon juice, banana, pumpkin, yogurt, honey, maple syrup, vanilla, and coconut milk together.
Mix wet with dry ingredients until well combined, then add chocolate chips if using.
Put into parchment-lined loaf pan and bake on top rack for 55 minutes, until it springs back and a toothpick comes out clean.
Allow to cool for 20 minutes, cut and serve****!
Chocolate Ganache Method (optional):
Heat up coconut milk on stovetop to boiling point.
Pour over dark chocolate and cover for 5 minutes.
Stir until completely melted and spread on top of loaf.
Notes
*Apple cider vinegar will work nicely, too
**Those with dairy sensitivity, we got you covered! You can easily substitute in plain, unsweetened dairy free yogurt and dairy free chocolate chips or dairy free dark chocolate
***We recommend not doubling up on chocolate chips and ganache but using one or the other. Unless you are a really big chocolate fan and want this to be like a PSL hot chocolate bread!
****Wrap your loaf (or what's left of it, if any!) in plastic wrap or place it in a container (I recommend a sealed container for freshness so they don't dry out) and store on your counter for up to 4 days or in the fridge for up to 1 week. You can also freeze your baked loaf for up to 4 months.

LET'S DIG IN AND MAKE SOME OF THE SCIENCE EASIER TO DIGEST!
Pumpkin:
Pumpkin polysaccharides (carbohydrates) have been found to have hypolipidaemic (fat lowering) and hypoglycaemic (blood sugar lowering) activities in the bloodstream
Recent studies have shown promising results in using pumpkin polysaccharides as a form of treatment in diabetes mellitus
Coconut:
The medium-chain triglycerides (healthy fats) in coconut provide an efficient source of energy for the body (the less strain on our body, the better our brain runs).
Ketones made from the breakdown of the fat in coconut might actually have temporary effects when treating Alzheimer's Disease by enhancing memory.
Ketones may also improve our thinking ability so we can break through that mental fog we experience throughout the work day.
Cinnamon:
Its antioxidant and anti-inflammatory effects have huge potential for addressing many brain and mental health conditions.
It might be one of the ultimate brain foods for improving cognition as we age by preventing the buildup of beta-amyloid, the protein seen in the brain of those with Alzheimer's disease.
Maple Syrup:
A newly discovered compound found in maple syrup, quebecol, was found to be associated with a reduction in pro-inflammatory cytokines (chemical messengers that initiate the immune response and jack inflammation).
Another naturally occurring compound from maple syrup extract might be able to reduce the amount of antibiotics necessary to combat infectious bacteria, which could in turn affect brain functioning.
You might also enjoy: