Zucchini Ribbons with Pumpkin Seed Pesto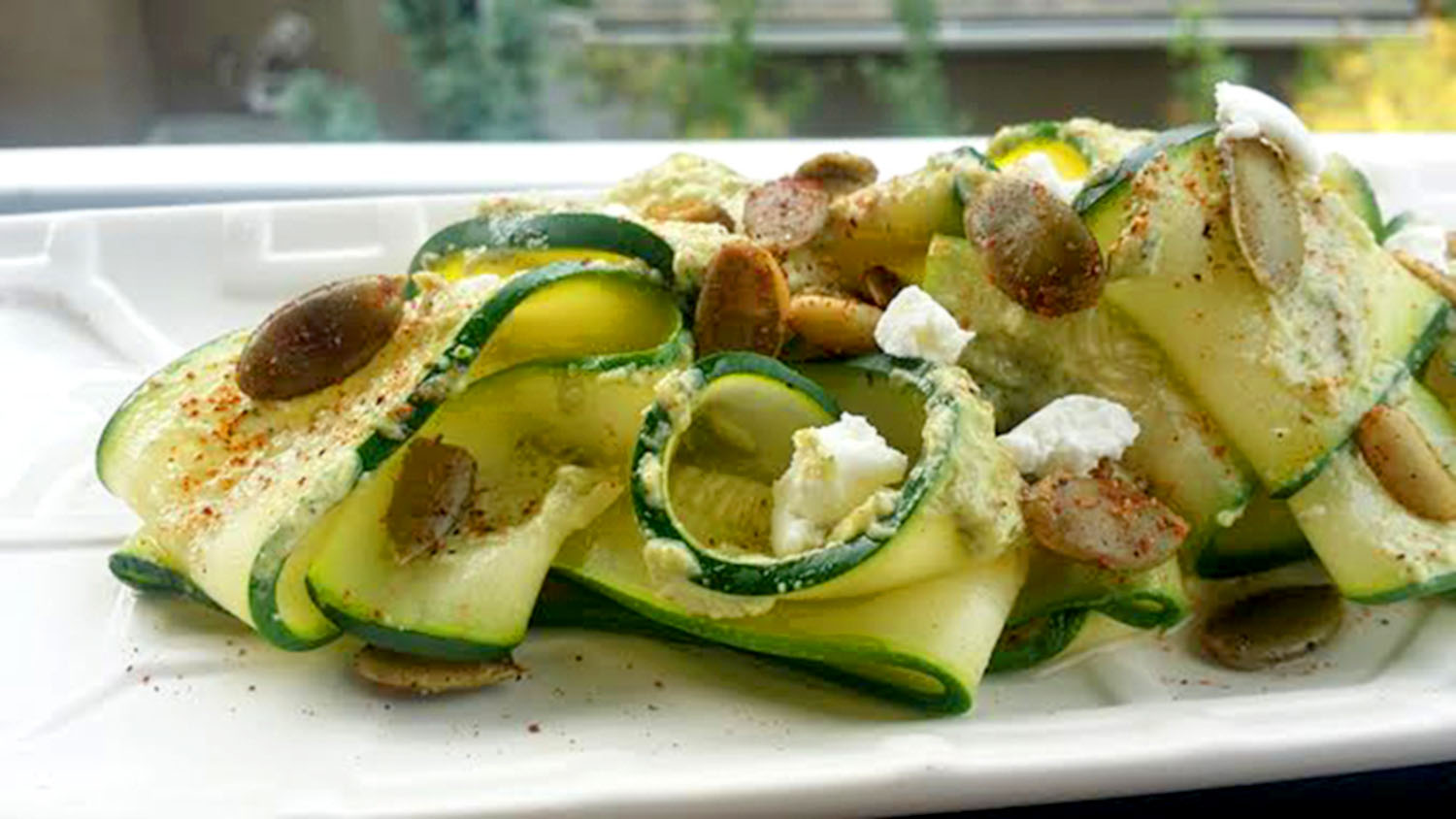 If you've never tried zucchini noodles, take note: they're delicious, quick and easy, and a light, grain free, low carb alternative to pasta. And if you have tried them before (and love them, obviously), then our take on pesto is going to take your zucchini pasta to the next level with brain-boosting pumpkin seeds and liver-loving arugula.
This dish can be enjoyed hot or cold, as a simple lunch or dinner, side salad, or snack. We've even had it for a brain fuelling, detoxifying breakfast to start our day off right. Remove the cheese and this plant-based dish goes vegan, too!
Zucchini Ribbons with Pumpkin Seed Pesto
Ingredients
1/2 cup raw pumpkin seeds
3/4 cup cold pressed organic camolina or olive oil
1/4 cup grated grass fed hard cheese*
1/2 cup walnuts
1 handful of arugula
1/4 tsp salt & pepper
5 medium sized zucchinis
Method
Bring large pot of salted water to a rolling boil.
Cut 

zucchini

 lengthwise thinly using a mandolin or a knife.
Take zucchini ribbons and quickly blanch in boiling water for 1 minute, remove and submerge in a bowl of ice water to stop them from cooking further.
Puree remaining ingredients in a food processor, slowly streaming in oil until a desired consistency is reached.
Toss zucchini and pesto together in large bowl.
Top with raw or lightly toasted pumpkin seeds, and enjoy!
Notes
*The grass fed hard cheese may be omitted to make this yummy pesto vegan!

LET'S DIG IN AND MAKE SOME OF THE SCIENCE EASIER TO DIGEST!
Zucchini:
Zucchini is rich in flavonoid antioxidants such as carotenes and lutein, as well as vitamin C, which are all great anti-inflammatory nutrients.
It is a great source of potassium, which increases blood flow and can increase thinking ability and concentration, as well as folate, shown to reduce cognitive decline.
Arugula:
Also known as rocket leaves, it is an excellent source of the free radical fighting antioxidants Vitamin A and C, that support brain health.
This brain boosting Vitamin K-rich leafy green can be thrown in to most dishes, like salads, sandwiches and even smoothies! 
Olive Oil:
Packed with nutrients and monounsaturated healthy fats, olive oil is a powerful brain supporter rich in antioxidants which are anti-inflammatory and even decrease inflammation in the brain.
It also contains B vitamins, which may act as a protective factor against degenerative diseases like Alzheimer's Disease.
It boosts serotonin, dopamine and other neurotransmitter content in the brain, thus possibly helping positively effect brain and mental health. 
You might also enjoy: