Avocado Superfood Pudding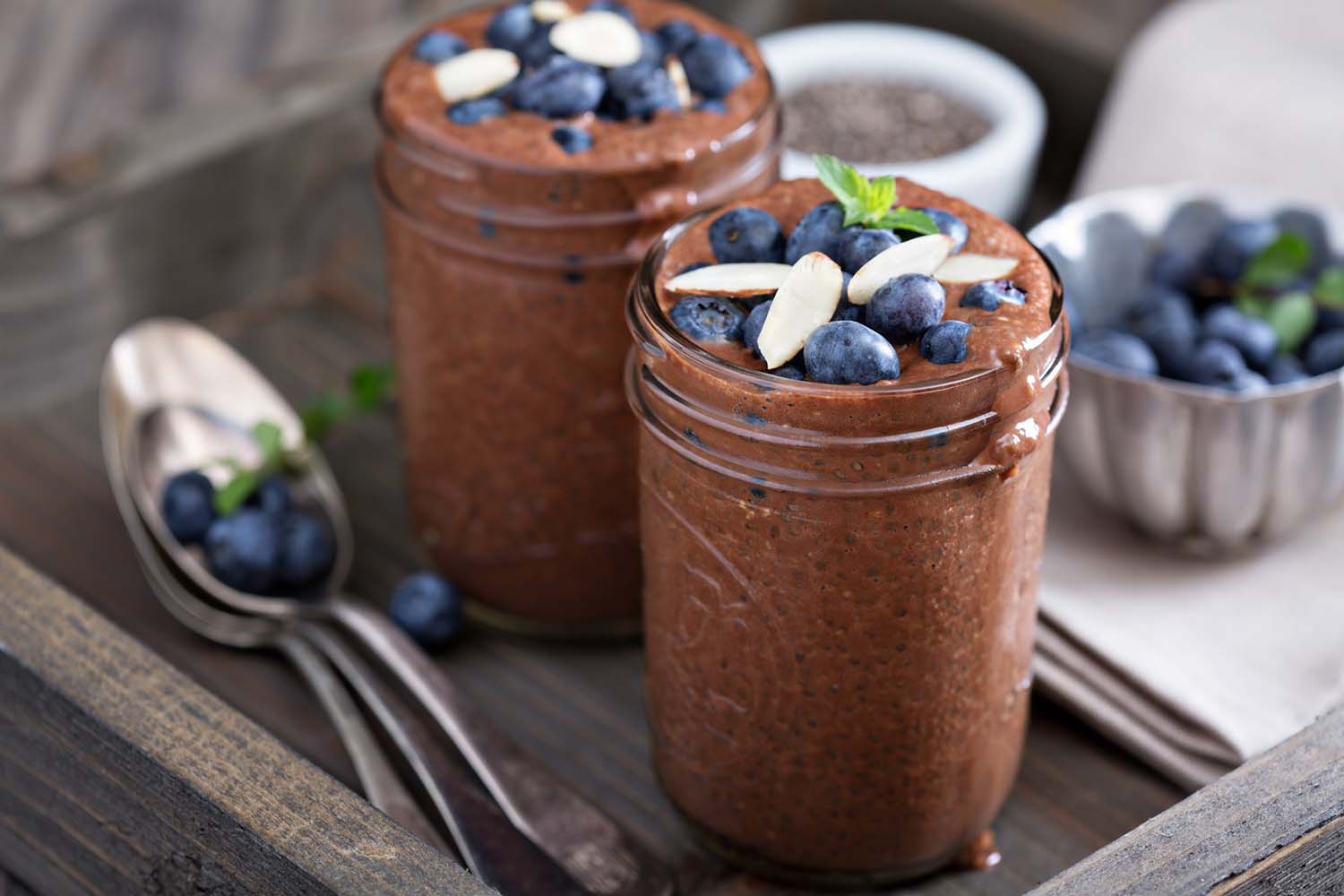 Snack Pack and Kozy Shack chocolate pudding flavour profile, texture and mouthfeel were our inspiration, and what we were after with this recipe. Our challenge was to seamlessly integrate the essential nutrients for growing brains and remove the nasties lurking in conventional puddings (that make them so darn creamy and delicious). We think we've done it (it has been kid-approved in our test kitchen)!
This delicious superfood pudding is chock full of the essential brainiac building blocks: complex carbohydrates (blueberries, banana, flax seed), good fats (avocado, flax seed), protein (flax seed), prebiotics (banana), B vitamins (avocado, banana, cacao, flax seed), calcium, magnesium and iron (cacao powder). We love this pudding so much that we recommend it to the young at heart too, for a decadent, brain healthy breakfast, snack or dessert!
Avocado Superfood Pudding
Ingredients
1/4 cup fresh blueberries + extra for garnish
1 Tbsp true cinnamon
1 ripe avocado
2 ripe bananas
4 Tbsp raw cacao powder
2 tsp pure vanilla extract
1 Tbsp pure maple syrup or coconut sugar (optional)
1 Tbsp ground flax seed
Pinch of sea salt, to taste (optional)
Slivered or whole almonds to garnish (optional)*
Method
Add to blender or food processor and blend until smooth.
Will last in fridge, covered, for 2 - 3 days.
Garnish individual servings with a few blueberries and almonds (if using*).
Notes
* Almonds are a fantastic brain-fueling addition to this recipe. BUT it's easy to keep this recipe nut free - just omit the almond garnish.

LET'S DIG IN AND MAKE SOME OF THE SCIENCE EASIER TO DIGEST!
Avocado:
Despite the added fat and calories, the good fats and antioxidants in avocado are shown to curb the inflammation and vascular (eg. blood vessel) effects of hamburger patties (translation: add them to your burgers, sandwiches, etc.).
Avocado oil is shown to improve functioning of mitochondria (ie. our cellular powerhouses that produce our energy molecule ATP) and reduce free radical damage.
Myth Buster: Avocado is NOT fattening and should not be avoided, even if you are trying to lose weight as it's shown to not derail weight loss efforts one bit!
Blueberries:
Their special compounds may be an important nutritional intervention for age-related neurodegenerative diseases like Parkinson's and Alzheimers.
Blueberry juice is shown to improve learning and memory, balance blood sugar (even though they taste so sweet, they won't mess with your blood sugar!) and even reduce depressive symptoms.
Cinnamon:
Its antioxidant and anti-inflammatory effects have huge potential for addressing many brain and mental health conditions.
It might be one of the ultimate brain foods for improving cognition as we age by preventing the buildup of beta-amyloid, the protein seen in the brain of those with Alzheimers disease.
You might also enjoy: