Zucchini Fritters with Chipotle Lime Dip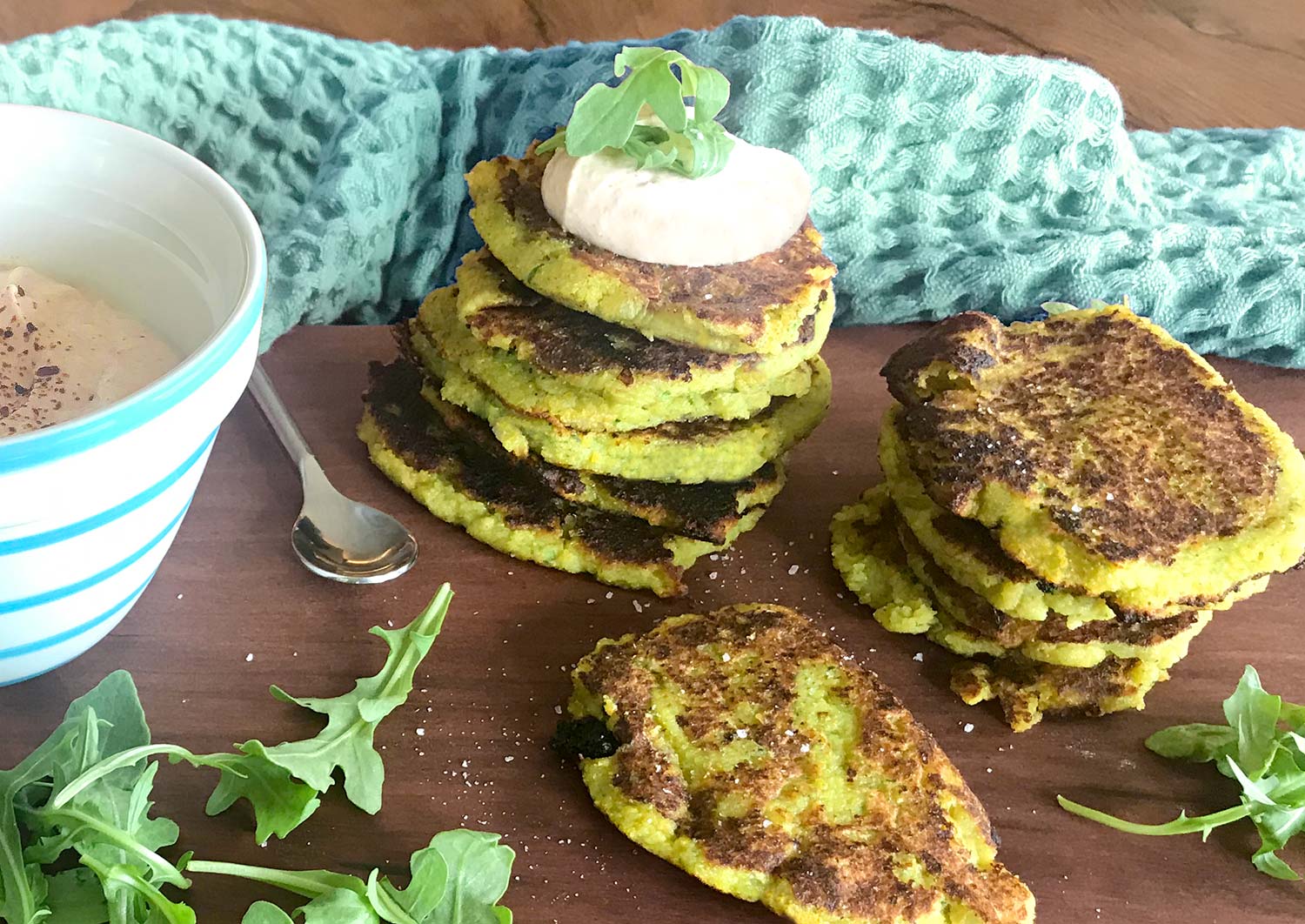 Who said you can't have fritters just because you're gluten-free (or totally grain-free, for that matter)? And who even said you shouldn't be eating delicious golden little fritters because they're bad for you with all that poor quality batter deep-fried in rancid low-grade oil? We're here to tell you that you CAN, in fact, have them - with our simple brainy hack, that is. Because we've turned this carnival and pub Fav into something that is actually quite good for your noggin!
We made the batter gluten-free and grain-free with a combination of coconut flour, arrowroot flour, and baking powder. You can use this batter for all your fritter needs moving forward to keep them free of gluten and grain. We did make the base recipe with eggs, but if you are egg-free and/or plant-based, this recipe also works wonderfully with vegan eggs (check the Notes, it's really easy). And we fried them on medium heat in extra virgin olive oil or coconut oil (both work nicely, depending on what you have on hand and what health benefits you're going for).
Our chipotle lime dip is not to be missed, it is SO GOOD (and super simple to make). We tried it with Greek yogurt and plant-based coconut yogurt, and both turned out really nicely. The best part about this dip is that it lasts a week in your fridge so you can make double the amount and keep enjoying it with fresh veggies, crackers, as a spread for sandwiches or wraps or whatever else strikes your fancy (on a spoon by itself has been one of my new Favs).
Zucchini Fritters with Chipotle Lime Dip
Ingredients
Vegetable Fritters:
2 large zucchini, grated
1 medium sweet onion, diced
1 sweet potato, peeled and grated
2 free range eggs, lightly beaten*
2 cloves garlic, minced
1/2 cup coconut flour
1/2 cup arrowroot flour
1/2 tsp baking powder
1 tsp salt
pinch of pepper
2 Tbsp extra virgin olive oil, or coconut oil
Chipotle Lime Dip:
1 cup plain Greek yogurt**
1 tsp garlic powder
1 lime, juice and zest
2-3 chipotle peppers in adobo, minced
Pinch of sea salt
Method
Zucchini Fritters Method:
Place grated zucchini in a colander in the sink, add salt and toss to combine. Let it sit for 10 minutes. Using either a clean dishtowel or cheesecloth, drain zucchini completely.
In a large bowl, combine zucchini, onion, sweet potato, eggs, garlic, flour, and baking powder. Season with salt and pepper to taste.
Heat olive oil in a large skillet over medium heat. Drop small bunches of zucchini mixture for each fritter; add only a few to the pan as to not crowd them, flattening with a spatula. Cook 3-4 minutes on each sized until edges are lightly golden brown.
Serve immediately with chipotle lime dip. Enjoy!
Chipotle Lime Dip Method:
Add all ingredients to mixing bowl and mix until well combined. May be stored in the fridge for 1 week.
Notes
*If you want to make this recipe vegan, you can replace the eggs with flax eggs (1 egg =1 Tbsp flaxseed meal + 2 1/2 Tbsp warm water).
**If you are looking for a dairy-free alternative, the Greek yogurt can be replaced with equal parts of coconut yogurt!

LET'S DIG IN AND MAKE SOME OF THE SCIENCE EASIER TO DIGEST!
Greek Yogurt:
Greek yogurt is packed full of protein and lots of healthy probiotics which are key in digestion and a healthy gut.
There is a big connection between gut bacteria and mental health, and this type of yogurt may balance the brain activity affected by stress, stabilize moods and lower anxiety.
Coconut:
The medium-chain triglycerides (healthy fats) in coconut provide an efficient source of energy for the body (the less strain on our body, the better our brain runs).
Ketones made from the breakdown of the fat in coconut might actually have temporary effects when treating Alzheimer's Disease by enhancing memory.
Ketones may also improve our thinking ability so we can break through that mental fog we experience throughout the work day.
Olive Oil:
Packed with nutrients and monounsaturated healthy fats, olive oil is a powerful brain supporter, rich in antioxidants that battle brain inflammation.
It is chock full of B vitamins, which may help protect against Alzheimer's Disease.
It boosts serotonin to help stabilize mood and ward off depression. Olive oil does it all!
You might also enjoy: