No Bake Double Chocolate Cake Bites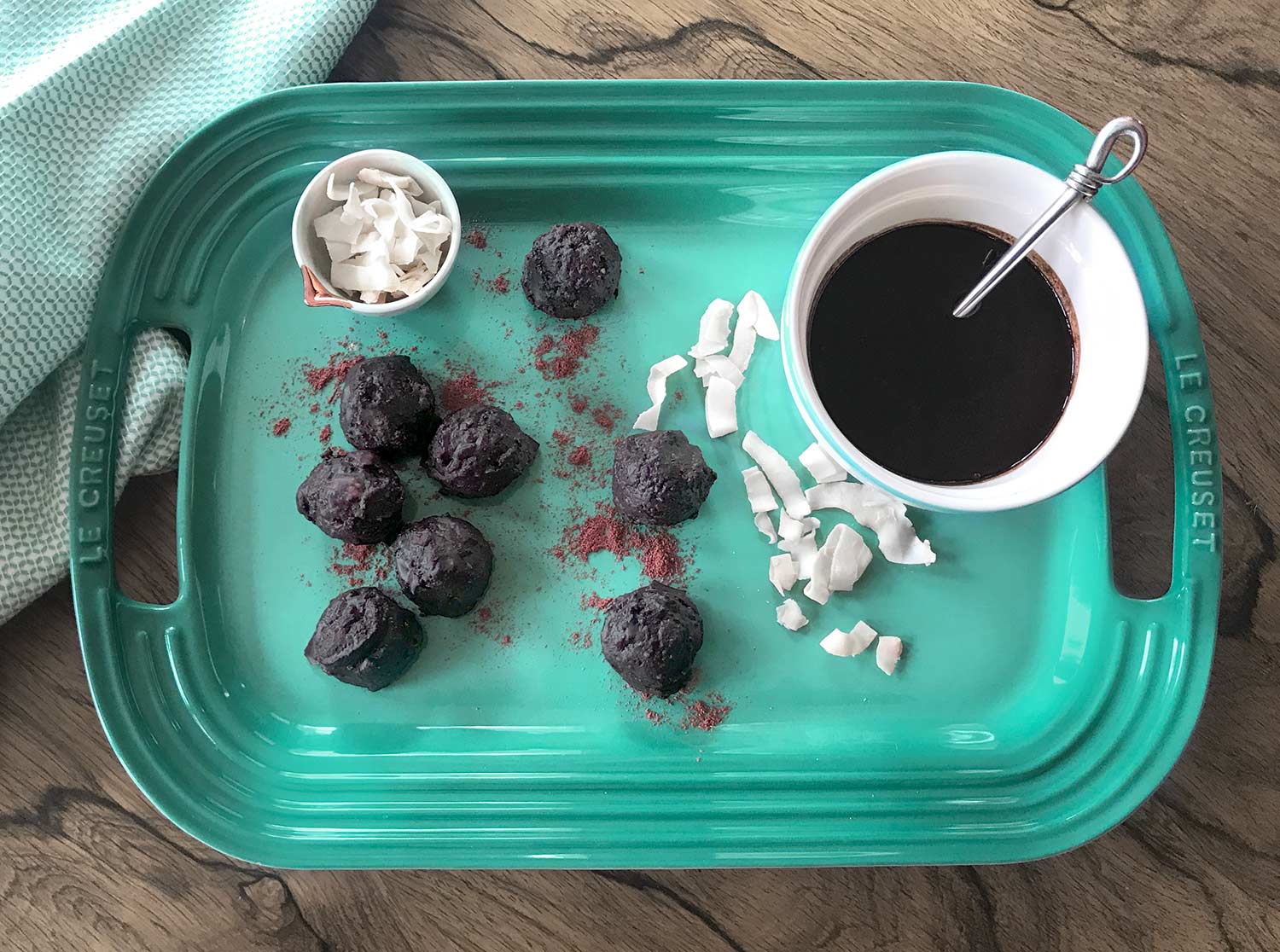 It's that wonderful time of year: BACK TO SCHOOL. This often comes with the dreaded "what am I going to send them with to eat?!?" Here are some of the most common hopes and dreams we hear at NeuroTrition from parents about packing that perfect school snack:
"It has to be nut-free."
"It needs to be quick, that we can grab-and-go."
"I'd like to try gluten- and dairy-free, to see if it helps my kid."
"We want to reduce grains, so a grain-free idea would be great."
"We're going more plant-based as a family, so would like something vegan."
"If I'm making it from scratch, it better be fast and simple."
"If it's healthy, it has to taste good so my kid will eat it!"
"My child is picky, so can it be something she's familiar with - just with a brain food twist?"
YES, YES, YES to each and every one of the above! Parents, we got you (and kids, we got you too)!
We're lovingly nicknaming these little bites NeuroTimBits - because most kids (and many parents) we meet are really into the processed, refined variety at Canada's favourite coffee shop. But when you meet NeuroTim, you might be saying goodbye to Tims for good (parents, you can also add this amazing coffee creamer to your coffee for a perfect pairing with your NeuroTimBits).
Are NeuroTimBits nut-, gluten-, dairy- and grain-free, and vegan? Check: they're as clean as they come AND they are brain food too! But how about fast and simple to make, and quick to grab-and-go in the morning? Check: they take half an hour to make, and store in your fridge or freezer for a month (so you can make one month's worth of snacks in 30 minutes)! And, finally, but oh-so so importantly, do they taste good and resemble something your kid already loves? You bet, so please enjoy!
NO BAKE DOUBLE CHOCOLATE CAKE BITES
Ingredients
For the cake bites:
2 cups packed medjool dates, soaked in hot water for 20 minutes (pits removed)
1 cup gluten free flour
1/3 cup coconut flour
1/3 cup gluten free oat flour
1/4 cup cacao powder
3 Tbsp pure maple syrup
1 Tbsp pure vanilla extract
2 Tbsp coconut crème*
1 scoop Botanica protein powder
Pinch of sea salt
For the chocolate glaze:
1 cup melted coconut oil
2 Tbsp coconut butter
1 cup cacao powder
1/3 cup pure maple syrup
1 tsp pure vanilla bean paste
Pinch of sea salt
Toppings (optional):
Dye-free sprinkles
Unsweetened coconut, shredded
Freeze dried strawberries
Method
Prepare a baking sheet with parchment paper and set aside. Put all cake bite ingredients into a food processor, blend until thoroughly combined (until small bits remain or a large ball is formed).
Using the mixture, form balls using a small cookie scoop, arrange on parchment paper. Once all of the mixture has been used, transfer to the freezer for ten minutes.
Combine all chocolate glaze ingredients in a mixing bowl and stir thoroughly to combine. Set aside.
Remove cake bites from the freezer and place into the glaze, remove using a spoon and return to the parchment paper. Place the baking sheet in the freezer for ten more minutes.
Once hardened, place in a sealed container and store in the refrigerator. Enjoy! Can be stored in the fridge or freezer for one month. If they last that long!
Notes
* If you cant find plain coconut crème, get full fat coconut milk and refrigerate for 3-4 hours. You can skim the coconut crème right off the top!

LET'S DIG IN AND MAKE SOME OF THE SCIENCE EASIER TO DIGEST!
Medjool Dates:
Fasting serum glucose (aka. blood sugar) is shown not to increase after eating them, meaning it keeps you off the blood sugar rollercoaster (and the mood and energy issues that go along with it.) This is pretty sweet news about this brain-friendly sweetener!
Found to contain a derivative of quercetin, which is a really powerful antioxidant know to fight free radicals.
Maple Syrup:
A newly discovered compound found in maple syrup, quebecol, was found to be associated with a reduction in pro-inflammatory cytokines (chemical messengers that initiate the immune response and jack inflammation).
Another naturally occurring compound from maple syrup extract might be able to reduce the amount of antibiotics necessary to combat infectious bacteria, which could in turn affect brain functioning.
Cardinal, S., Azelmat, J., Grenier, D., & Voyer, N. (2016). Anti-inflammatory properties of quebecol and its derivatives. Bioorganic & medicinal chemistry letters, 26, 440-444.
Maisuria, V. B., Hosseinidoust, Z., & Tufenkji, N. (2015). Polyphenolic extract from maple syrup potentiates antibiotic susceptibility and reduces biofilm formation of pathogenic bacteria. Applied and environmental microbiology, 81, 3782-3792.
Rock, W., Rosenblat, M., Borochov-Neori, H., Volkova, N., Judeinstein, S., Elias, M., & Aviram, M. (2009). Effects of date ( Phoenix dactylifera L., Medjool or Hallawi Variety) consumption by healthy subjects on serum glucose and lipid levels and on serum oxidative status: a pilot study. J Agric Food Chem. 57(17), 8010-8017.
You might also enjoy: