Watermelon Pineapple Coconut Slushie (3 Ways!)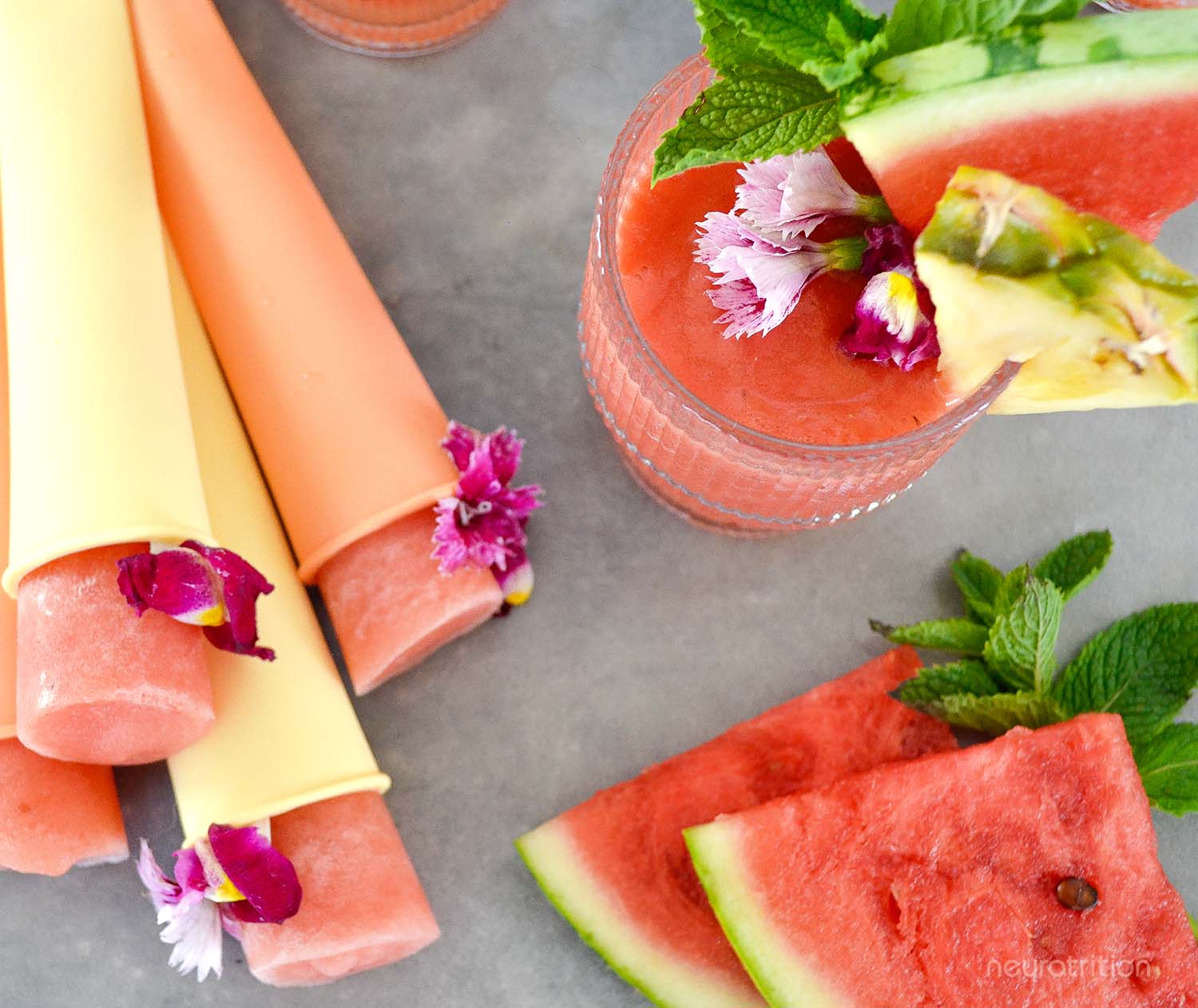 Slushies from Circle K or 7-Eleven, Mr. Freeze freezies, and Popsicle ice pops were such a part of my summers growing up. I loved them! Fast forward, however, and I now know that while they are tasty, they may do more than just give us brain freeze. The sugar content along with artificial colours, flavours, and other additives can actually be quite a brain DRAIN. And that's not something I want for myself or my clients. So we made our own simple recipe that you can enjoy in three ways: A slushie, a freezie, or an ice pop (all with a dose of body and brain GAIN benefits as a bonus)!
When I think of summer-specific health, I think hydration. We need to stay hydrated year round but in summer, when temperatures rise and we may be more active outdoors, it becomes even more critical. Did you know that the last symptom of dehydration is thirst? Well before thirst, we experience reduced alertness and attention, headache, mood and short-term memory impairments (levels of certain neurotransmitters have even been shown to change during dehydration). Two heavy hitters in the natural hydration space are coconut water and watermelon, as both are not only water-rich but also chock full of electrolytes.
Another thing that is always on my mind is inflammation, and neuro-inflammation specifically, because it is shown to be a core part of neurological disease, mental health issues and brain injury. Pineapple not only brings serious tropical beach vibes but contains the digestive enzyme bromelain - which science says when taken in between meals can help reduce inflammation. All herbs studied to date also bring anti-inflammatory benefits to the table, and we thought fresh mint was just the perfect finishing touch to this brain freezie, slushie or ice pop!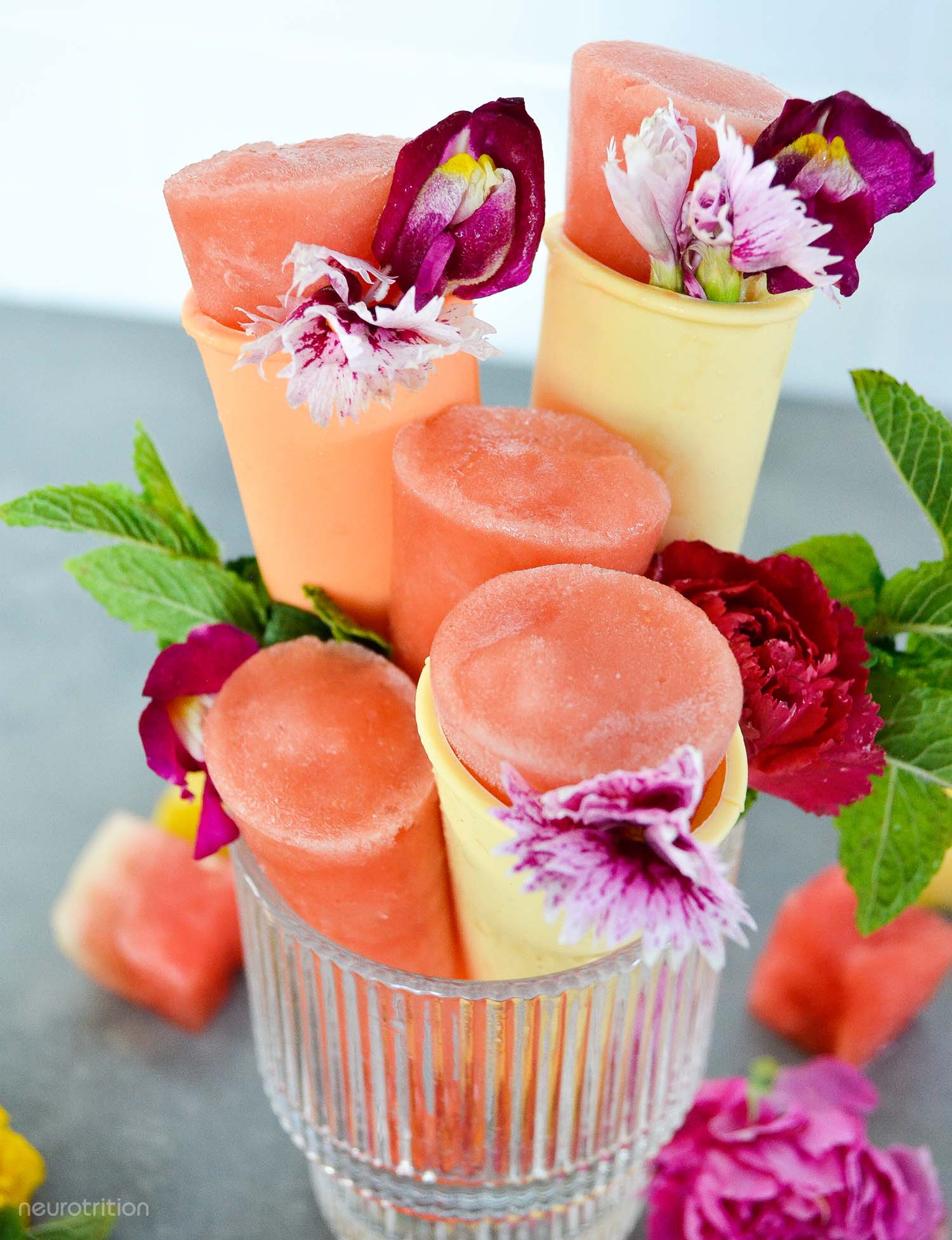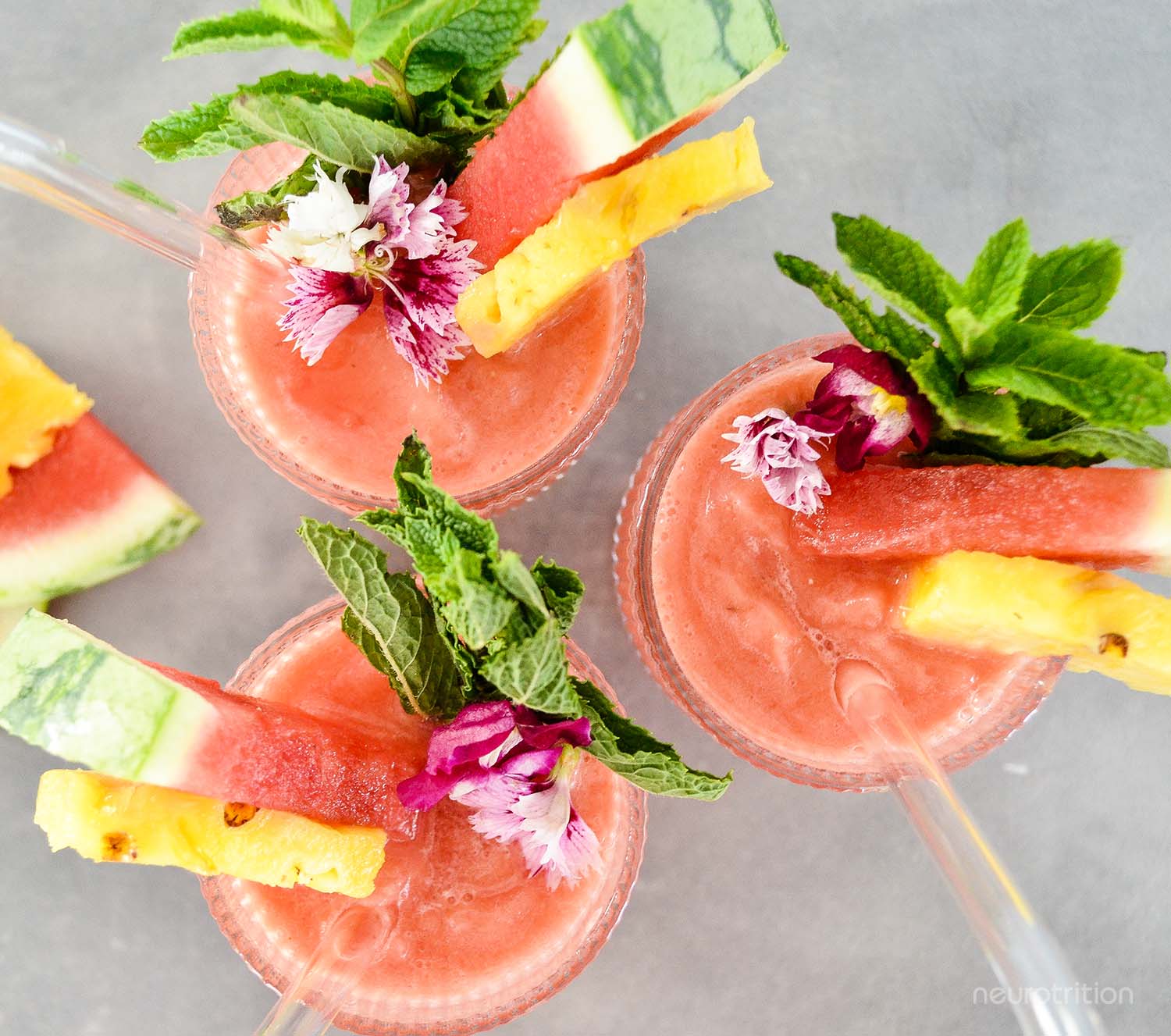 Watermelon Pineapple Coconut Slushie (3 Ways!)
Ingredients
1 1/2 heaping cups (170 grams) frozen watermelon**, cut into 1" chunks
3/4 heaping cups (95 grams) frozen pineapple***, cut into 3/4 inch chunks
1 cup (115 grams) fresh watermelon, cut into 1" chunks
1/2 to 3/4 cup coconut water
Sprig of fresh mint
Method
Cut the rind off of a ripe watermelon and chop into 1" pieces. Line a freezer-friendly dish (or cookie sheet) with parchment paper or Silpat mat, place half of the chopped watermelon on it, and place in the freezer. Place the rest in a covered dish in the fridge. You will have leftover fresh pineapple and watermelon to utilize how you wish (eat as a snack, or freeze to make this recipe again).
Cut and core a ripe pineapple, slicing into 3/4" pieces. Line a second freezer- friendly dish, or alternatively use the other half of the cookie sheet, and place desired amount of pineapple pieces (I do about half of the pineapple); place in the freezer. Place the rest of the fresh pineapple in a covered dish in the fridge to eat as leftovers, or alternatively freeze more to make this recipe again or add into smoothies.
Allow to freeze until solid - time will vary due to freezer setting and fullness, typically 8 hours or overnight. If planning to use frozen fruit at a later date place into separate resealable freezer bags and seal once it is frozen. This should keep 3 months.
Combine fresh watermelon, frozen watermelon and frozen pineapple in high speed blender and add 1/2 cup coconut water. Turn blender on and slowly increase speed to maximum, using blender tamper as necessary along with remaining coconut water if needed to make sure contents blend thoroughly. Texture should be thick and icy. If you find it too liquidy, add a few more pieces of frozen watermelon, one at a time, until thickened (or desired consistency is reached).
Enjoy as a slushie garnished with fresh mint, or pour into silicone popsicle or freezie molds! Popsicles or freezies should keep in the freezer for a maximum of about 1 month before ice crystals start to develop.
Notes
You will need a high speed blender for this recipe. A kitchen scale is recommended and silicone freezie/ice pop molds are optional if you'd like to make these.
It is highly recommended that a kitchen scale is used to measure frozen fruit to ensure accuracy, as frozen fruit is difficult to properly measure with measuring cups due to size and shape.
Try muddled mint in the glass for a mojito-inspired slushie! Muddle fresh mint by adding it to a metal cup or bowl (or cocktail shaker, if you have one), then gently mashing it 4 times to unleash the herbaceous juicy mint flavour.
Looking to add some spice? Sliced jalapeños bring some heat (and are thermogenic, so you can keep the fat-burning going if you're enjoying this slushie post-workout).
We don't endorse drinking alcohol around here (we are all about brain health, after all). But you can use 1 oz less of coconut water and replace it with 1 oz tequila to transform it into an adult beverage.
*Makes about 2 servings of slushie, 4 ice pops or 12 freezies depending on size of silicone molds used.
**How to choose a sweet watermelon: Look for bee markings and make sure the yellow spot on the watermelon is at least the size of your palm or bigger
***How to determine if a pineapple is ripe: Pull a leaf from the top of the crown of the pineapple - if it pulls out easily it is ripe (but ensure the body of the pineapple has no squishy parts or it may be too ripe). Alternatively, frozen pineapple can be purchased and used, however, due to the potential size difference of the individual pieces of fruit, it will be important to weigh the ingredients using a kitchen scale.

LET'S DIG IN AND MAKE SOME OF THE SCIENCE EASIER TO DIGEST!
Pineapple:
Rich in the digestive enzyme bromelain, which is not only great at improving digestion when taken with meals but is also currently being studied for addressing cardiovascular diseases, blood coagulation, infectious diseases, inflammation-associated diseases, and many types of cancer when taken in between meals.
Coconut Water:
Coconut water is rich in many nutrients, including the arguably best family of vitamins for nervous system health, the B vitamins. It contains B1, B2, B3, B5, B6, B7 and B9 specifically.
Hikisz, P., Bernasinska-Slomczewska, J. 2021. Beneficial Properties of Bromelain. Nutrients, 13(12), 4313- 4349.
Yong, J.W.H., Ge, L, Ng, Y.F. & Tan, S.N. (2009. The Chemical Composition and Biological Properties of Coconut (Cocos nucifera L.) Water. Molecules, 14 (12), 5144 - 5164.
You might also enjoy: