The "Green Brain" Smoothie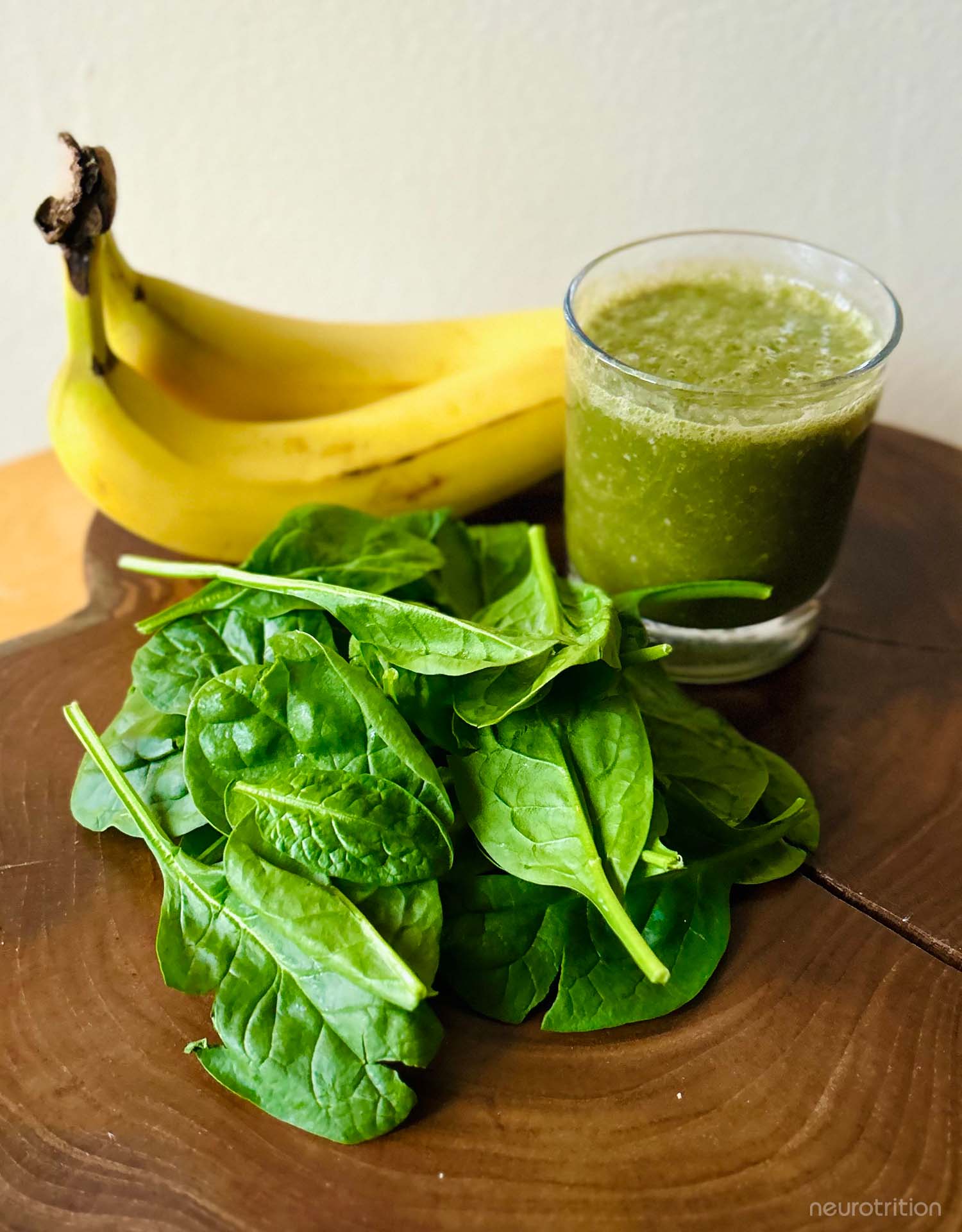 Greens are SO GOOD FOR YOU. And that includes for your brain, too. But it can be so challenging to make sure you're getting your daily requirement. So we wanted to make it easier (and tastier, too)!
You may or may not have a green thumb but making our "Green Brain" Smoothie is so simple, I swear. It boasts a ton of my favourite brain-loving mineral, magnesium, along with my favourite brainy vitamin family, the B-vitamins. It also includes the most well-researched nutrient for brain health: The omega-3's (in the form of ALA from the flax seeds and tahini). If you want to supersize the omega-3 content by bringing in DHA and EPA too, feel free to add your fish oil or algae oil to this smoothie (I recently had it as an add-on to a green smoothie at a restaurant in LA and it was surprisingly not too fishy at all).
Because we're always looking to pack in as much brain-loving punch as we can, you can easily turn this smoothie into a protein shake. Protein is not only key for our musculoskeletal system but is also essential for brain and mental health. It breaks down into amino acids that are used to build neurotransmitters including serotonin, dopamine, GABA, oxytocin and acetylcholine - something we can all raise our (smoothie) glass to!
The "Green Brain" Smoothie
Ingredients
1 cup spinach*, chopped
1/4 avocado, diced
1 banana, sliced
1 cup oat milk
1 Medjool date
2 Tbsp flax seeds, ground
1 Tbsp tahini**
1/2 tsp true cinnamon
1 tsp fresh ginger, peeled and chopped
1 scoop Perfect Protein Elevated Brain Booster*** (optional)
Method
Wash and chop the spinach, and set it aside.
Cut the avocado in half, remove the pit, and scoop out 1/4 of the flesh into a blender. Reserve the rest for later.
Add the sliced banana and chopped spinach to the blender.
Pour in the oat milk and add the date, cinnamon, ginger, tahini, ground flax seeds, and protein powder (if using).
Blend until smooth and creamy, scraping down the sides of the blender if necessary.
Pour the smoothie into a glass and enjoy immediately.
Notes
* Feel free to add or substitute ingredients to your liking! For example, you can also make this recipe using kale or lettuce greens instead of spinach, or use a blend!
** You can also substitute the tahini for any sugar-free, raw or dry roasted nut butter of your choice.
*** Looking for targeted sleep support? Try the Perfect Protein Elevated Sleep Better instead and enjoy this smoothie as a refreshing dessert.

LET'S DIG IN AND MAKE SOME OF THE SCIENCE EASIER TO DIGEST!
Avocado:
Despite the added fat and calories, the good fats and antioxidants in avocado have even been shown to curb the inflammation and vascular (eg. blood vessel) effects of hamburger patties (translation: add them to your burgers, sandwiches, etc.).
Avocado oil is shown to improve functioning of mitochondria (ie. our cellular powerhouses that produce our energy molecule ATP) and reduce free radical damage.
Myth Buster: Avocado is NOT fattening and should not be avoided, even if you are trying to lose weight as it's shown to not derail weight loss efforts one bit!
Tahini:
Sesame seeds are a great antioxidant food, and in a rodent study may even have potential for the management of Huntington's disease (a 100% genetic disease that is not thought to be able to be helped with nutrition).
Sesame seeds may be a super secret memory superfood, as a mouse study starts to suggest.
Flaxseeds:
Learn more about omega-3 fatty acids in our blog, here