Fudgy Chocolate Cupcakes with Sweet Potato Frosting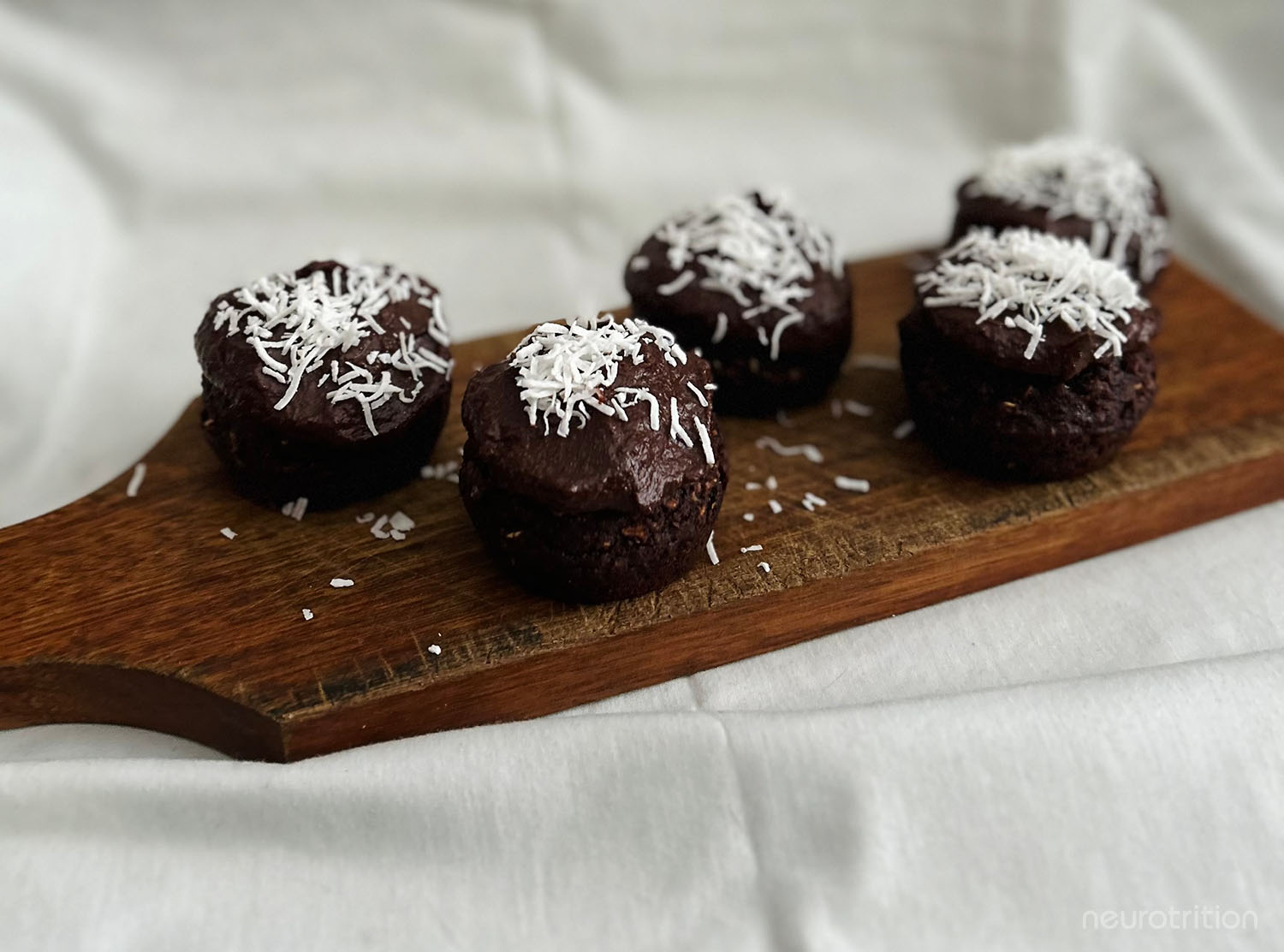 Imagine an utterly ooey gooey chocolate fudge cupcake.
Then, imagine it gluten free, grain free, dairy free, and fully plant-based. And now, further imagine it loaded with gut and brain loving prebiotics (the favourite food of our good gut bugs, or probiotics).
Does this imaginary cupcake stay just as decadent and delicious as when you first imagined it (before I asked you to make it so healthy)? It sure does, if you're imagining ours!
Using gluten free almond and coconut flours (brimming with prebiotics), almond milk, and coconut oil (hello, medium chain triglycerides), we gut-brain hacked your classic fudgy chocolate cupcake. And we elevated it without compromising flavour or texture.
Then we thought "Cupcakes need icing, right?" And I couldn't find an actually good-for-you-frosting. So we made one (and it is super simple, now that the ingredients and measurements are worked out). It contains high fibre (including special prebiotic fibres) and beta-carotene loaded sweet potato, blended with magnesium-rich dark chocolate and a hint of vanilla. For a bona fide NeuroTritionist-approved frosting!
Fudgy Chocolate Cupcakes with Sweet Potato Frosting
Ingredients
Cupcakes:
1 cup almond flour
1/2 cup coconut flour
1/2 cup unsweetened cocoa powder
1 tsp baking powder
1/2 tsp baking soda
1/4 tsp Himalayan salt
1/2 cup Medjool dates, softened in ½ cup hot water
1/2 cup unsweetened almond milk (or nondairy milk of choice)
2 Tbsp coconut sugar
1/2 cup mashed ripe bananas
1/4 cup melted coconut oil
1 tsp vanilla extract
Sweet Potato Frosting:
1 large, sweet potato, peeled and boiled until soft
1/2 cup dark chocolate, melted (70% recommended)
1 tsp vanilla extract
Method
Preheat the oven to 350°F. Line a muffin tin with paper liners.
Soften the dates in boiling hot water, and mash them with a fork.
In a medium bowl, whisk together the almond flour, coconut flour, cocoa powder, baking powder, baking soda, and salt.
In a large bowl, beat together the Medjool dates, coconut sugar, almond milk, mashed bananas, melted coconut oil, and vanilla extract until well combined.
Gradually add the dry ingredients to the wet ingredients, mixing until just combined. Do not over mix.
Fill the muffin cups 3/4 full of the batter.
Bake for 20-25 minutes, or until a toothpick inserted into the centre of a cupcake comes out clean.
While the cupcakes are baking, make the frosting. Mash the boiled sweet potato with a fork until smooth.
In a medium bowl, melt the dark chocolate. Fold in the mashed sweet potato and vanilla.
Once the cupcakes have cooled, spread a generous amount of frosting on top of each cupcake (Optional: Top with unsweetened coconut flakes for texture).
Notes
The cupcakes can be frozen once cooked. I recommend making the frosting when planning on serving the cupcakes.

LET'S DIG IN AND MAKE SOME OF THE SCIENCE EASIER TO DIGEST!
Sweet Potato:
Learn about why we wanted to make our frosting out of this Brain Food Essential, here.
Cacao
Another of our Brain Food Essentials here at NeuroTrition, discover its benefits for the brain, here.
Coconut:
We know, it's still controversial. Find out why we love coconut oil, in moderation, here.
You might also enjoy: