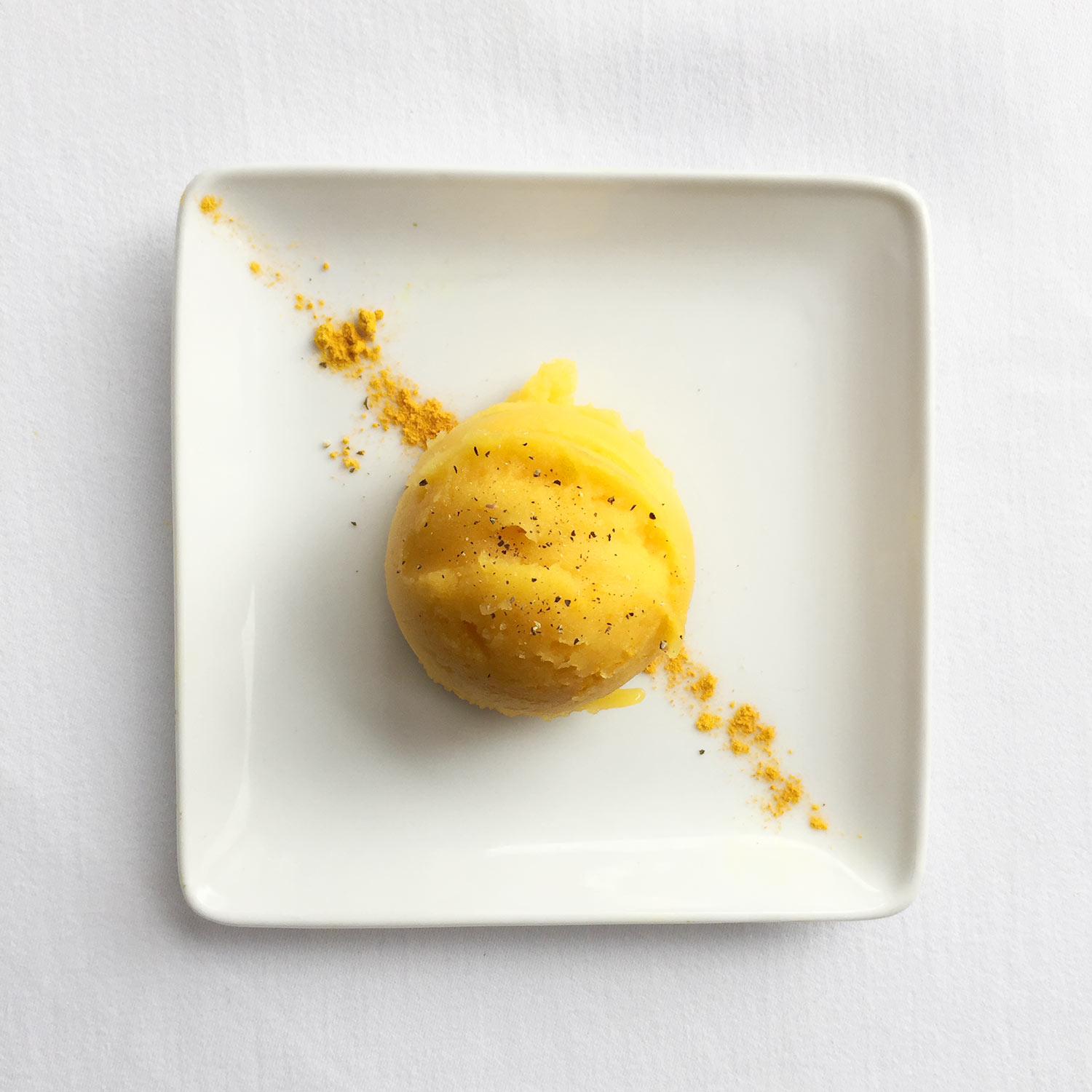 We lovingly refer to our senior years as the "golden years." This got us thinking. We wanted to create a recipe that helps our brains stay sharp as we age AND we wanted that recipe to have a serious golden colour — in honour of those golden years.
First thought: Golden milk! Golden milk is an Ayurvedic remedy of turmeric and milk. We like to make ours with coconut milk to make it dairy-free and vegan. Then we add a dash of black pepper, because pepper helps boost the bioavailability of the turmeric (translation: pepper makes it easier for your body to absorb the nutrients in turmeric).
Second thought: Why not turn it into golden ice cream? This is our youthful spin on traditional golden milk. We swapped coconut milk for coconut cream, which contains even more brain health loving MCT fats than coconut milk. Wondering what MCT fats are? Check out our Brainy Bites section below to learn all about them, or take a peek at our blog on coconut, here!
Afterthought: Let's add mango to enhance the most beautiful golden colour ever! Plus, mango helps reduce inflammation (both in the brain and gut) that is all too common as we move towards and into our golden years. 
Mango Golden Ice Cream
Ingredients
1 large mango
1 can (400Ml) organic coconut cream
2 tsp turmeric
1 tsp grated ginger
1 tsp real maple syrup
1/3 tsp black pepper
Pinch Himalayan salt
Method
Put a ceramic bowl in the freezer for 20 minutes to allow it to chill.
Trim and cut mango flesh, and puree in food processer until smooth.
Add organic coconut cream, turmeric and ginger and blend until ingredients are incorporated.
In a sauce pot, on medium heat, add the mango mixture with the rest of the ingredients. Simmer lightly to allow flavours to develop. Allow the mixture to cool.
Once cooled, use a hand mixer and whip for 5 minutes to incorporate air into the mixture. Pour into a freezer safe bowl and allow it to set in the freezer.
Every 10 minutes be sure to scrape the sides of the bowl and using the hand mixer, whip the mixture until smooth. Be sure to scrape the sides of the bowl folding it towards the center and leaving the sides of the bowl clean, then put back into freezer. Continue until frozen but creamy.
Serve chilled. Plate using an ice cream scoop (or other large spoon) to form perfect little scoops. Then top with additional black pepper as garnish. Enjoy!
Notes

LET'S DIG IN AND MAKE SOME OF THE SCIENCE EASIER TO DIGEST!
Mango:
Reduces inflammation in the gut (which affects brain health) and inflammation causing compounds in the mucous membranes and blood.
Its polyphenolic compounds are shown to reduce the inflammation associated with colitis, an intestinal disease related to depression, anxiety and other mental health imbalances.
Coconut:
The medium-chain triglycerides (healthy fats) in coconut provide an efficient source of energy for the body (the less strain on our body, the better our brain runs).
Ketones made from the breakdown of the fat in coconut might actually have temporary effects when treating Alzheimer's Disease by enhancing memory.
Ketones may also improve our thinking ability so we can break through that mental fog we experience throughout the work day.
Turmeric:
Its active compound (the part that makes it work), curcumin, helps decrease inflammation and free radicals in the brain to improve memory and has potential to be a treatment for Alzheimer's.
It's a natural antidepressant since it increases a protein called Brain-Derived Neurotrophic Factor (BDNF) which grows new neurons (brain cells) and allows them to talk to one another.
You might also enjoy: