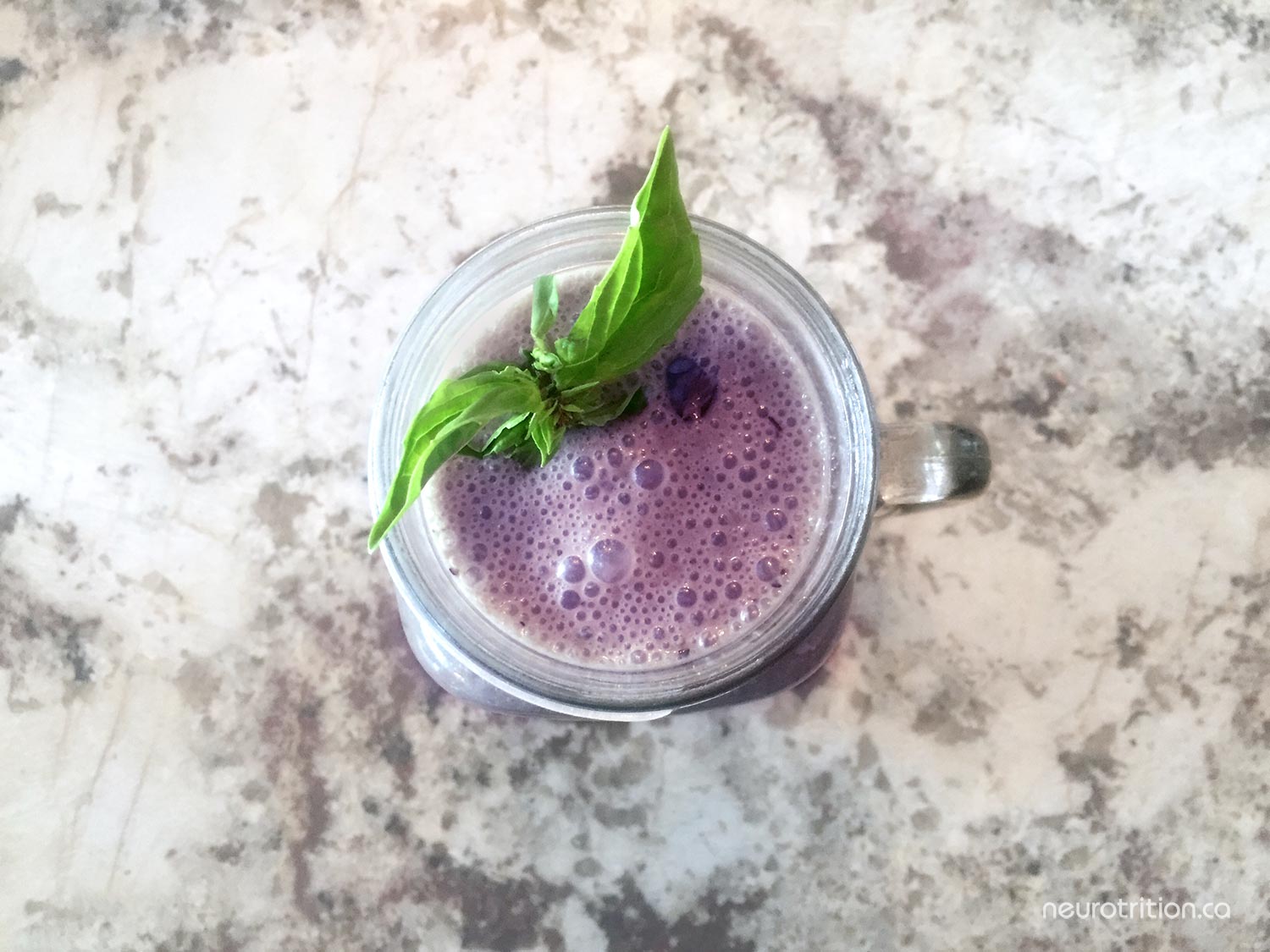 Blueberries and basil just go together so perfectly. Kind of like neuroscience and nutrition, right? Not an obvious pairing, but an amazing one.
This gluten free, dairy free, hypoallergenic smoothie truly has what it takes to fuel and nourish you (and I can't say that about many smoothies I see!). It's brimming with high fibre complex carbs (blueberries, spinach, basil), healthy fats and good quality protein (coconut yogurt, hemp hearts). I recommend having it for breakfast, or half for breakfast and half for a mid-morning snack.
It's LOADED with key nutrients for your brain including antioxidants (free radical and neuro-inflamation busters), magnesium (the anti-anxiety mineral that lives inside green plant blood, a.k.a.: chlorophyll) and omega-3 fats (helpful to beat the blues and bust inflammation). And of course, let's not forget the gut-loving action it has going on with its hit of probiotics (in the form of coconut yogurt) and prebiotics (food for probiotics, from the blueberries, spinach, and hemp hearts).
Want to take this smoothie to the next level and turn it into a protein shake? Add one of our favourite fermented protein powders, Botanica Perfect Protein Vanilla Plant Based Protein for a delicious boost of ultra-clean (and fermented!) protein.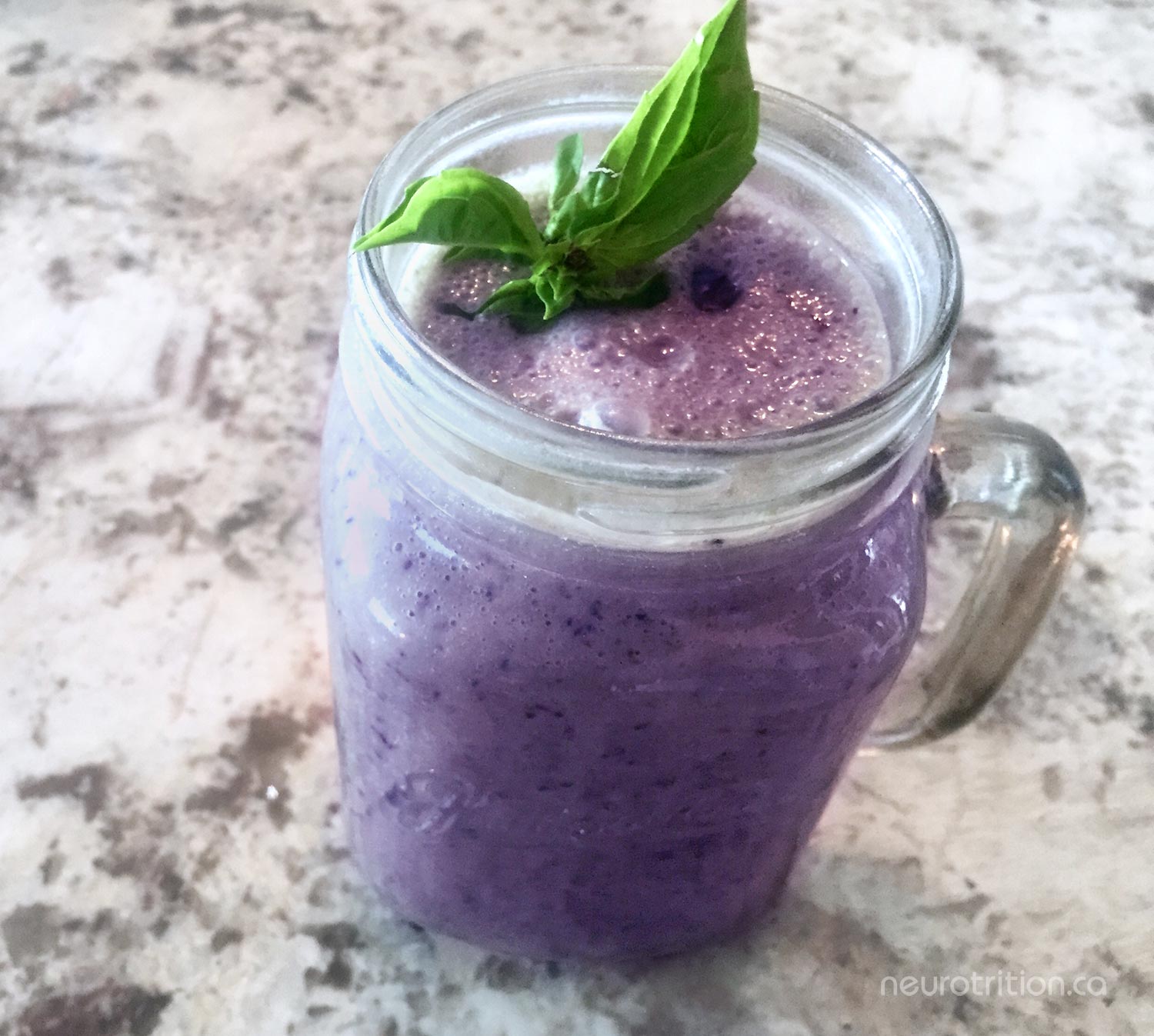 Blueberry Basil Smoothie
Ingredients
1 1/2 cups blueberries (fresh or frozen)
1 cup fresh spinach

1/2

 cup plain, unsweetened coconut yogurt
1 up unsweetened coconut milk
1/3 tsp spirulina
1 Tbsp raw honey
3 Tbsp hemp hearts (reserve 1 tsp for garnish)
4 medium sized basil leaves
Pinch of sea salt
1 serving Botanica Perfect Protein Vanilla Plant Based Protein* (optional)
* If adding Perfect Protein add these extras to balance the recipe:
1/2

 cup blueberries

1/4

 cup coconut yogurt
2 medium sized basil leaves
Method
Blend blueberries, spinach, coconut yogurt and coconut milk until smooth.
Add spirulina, Botanica Perfect Protein Vanilla Plant Based Protein (optional), raw honey and hemp hearts (reserve 1 tsp for garnish). Blend until fully incorporated.
Add basil and salt and pulse until fully mixed in. Pour in glass and sprinkle remaining hemp hearts on top. Enjoy chilled.
Notes

LET'S DIG IN AND MAKE SOME OF THE SCIENCE EASIER TO DIGEST!
Blueberries:
Their brainy compounds may be an important nutritional intervention for age-related neurodegenerative diseases like Parkinson's and Alzheimers.
Blueberry juice is shown to improve learning and memory, balance blood sugar (even though they taste so sweet, they won't mess with your blood sugar because they are low glycemic) and even reduce depressive symptoms.
Coconut:
The medium-chain triglycerides (healthy fats) in coconut provide an efficient source 

of energy for the body (the less strain on your body, the better your brain runs).

Ketones made from the breakdown of the fat in coconut might actually have 

temporary effects when treating Alzheimer's Disease by enhancing memory.

Ketones may also improve our thinking ability so we can break 

through that mental fog we experience throughout the work day.

As the gut and brain have a reciprocal relationship, coconut milk may help prevent mental health issues as it has been found to have anti-microbial properties in the gut.
Ganguly, S. (2013). Health benefits of coconut in the Asian cuisines: A Review. J Biol Chem 

Res 2013a, 30, 517-21.

Henderson, S.T. (2008).

Ketone bodies as a therapeutic for Alzheimer's disease.

 

Neurotherapeutics. 5(3), 470-480. 

Krikorian, R., Shidler, M.D., Nash, T.A., Kalt, W., Vinqvist-Tymchuk, M.R., Shukitt-Hale, B., & Joseph, J.A.. (2010).

Blueberry supplementation improves memory in older adults.

 Journal of Agricultural and Food Chemistry, 58(7), 3996-4000.
You might also enjoy: