Lion's Mane Tacos With Avocado Crema Slaw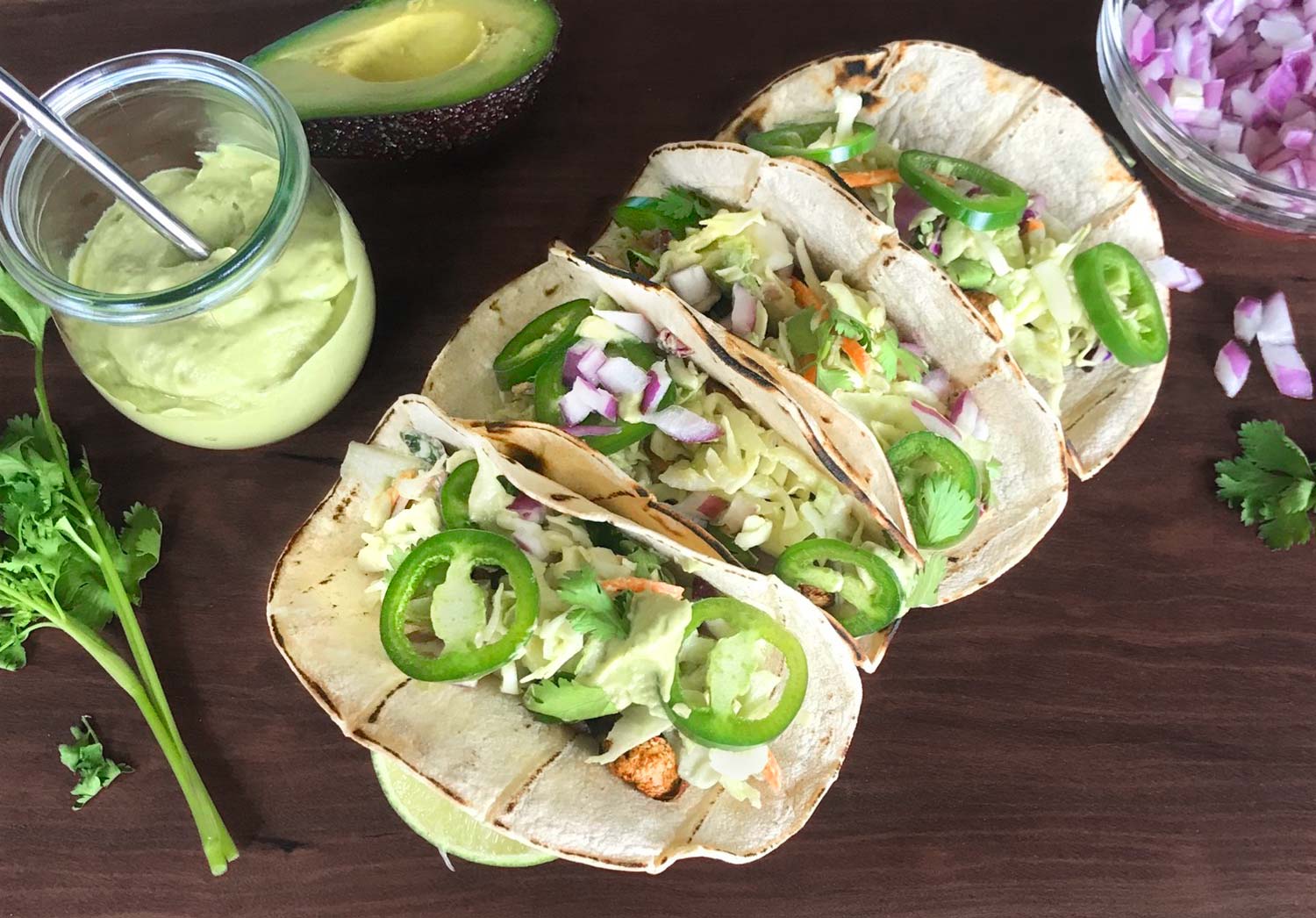 We're all about the serious taco love around here (you can find a few other taco recipe gems on our site)! Now we've gone ahead and made them using one of my new favourite things: lion's mane mushroom. This medicinal mushroom, that tastes so lobster-esque, is being studied for its neuroprotective properties and might have very important implications for neurodegenerative diseases like Alzheimer's and Parkinson's.
We suggest you serve these tacos with our brainy slaw. This is our take on the classic coleslaw, which was such a Summertime staple I grew up with – you know that not-so-healthy big tub of coleslaw sold at the grocery store. But there's little resemblance between our slaw and the slaw of my youth. Because ours has neuron-loving cilantro (if you don't like it, use parsley!), jalapeño, garlic and avocado! An optional dash of sriracha makes this dish even hotter, and is a sure way to impress your summer dinner party guests, ace your dinner for two, or show yourself some self love and indulge in them on your own.
Lion's Mane Tacos With Avocado Crema Slaw
Ingredients
3.5 cups/1 head of lion's mane mushroom
1/2 tsp paprika
1/2 tsp cumin
1/2 Tbsp extra virgin olive oil or coconut oil*
4 corn tortillas**
Avocado Crema Slaw:
1/2 cup red cabbage, shredded
1/2 cup green cabbage, shredded
1/2 large carrot, julienned
2 Tbsp cilantro, chopped***
1 jalapeno, diced & seeds removed
1/4 tsp sea salt
3 cloves of garlic
1 ripe avocado
4 Tbsp lime juice
1/2 cup plain, unsweetened coconut yogurt
Dash of sriracha (optional)
Toppings (Optional):
Cilantro
Avocado
Hot sauce
Red onion
Method
Prepare the sauce for the avocado crema slaw by placing the garlic, salt, avocado, lime juice, coconut yogurt and sriracha in a high speed blender, combine until smooth and combine with the remainder of the slaw ingredients.  Leave enough crema sauce to add to the tacos upon serving – approximately 1/4 cup.
Tear the lion's mane into bite-sized pieces. Heat a frying pan on medium heat. Once heated, add the lion's mane. Dry cook in the pan for a moment or two, or until any water released from the mushrooms is re-absorbed. Once any water is re-absorbed, add the tablespoon of oil and then add the paprika and cumin. Cook, stirring gently until mushrooms are golden brown, about 15-20 minutes.
Divide the lions mane mushroom equally amongst the tortillas, then top with slaw, crema and any additional toppings.
Enjoy!
Notes
*Another alternative to extra virgin olive oil or coconut oil is grass-fed better, if dairy is not a concern.
**We have a great homemade corn tortilla recipe, definitely recommend checking it out, here! Alternatively, store bought will work just as well, or you can replace the corn tortillas with either butter lettuce or romaine.
***For those who think cilantro tastes like soap, a great substitute for this could be parsley.

LET'S DIG IN AND MAKE SOME OF THE SCIENCE EASIER TO DIGEST!
Lion's Mane:
Helps grow neuron projections ("neurites") in brain, spinal cord, and retinal cells, possibly providing a way to slow neurodegenerative diseases like Parkinson's and Alzheimer's.
Supplementation (in mice, so far!) is shown to improve memory!
Cilantro:
Cilantro provides vitamin A, which protects our cell membranes against damage and offers protection against diseases like Alzheimer's and Parkinson's.
It may help reduce levels of the "lousy" cholesterol LDL in the blood. 
Cabbage:
Cabbage is full of antioxidants like vitamin C and manganese. Apigenin, a free radical scavenger found in cabbage, provides anti-inflammatory protection against the beta-amyloid plaques found in the brains of Alzheimer's patients.
Compounds in cabbage increase blood flow in the brain and can improve learning and memory.
You might also enjoy: