Creamy lemon butternut squash lion's mane pasta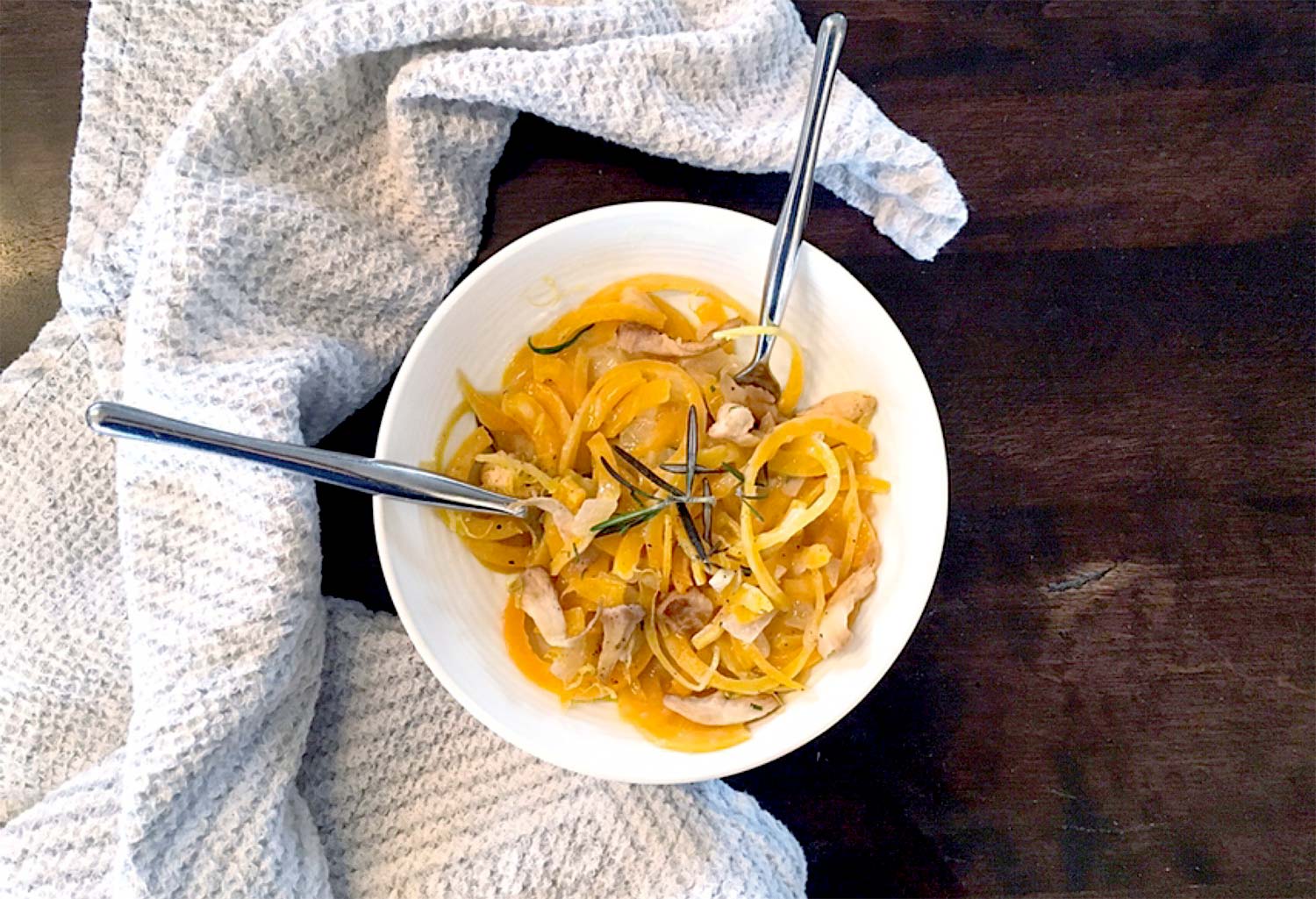 This buttery pasta is anything but - unless you count the BUTTERnut squash. Despite it tasting beyond buttery (and we love butter around here, don't get me wrong) we wanted to make this pasta plant-based. The creaminess is owed to the perfect blend of coconut milk and vegetable broth!
We used butternut squash to mix things up a bit from the standard spaghetti squash or zucchini pasta recipes out there (all amazing, but I'm seeing them everywhere). And this lesser used squash has a similar high fibre and prebiotic profile.
And the main attraction here, in season so briefly each year, is the lion's mane mushroom. It is the plant-based world's lobster in terms of flavour, and chicken in terms of consistency when cooked. Loaded in prebiotic fibres and currently being studied for its neuro-protective, cognition-boosting and Alzheimer's-fighting power, this is one of the best-established medicinal mushrooms for neuronal health - and one that I'm really getting into taste and science-wise!
To finish things off, we've also added a little rosemary, which is being investigated for its role in memory and healthy brain aging. So as you can see, this brainiac dish may actually help to keep your mind sharp - plus, it's absolutely delicious!
Creamy lemon butternut squash lion's mane pasta
Yield:
2 entrees or 4 sides
Ingredients
1 small-medium butternut squash, spiralized*
1 Tbsp fresh rosemary, chopped
1 sweet yellow onion, chopped
2 cloves of garlic, diced
3 Tbsp extra virgin olive oil or coconut oil**
Zest & juice from 1 lemon
2 cups low sodium vegetable broth
1 can full fat coconut milk
1 Tbsp tapioca flour
1 head of lion's mane mushroom
Method
In a large pot, heat 1 tablespoon of the oil on medium heat. Add onion and sauté for 3 minutes until translucent. Add one clove of the diced garlic, and cook for a minute longer.
To the large pot, add vegetable broth, coconut milk, and lemon juice. Bring to a simmer – reduce heat if mixture comes to a full boil.
Meanwhile, in a large frying pan, heat 1 tablespoon of oil on medium heat. Add in butternut squash and fresh rosemary, cook while tossing frequently to heat & soften slightly – approximately 5 minutes. After the 5 minutes, add the butternut squash to the coconut milk mixture, but reserve the frying pan – you will use it again!
Add the tapioca flour to the "noodle" and sauce mixture, stirring periodically. Continue cooking for 15-20 minutes, or until the "noodles" have softened to your desired firmness.
While the "noodles" cook, tear the lion's mane into bite-sized pieces. Heat the frying pan you had set aside on medium heat. Once heated, add the lion's mane. Dry cook in the pan for a moment or two, or until any water released from the mushrooms is re-absorbed. Once any water is re-absorbed, add the last tablespoon of oil and the remaining clove of diced garlic. Cook, stirring frequently until mushrooms are golden brown – about 10-15 minutes.
Once your pasta has reached desired firmness, serve into bowls, and top with a generous heap of the cooked mushrooms and a sprinkle of lemon zest.
Enjoy!
Notes
* If your spiralizer has different settings, opt for the thickest "noodle" option. If you do not have a spiralizer, a vegetable peeler will work great, but reduce the cook time to about half (7-10 minutes) as they will cook faster if peeled!
** Another alternative to extra virgin olive oil or coconut oil is grass-fed butter, if dairy is not a concern.

LET'S DIG IN AND MAKE SOME OF THE SCIENCE EASIER TO DIGEST!
Lion's Mane:
Helps grow neuron projections ("neurites") in brain, spinal cord, and retinal cells, possibly providing a way to slow neurodegenerative diseases like Parkinson's and Alzheimer's.
Supplementation (in mice, so far!) is shown to improve memory!
Rosemary:
Two cool compounds in it, carnosic acid and carnosol, account for over 90% of the antioxidant activity of rosemary AND may also help this culinary herb fight neuroinflammation (inflammation in your brain that scientists are now linking to depression and anxiety).
Because of its ability to also inhibit brain cell death and slow the production of an Alzheimer's disease related protein called beta-amyloid, rosemary is being looked at as a key brain food for Alzheimer's free aging!
Coconut Milk:
As the gut and brain have a reciprocal relationship, coconut milk may help prevent mental health issues as it has been found to have anti-microbial properties in the gut.
The medium-chain triglycerides (healthy fats) in coconut provide an efficient source of energy for the body (the less strain on our body, the better our brain runs).
You might also enjoy: