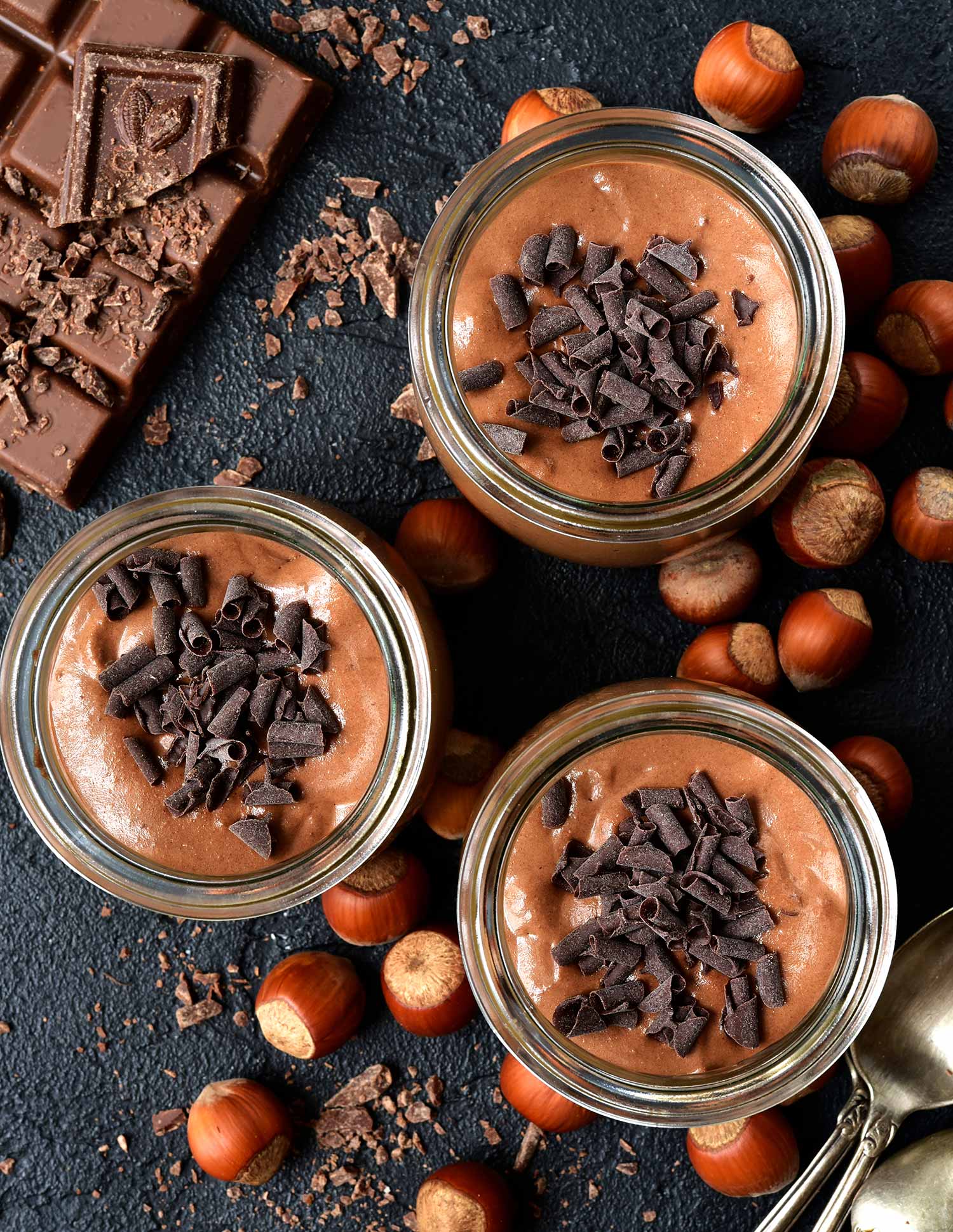 Our melt in your mouth hazelnut mousse is love at first taste. Not only will it satisfy all your sweet cravings, but it also provides all sorts of nutrients your brain and heart will love.
We included brain-boosting and heart-happy ingredients like coconut milk, Medjool dates, cacao (a brain food essential you can read more about here), and avocado. Avocados are full of fibre, healthy fats and essential minerals like potassium (to reduce blood pressure) and magnesium (for helping with anxiety). We know adequate fibre is essential for flourishing and nourishing our gut bugs. And when our gut health is on point, it is so much easier for our mental health to be, too!
And let's not forget about the hazelnut. This little guy often gets overlooked when talking about nuts, but hazelnuts are full of antioxidants and vitamin E - associated with slowing of cognitive decline by reducing inflammation! And speaking of inflammation, the consumption of hazelnuts reduces our LDL cholesterol (the lousy, inflammatory type) and increases our HDL cholesterol (the happy, good type). And the science has shown, high levels of LDL cholesterol have a negative impact on your heart and brain health.
So, eat your hazelnuts or in this case some hazelnut mousse…your brain and heart will love you.
Creamy Hazelnut Mousse
Ingredients
Mousse:
1 ripe avocado
1 400ml can full-fat coconut milk
1/2 cup packed pitted Medjool dates
1 cup raw hazelnuts
1 1/2 tsp vanilla extract
2 Tbsp cacao butter
2 Tbsp cacao
Pinch of sea salt
Toppings (optional)
1/4 tsp freeze-dried dragon fruit powder
1 Tbsp dark chocolate, shaved
Method
Preheat oven to 350F. Begin by roasting hazelnuts, place in a single layer on a baking sheet. Bake for about 12 minutes, or until they are starting to brown. Allow to cool.
Add all ingredients to food processor or high-powered blender; blend all ingredients until mixture is smooth and creamy.
Divide between 6 small serving dishes and place in the fridge for a few hours.
If adding toppings, lightly dust with dragon fruit powder, shaved dark chocolate or both before serving.*
Notes
*This is best if consumed within 3-4 days.

LET'S DIG IN AND MAKE SOME OF THE SCIENCE EASIER TO DIGEST!
Coconut:
The medium-chain triglycerides (healthy fats) in coconut provide an efficient source of energy for the body (the less strain on our body, the better our brain runs).

Ketones made from the breakdown of the fat in coconut might actually have temporary effects when treating Alzheimer's Disease by enhancing memory.

Ketones may also improve our thinking ability so we can break through that mental fog we experience throughout the work day.
Vanilla Extract:
Vanilla extract has antioxidant properties that help neutralize damaging effects of free radicals on the brain to help mental health diseases including depression.
Vanillin, a compound found in vanilla extract, has been shown to reduce levels of inflammation in the blood (which can gain access to, and wreak havoc on the brain).
Medjool Dates:
Fasting serum glucose (aka. blood sugar) is shown not to increase after eating them, meaning it keeps you off the blood sugar rollercoaster (and the mood and energy issues that go along with it). This is pretty sweet news about this brain-friendly sweetener!
Found to contain a derivative of quercetin, which is a really powerful antioxidant know to fight free radicals.
Cacao:
For the sweet science on this superBRAINfood, check out this blog!
Avocado:
Despite the added fat and calories, the good fats and antioxidants in avocado are shown to curb the inflammation and vascular (eg. blood vessel) effects of hamburger patties (translation: add them to your burgers, sandwiches, etc.).
Avocado oil is shown to improve functioning of mitochondria (ie. our cellular powerhouses that produce our energy molecule ATP) and reduce free radical damage.
Myth Buster: Avocado is NOT fattening and should not be avoided, even if you are trying to lose weight as it's shown to not derail weight loss efforts one bit!
You might also enjoy: