Chia & Hemp Seed Parfait With Caramelized Bananas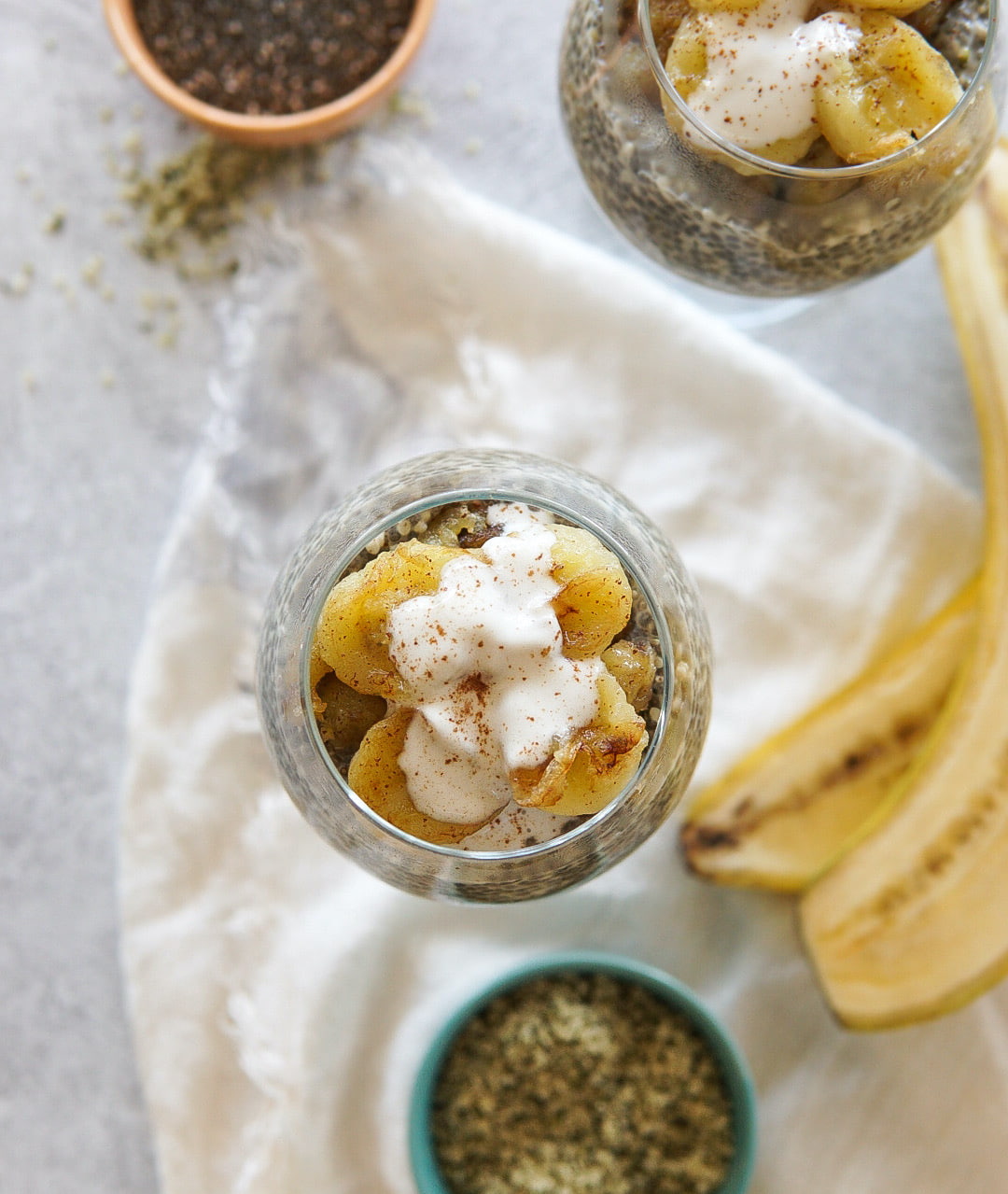 Yogurt is such an easy go-to for a protein and probiotic filled snack or breakfast. But we wanted to make it even better, from both a taste (because I get it, plain yogurt can be a bit boring) AND brain health perspective. So. Enter a few gut-brain hacks and voila, you've got a pretty parfait guaranteed to nourish your brain and belly! Our parfait boasts omega-3 superstars hemp and chia seeds, as well as the plant-based saturated fat coconut oil (which acts like an omega-3; to learn more about this, go here). It also uses just a dash of sea salt and pure maple syrup for not only that hint of salty and sweet taste that they impart but also for their nervous system supporting micro-mineral content. And while we love prebiotic-filled bananas for their budget-friendly price point, they are quite sweet. So we added Ceylon (or "true") cinnamon to keep your blood sugar, and therefore your mood and energy, nice and balanced for the rest of the day.
Our parfait is 100% plant-based and uses both plant-based milk (check out my favourite non-dairy milks in the Notes, below) and dairy free yogurt. Our coconut yogurt recipe is actually featured, along with many more of our entrée recipes, in bestselling author Dr. Emeran Mayer's new book, The Gut-Immune Connection: How Understanding Why We're Sick Can Help Us Regain Our Health. When Dr. Mayer asked me if we would translate what the science is saying about feeding your brain, gut microbiome and immune system into delicious recipes for his latest book, it was literally a no-brainer. So I really hope you check out The Gut-Immune Connection to snag all the recipes we custom created for it, plus so much more on the gut microbiome and the gut-based immune system (because yup, we have one of those!). In the meantime if you're too excited to try this recipe before you have a chance to pick up the book, store-bought unsweetened coconut yogurt will work nicely in this recipe too.
Chia & Hemp Seed Parfait With Caramelized Bananas
Ingredients
2 cups plant-based milk*
1/2 cup chia seeds
1/2 cup hemp seeds
1/4 tsp sea salt
1 tsp pure vanilla extract
2 bananas, sliced ~1cm thick**
2 Tbsp pure maple syrup
2 Tbsp coconut oil
Pinch of Ceylon cinnamon
200ml Coconut Yogurt recipe, found in The Gut-Immune Connection***
Method
In a large glass bowl, combine milk, chia seeds, hemp seeds, mineral salt, vanilla extract and 1 Tbsp maple syrup. Stir well and allow chia seeds to thicken (about 30 minutes).
Meanwhile, melt the coconut oil over low-medium heat in a medium sized frying pan.
Place banana slices in the frying pan and allow them to fry for 1-2 minutes.
Add remaining 1 Tbsp maple syrup to pan, then sprinkle a pinch of cinnamon over bananas. Wait 1 minute then flip the banana slices. Allow bananas to cook in the maple syrup for approximately 3-5 minutes, stirring every minute to prevent burning.
Once bananas are lightly browned, set aside to cool.
Once the chia & hemp seeds have thickened (from step 1), portion evenly into 4 bowls (or 4 mason jars if you plan on enjoying later****). Evenly distribute the coconut yogurt and caramelized bananas throughout the 4 bowls then serve.
Notes
*I prefer using unsweetened oat milk the most these days; however, I also enjoy coconut milk or a coconut-almond milk blend. To keep this recipe grain free and nut free, just use coconut milk!
**Bananas can be prepped ahead of time and stored in fridge until ready to use.
***Haven't picked up The Gut-Immune Connection yet? Well, you should! But we have you covered in the meantime because store-bought unsweetened coconut yogurt will work nicely in this recipe too (but it's more cost-effective, and tastes better in my opinion, to make your own).
****This recipe will keep for 4 days stored in an airtight container in the fridge.

LET'S DIG IN AND MAKE SOME OF THE SCIENCE EASIER TO DIGEST!
Maple Syrup:
A newly discovered compound found in maple syrup, quebecol, was found to be associated with a reduction in pro-inflammatory cytokines (chemical messengers that initiate the immune response and jack inflammation).
Another naturally occurring compound from maple syrup extract might be able to reduce the amount of antibiotics necessary to combat infectious bacteria, which could in turn affect brain functioning. 
Cinnamon:
Its antioxidant and anti-inflammatory effects have huge potential for addressing many brain and mental health conditions.
It might be one of the ultimate brain foods for improving cognition as we age by preventing the buildup of beta-amyloid, the protein seen in the brain of those with Alzheimer's disease.
Hemp Hearts:
Read our blog to learn all the science behind this brainy little seed!
Coconut:
The medium-chain triglycerides (healthy fats) in coconut provide an efficient source of energy for the body (the less strain on our body, the better our brain runs).
Ketones made from the breakdown of the fat in coconut might actually have temporary effects when treating Alzheimer's Disease by enhancing memory.
Ketones may also improve our thinking ability so we can break through that mental fog we experience throughout the work day.
You might also enjoy: