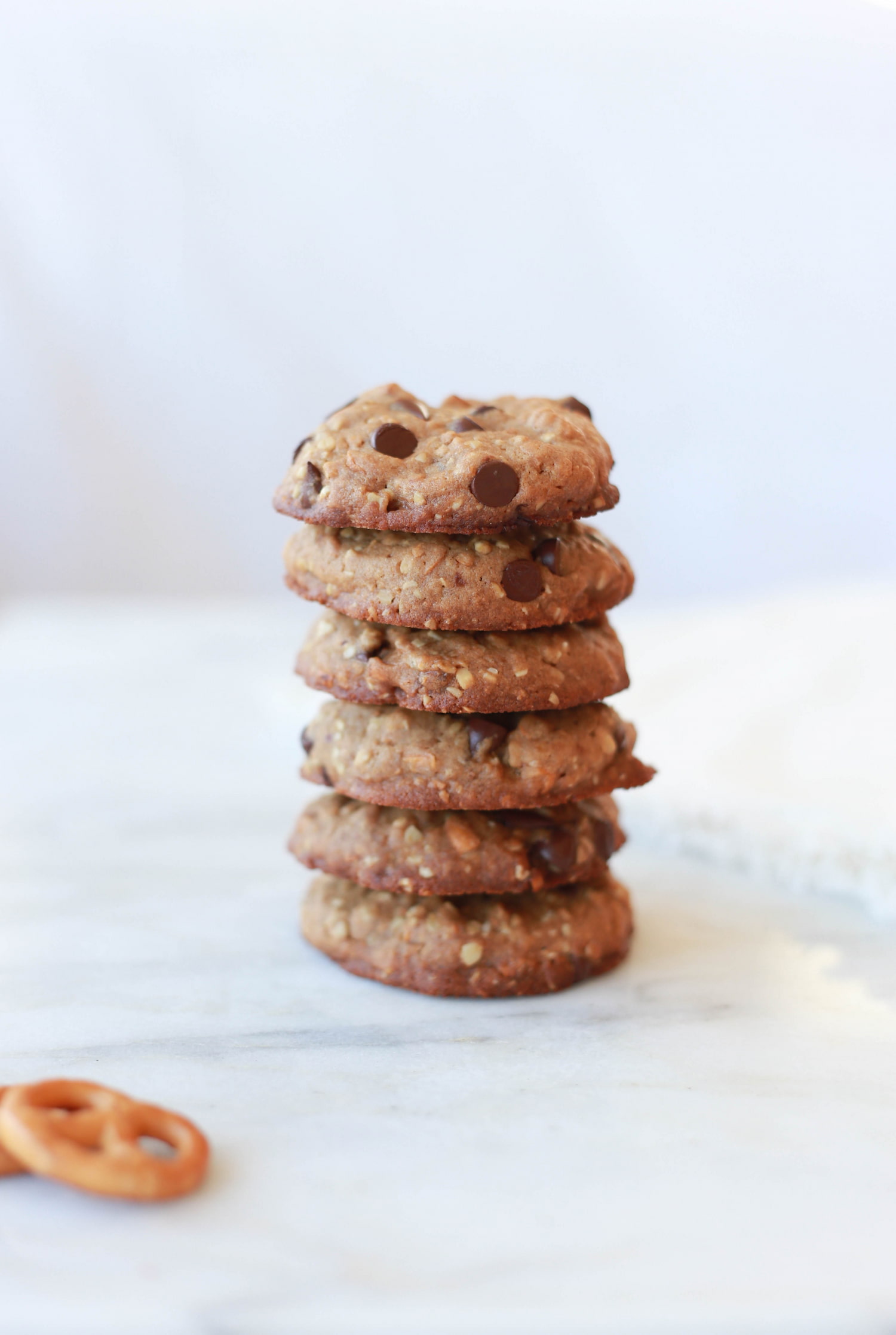 Ever since I tasted a Compost Cookie® in New York City at Momofuku's famed Milk Bar many years ago, I was hooked. It's so fun to look at (if you can practice even a few seconds of mindfulness and take it in visually before you descend upon it), with all the various components sticking out of the cookie base. But it's even more fun to eat, because you never know if you'll get a sweet or salty bite - or one that tantalizes your tastebuds with both tastes. Needless to say, I love it and I wanted to see if we could not only re-create it for our clients but also make it gluten free so our NeuroTrition family with a gluten allergy or sensitivity could experience it, too.
You will see that we used gluten free flour, graham crackers, animal crackers and pretzels to bring in the nostalgic fun of childhood that Milk Bar got so right - minus the potential reaction to gluten. We also really looked at the quantity and quality of sugar, and decided ultimately on low glycemic coconut sugar for this recipe. In terms of fats, we settled on a blend of the saturated fats butter and coconut oil. Contrary to some beliefs, the brain needs saturated fats (especially plant based ones), in moderation, to build and maintain strong brain cells and structures. We also used an egg, for the cholesterol (because yes, it is critical for forming our sex and stress hormones among other important jobs) and because eggs are one of the best whole food sources of nervous system nourishing lecithin and choline.
Brainy bonus for the busy (and for anyone, really): this dough freezes nicely for 6 months so you can make a few batches ahead at once and bake them off when the craving hits.
Kitchen Sink Cookie
Prep:
30 minutes (plus 1 hour to chill dough)
Ingredients
1/2 cup butter
1/2 cup coconut oil
1 cup coconut sugar
1 free-range egg
2 Tbsp raw, unpasteurized honey
1/2 tsp vanilla extract
2 1/4 cup Bob's Red Mill Gluten Free Flour
3/4 tsp baking soda
1/2 tsp baking powder
1 tsp xantham gum
1 tsp fresh lemon juice
1 tsp sea salt
3/4 cup dairy free dark chocolate chips
1/8 cup crushed gluten free graham cracker crumbs or crushed gluten free animal crackers
2/3 cup rolled oats, certified gluten free
2 cup crushed gluten free pretzels
Method
Preheat oven to 375F.
Combine butter, coconut oil and sugar, lemon juice and honey, vanilla into a mixer, and mix until creamed.
Add egg and vanilla, mix for 5 minutes on high in a mixer.
In another bowl mix gluten free flour, baking powder, baking soda, xantham gum, and salt.
In another bowl, mix with wet ingredients until just combined, do not over mix.
Add all remaining ingredients on low, and mix.
Scoop onto a parchment lined baking sheet.
Wrap and allow to chill for 1 hour.
Bake cookies for 7-9 minutes.
Notes
Store your cookies on the counter in plastic wrap or a container (I recommend a sealed container for freshness so they don't dry out) for 4 days maximum. Or, keep them in the fridge for up to 1 week.
You can also freeze them, unbaked, for 6 months.

LET'S DIG IN AND MAKE SOME OF THE SCIENCE EASIER TO DIGEST!
Vanilla Extract:
Vanilla extract has antioxidant properties that help neutralize damaging effects of free radicals on the brain to help mental health diseases including depression.
Vanillin, a compound found in vanilla extract, has been shown to reduce levels of inflammation in the blood (which can gain access to, and wreak havoc on the brain).
Coconut:
The medium-chain triglycerides (healthy fats) in coconut provide an efficient source of energy for the body (the less strain on our body, the better our brain runs).
Ketones made from the breakdown of the fat in coconut might actually have temporary effects when treating Alzheimer's Disease by enhancing memory.
Ketones may also improve our thinking ability so we can break through that mental fog we experience throughout the work day.
Coconut Sugar:
Undergoes far less processing than refined white sugars, and does not wreak havoc on blood sugar like they do.
It contains good amounts of inulin fibre, balancing our blood sugar levels to stabilize mood and increase energy.
It boasts impressive amounts of antioxidants, iron and zinc. Essential for brain development, zinc in particular is also key for communication in the brain areas involved in memory. 
Free Range Eggs:
High in the brain loving nutrient choline. Choline creates the important neurotransmitter, acetylcholine, which is a key ingredient in thinking and memory!
High in lecithin, a compound that helps improve memory and increases the "happy" cholesterol HDL while lowering the "lousy" LDL.
Long-term consumption of B vitamins, which are plentiful in egg yolks, were found to be associated with decreased risk factors for depression.
You might also enjoy: