Brainy Bar – Homemade Granola Bar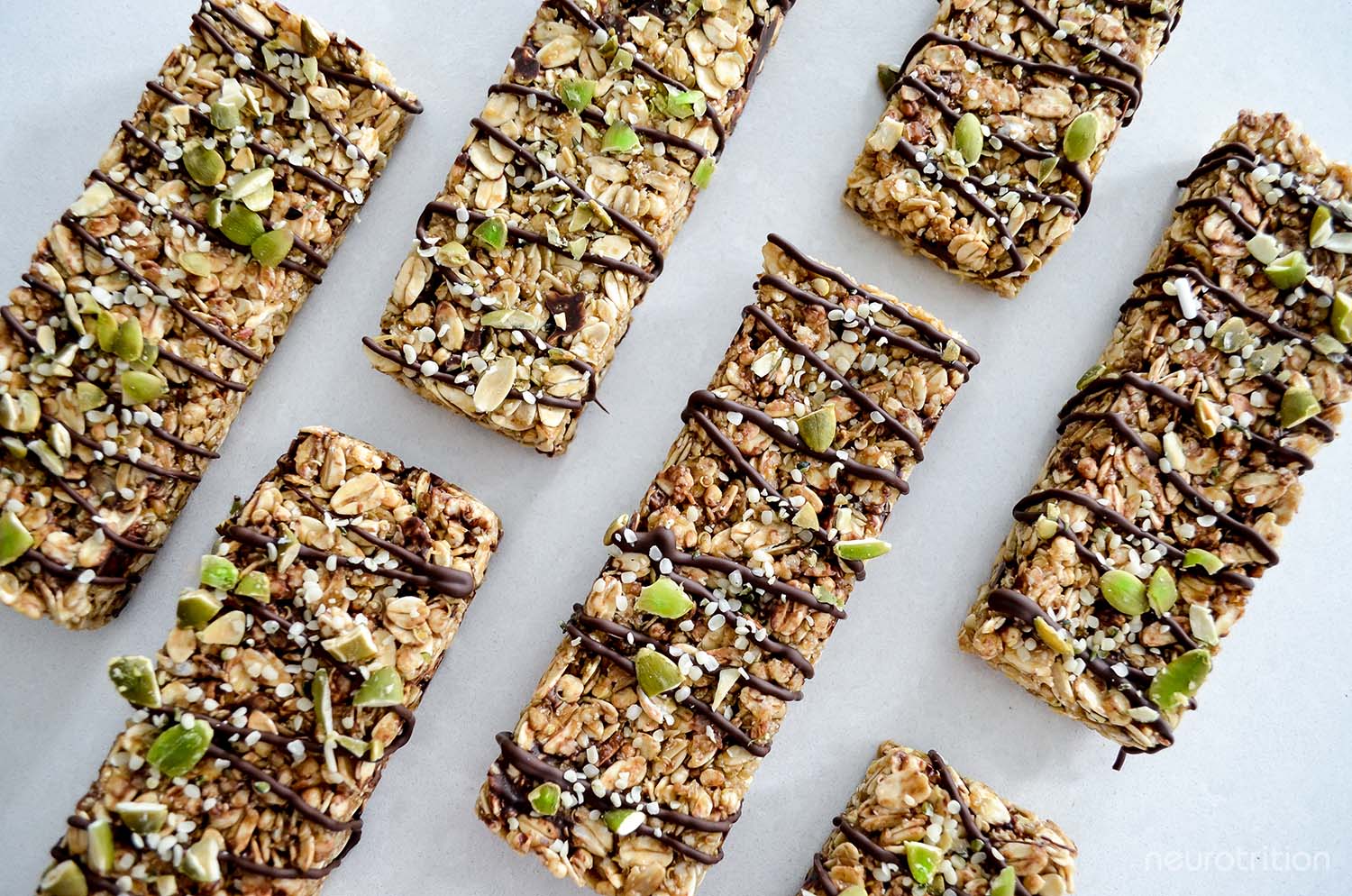 Store-bought granola bars are NOT health food.  
No matter what the companies who make them say.
For starters, most have over-processed grains as their base, refined or trans-fats, and little to no protein in them. And then there's the added sugar. You might as well be grabbing (or sending your child to school with) a candy bar! Now, there is always a "good-better-best" rule I like to follow, and I can always recommend a "good" and "better" store-bought version for you. But homemade will always be best (and if it's super easy and fast to make, even "best-er," if we want to make up a word).
Our granola bar starts with the least processed and most nutrient bioavailable form of oats - sprouted rolled oats - along with flaked and puffed quinoa (a complete protein, supplying all essential amino acids to build neurotransmitters for strong brains not to mention strong bodies). For fats, we use either grass-fed butter or, if you'd like to make this recipe plant-based and dairy-free, coconut cream (this will also bring in some brain-loving MCTs, or medium chain triglycerides). For a touch of sweetness we used low glycemic coconut sugar, raw honey (to bring in some gut-brain-immune axis benefits too), vanilla extract and dark chocolate chips (get them dairy-free if you want a vegan bar). If you want even more brain healthy fats (and even more crunch and texture), you can add some organic pumpkin seeds and hemp hearts to the top. As a bonus, these bars are nut-free so you can send them to school!
At just 15 minutes to make from start to finish, you will have one week's worth of granola bars on your counter (for soft bars) or in your fridge (for bars a bit harder) - or three months' worth in your freezer. I like to double or triple this recipe and make the prep time go even further!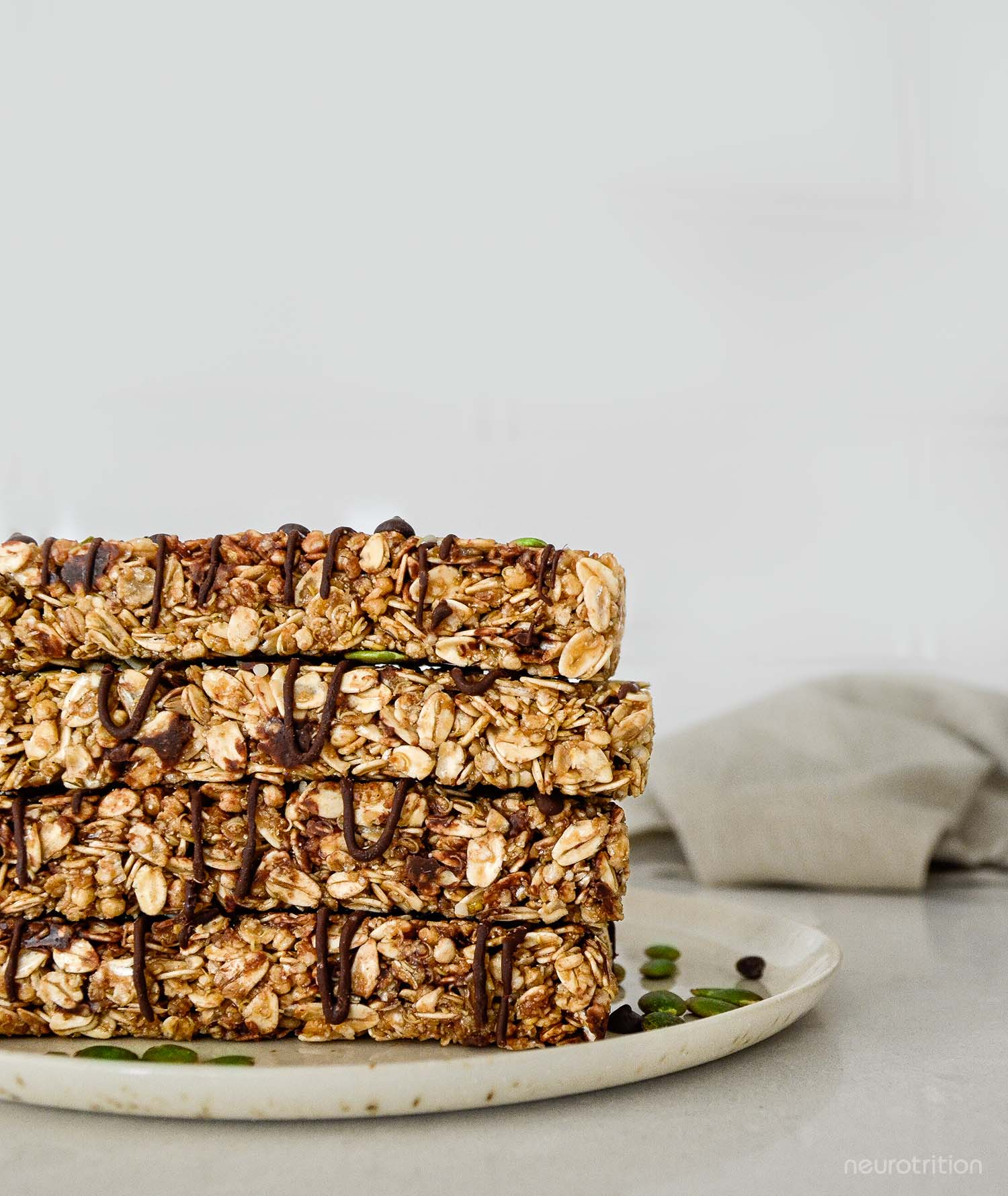 Brainy Bar – Homemade Granola Bar
Ingredients
2 cups organic sprouted rolled oats
3/4 cup organic flaked quinoa
1/4 cup organic puffed quinoa
1/3 cup raw honey
1/4 cup unsalted grass fed butter or 1/2 cup canned coconut cream*
1/4 cup organic coconut sugar
1/2 tsp vanilla extract
1/4 cup + 2 Tbsp mini dark chocolate chips**
Optional toppings: 1-2 Tbsp organic pumpkin seeds, hemp hearts
Method
Combine oats, flaked quinoa, and puffed quinoa into a large bowl.
Combine butter*, honey, coconut sugar, and vanilla extract in a small pot over medium heat. Cook, stirring almost constantly as butter* melts. Once butter* has melted and sugar is dissolved, continue to stir constantly until mixture bubbles and appears frothy (about 1-3 minutes). To make sure it's ready, place a drop of this mixture into a clear glass of ice water; if the drop firms up and keeps its shape (similar to a soft caramel), it's ready to use - if not, cook a bit longer and try again.
Pour the butter* mixture into the bowl of oats and quinoa (optional to add in seeds now or save to sprinkle on top when finished). Using a spatula, stir well to ensure no dry bits are left and mixture is well combined. Let the mixture sit for a couple minutes to allow to cool down a little so that the chocolate chips don't completely melt, then add 1/4 cup chocolate chips** and mix well to combine.
Transfer the granola mixture into an 8 inch or 9 inch square pan, or into silicone bar molds. Scatter 2 Tbsp of mini chocolate chips**, and any optional toppings over the top. Using the back of a spoon or bottom of a measuring cup, press down on the mixture to smooth out the top and ensure it is as even as possible, paying special attention to the corners.
Cover and refrigerate for at least 2 hours. Remove from fridge and slice into 10-12 bars.
Notes
*If wanting to make this dairy-free, use the solid part at the top of a chilled can of full fat coconut cream (you can also use canned coconut whipping cream). With this substitution, you will need to cook about 5-10 minutes longer to reach the desired consistency. You want to see small bubbles at first, but this can burn easily, so stir frequently. After about 10 minutes, the mixture should have thickened and be ready to use. To make sure it's ready, place a drop of this mixture into a clear glass of ice water, if the drop firms up and keeps it's shape (similar to a soft caramel), it's ready to use - if not, cook a bit longer and try again.
**Want to make this a dairy-free, vegan recipe? Use dairy-free vegan chocolate chips! Instead of sprinkling the 2 Tbsp of mini chocolate chips over top of the mixture before chilling, you can melt them and drizzle over the bars once sliced, and then sprinkle seeds overtop of melted chocolate.
Store granola bars in an airtight container for up to one week. For the softest bars, keep at room temperature. For slightly harder bars, store in the fridge. If using coconut cream instead of butter, make sure to store in the fridge. Bars will keep in the freezer for up to three months when wrapped well.

LET'S DIG IN AND MAKE SOME OF THE SCIENCE EASIER TO DIGEST!
Quinoa:
This complete protein and only vegan one may be your best pseudo-grain (actually a seed!) bet because it is the highest in healthy fats and antioxidants.
It has an astonishingly high concentration of key vitamins and minerals that are vital for the production of neurotransmitters (the means of communication in the brain).
Coconut Milk:
As the gut and brain have a reciprocal relationship, coconut milk may help prevent mental health issues as it has been found to have anti-microbial properties in the gut.
The medium-chain triglycerides (healthy fats) in coconut provide an efficient source of energy for the body (the less strain on our body, the better our brain runs).
Honey:
The active compounds in honey are polyphenols like flavonoids and catechins, so this sweet, natural substitute for refined sugar has excellent antioxidant effects.
Honey might actually making us happier and calmer with its anti-depressant and anti-anxiety effects, and enhance our memory.
You might also enjoy: