Eat Your Heart Out Brownies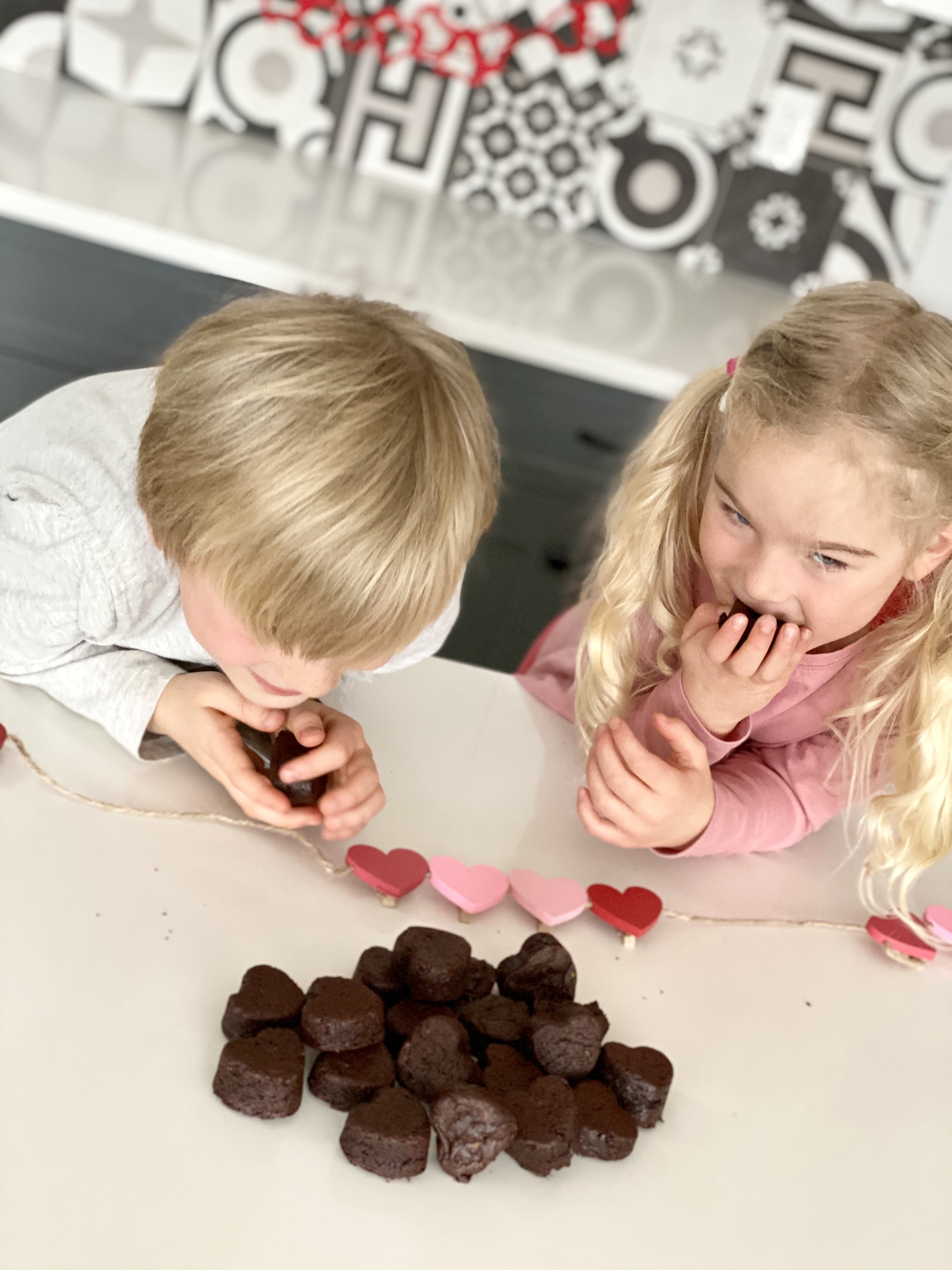 I am so excited to feature a recipe from Charly Kelly, one of the incredible graduates of our NeuroTrition Business Mentorship Program. She is the founder of Lunch Love, a Calgary-based company providing and delivering healthy, nutrient-dense lunches to kids and schools in the Calgary, Alberta area. As a mama bear to two beautiful children, she started Lunch Love because she loves feeding children nourishing, delicious and fun food. And she gets excited about kids connecting their foods to their bodily experiences.
Charly realized there was a need for this service when she heard parents talking about the painstaking task of making school lunches every day, and knew she could help them by taking lunch duty off their plate - while also providing their children with healthy lunches that nourish their mind, body, and spirit. As a bonus, each lunch kit includes a little age-appropriate love note for a lunchtime reminder that they are loved, worthy and amazing. Cue the happy tears that a service like this now exists locally, and that it aligns so well with our NeuroTrition KIDS program.
This recipe from Charly features all the ooey gooey goodness of classic brownies - but with a brainfood twist to nourish your littles' growing brains (and your brain too, because the brain continues to build new connections throughout life!). These brownies feature anti-inflammatory, plant-based protein from raw almond butter and flaxseed, both of which are also high in brain-loving omega-3 fats (if you need a nut free version for school or your child has a nut allergy, check out the recipe notes for alternatives to almond butter). The protein and fats are paired with high fibre complex carbs from pumpkin to keep your little ones' blood sugar - and therefore mood and energy - nice and stable all day long. This recipe is also high in key micronutrients needed for brain development such as calcium, magnesium, B vitamins and iron. Oh, and the cacao powder and dark chocolate chips, both high in prebiotics (the favourite food for our probiotic gut bugs), bring some serious gut-brain love to this decadent dessert.
Eat Your Heart Out Brownies
Ingredients
3/4 cup organic pumpkin purée
3/4 cup raw almond butter*
1 flax egg (1 Tbsp ground flax + 2.5 Tbsp water)
1/4 cup melted coconut oil
1/2 cup coconut sugar
1/2 cup cacao powder
1 tsp vanilla extract 
1/2 tsp baking soda
1/2 tsp sea salt
1/4 cup mini dark chocolate chips**
Method
Preheat oven to 350F.
Mix all ingredients together.
Fill mini muffin tins or (oven safe) silicone molds 3/4 full.
Bake for 30 minutes. These will last up to 5 days in the fridge, and they freeze well too (they even taste great straight out of the freezer).
Notes
*Want/need a nut free version? Sunflower seed or pumpkin seed butter will work nicely to make this a nut free recipe. Add 1/4 cup pure maple syrup if seed butter is used instead of almond butter.
**Use dairy free dark chocolate chips to make this recipe vegan.

LET'S DIG IN AND MAKE SOME OF THE SCIENCE EASIER TO DIGEST!
Coconut Oil:
The medium-chain triglycerides (healthy fats) in coconut provide an efficient source of energy for the body (the less strain on our body, the better our brain runs).
Ketones made from the breakdown of the fat in coconut might actually have temporary effects when treating Alzheimer's Disease by enhancing memory.
Ketones may also improve our thinking ability so we can break through that mental fog we experience throughout the work day.
Coconut Sugar:
Undergoes far less processing than refined white sugars, and does not wreak havoc on blood sugar like they do.
It contains good amounts of inulin fiber, balancing our blood sugar levels to stabilize mood and increase energy.
It boasts impressive amounts of antioxidants, iron and zinc. Essential for brain development, zinc in particular is also key for communication in the brain areas involved in memory. 
Vanilla Extract:
Vanilla extract has antioxidant properties that help neutralize damaging effects of free radicals on the brain to help mental health diseases including depression.
Vanillin, a compound found in vanilla extract, has been shown to reduce levels of inflammation in the blood (which can gain access to, and wreak havoc on the brain).
Cacao:
For the sweet science on this superBRAINfood, check out this blog!
You might also enjoy: