Our Brainchild with River Cafe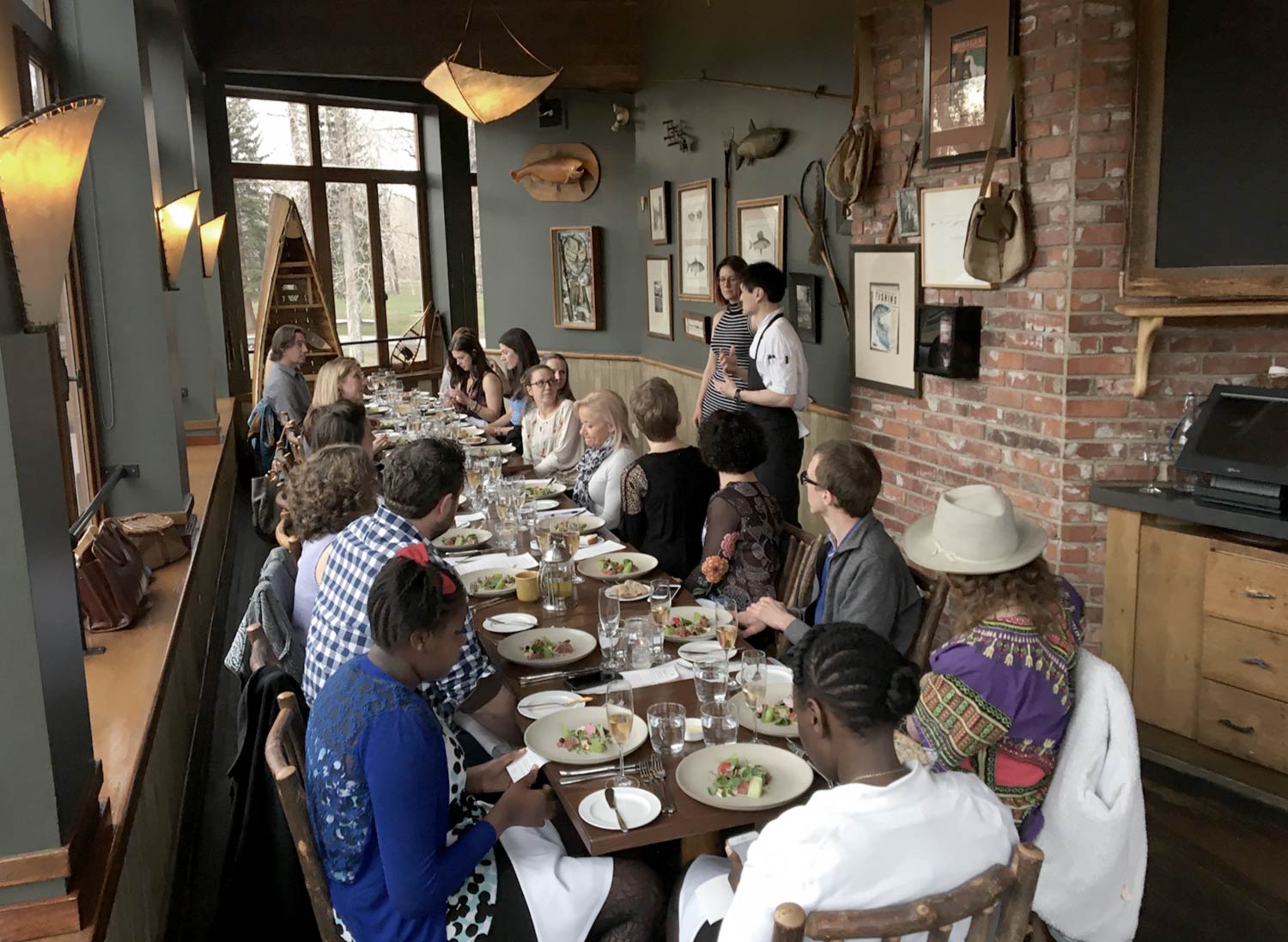 I am always trying to think of engaging ways to bring people together for some conversation about brain and mental health.
Because I'm such a foodie, my mind always wanders to, well, food. I want to give people some real food for thought. Literally. I also want to bring together people who otherwise might not ever have the opportunity to sit at a table together and have these type of conversations.
So, enter the Brain Food Dinner Party (BFDP, for short).
NeuroTrition has been working with some amazing restaurants and hotels in Calgary (soon to include other cities) to create truly mouthwatering brain food menus at the heart of these unique gourmet-meet-educational dining experiences.
As soon as I opened the menu at River Cafe, I remember feeling a sense of calm come over me as I knew that the local movement was alive and happening, and that I was going to be okay living in my new city.
Our latest party was in proud partnership with River Cafe. And I just have to say, I have such a soft spot in my heart for this restaurant because it was the first place I was taken when I moved from Vancouver to Calgary. Farm to plate is something I wholeheartedly embrace and I had been told, over and over again, as I geared up to move to Calgary that I would not be able to find this food movement in my new home city. As a foodie, I was devastated and apprehensive about the food scene in Calgary (can you believe, it was THE biggest fear I had about moving here). As soon as I opened the menu at River Cafe, I remember feeling a sense of calm come over me as I knew that the local movement was alive and happening, and that I was going to be okay living in my new city.
But I digress … back to the dinner party!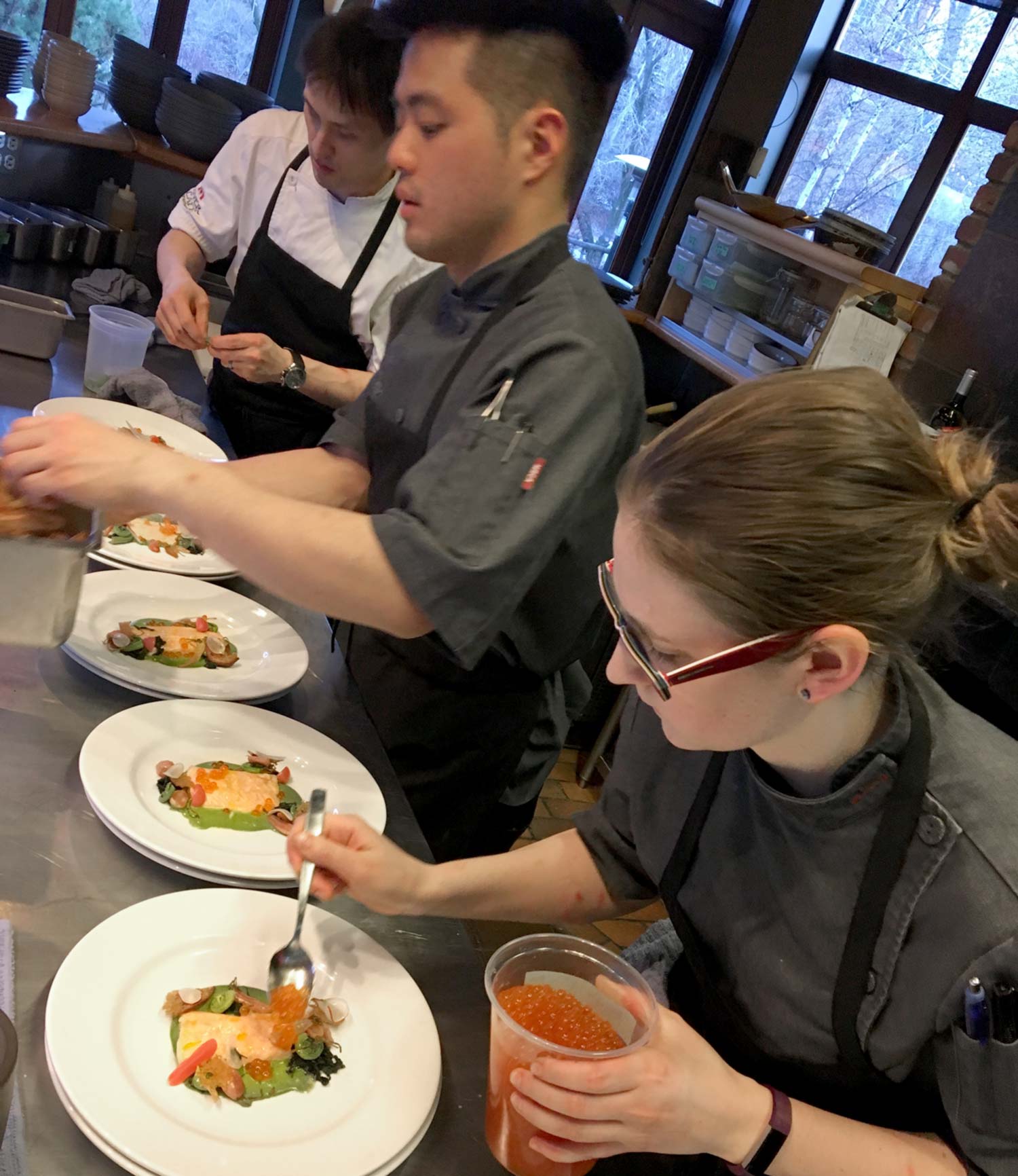 The setting of this restaurant couldn't be more picture perfect, nestled so cozily into the park on the banks of the Bow River on Princes Island. It feels like it's part of the natural landscape. The venue is rustic with a hint of upscale — laid back but cool — and Chef Matthias is renowned for his passion for hyperlocal cuisine. I am fuelled by a love for seasonal, local cuisine, so it was an obvious meeting of the minds to collaborate on this event (and personally, I was so excited to work with the first restaurant I went to when I moved to Calgary – the restaurant that let me know I was going to be alright here).
I am proud to say, the result of our brainchild collab was nothing short of incredible. This is the 5 course menu we developed:
The first course was a Kolb Farms bison tartare with Highwood Crossing canola and oats, pickled Saskatoon berries and wild garlic.
The second course was Saltspring Island mussels and Spragg Farms pork belly with celery root cream, Jungle Farms barley, compressed apple and crabapple wine.

The third course lovingly featured Alberta trout amidst wild foraged Spring herbs and greens, salmon roe, rye sourdough, stinging nettle cream and radish.

Showcased in the fourth course was Driview Farms lamb, with Fairwinds goat yogurt, walnuts, preserved Okanagan grapes and hop shoots.

Last, but certainly not least, a strawberry and dandelion friand fwith earl grey gel and strawberry sorbet finished the culinary exploration of the evening. In other words, dessert time!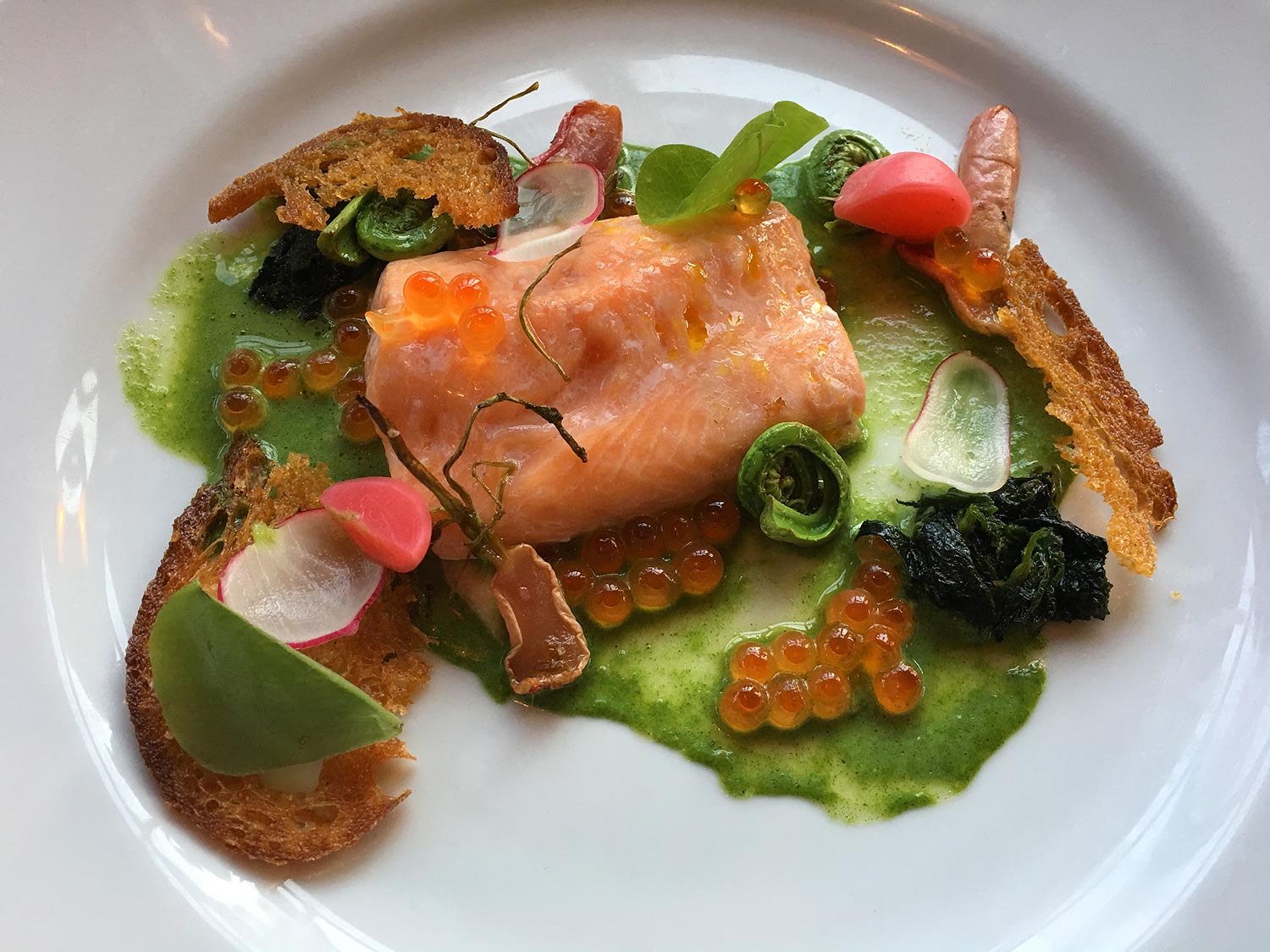 Each course featured ingredients that brain science is showing can help us fight against the brain and mental health epidemic we are facing.
Chef Matthias introduced each dish from a culinary perspective while I described research on the the brain and mental health promoting benefits of the key ingredients we had chosen. Then, the sommelier described the wine pairing and non-alcoholic pairing (which were also lovingly selected and created for this event). Our guests left well nourished — body and mind — after an evening of exciting conversation over an incredible meal.
But don't take our word for it. Here's what some of our guests had to say about the night.
---
"The Brain Food Dinner Party at River Cafe was a fun night filled with Orsha's immense knowledge about brain health and delicious, thoughtful, local dishes, each paired perfectly with drinks.  I chose the non-alcoholic juice/tea pairings which were so creative and incredibly tasty. I went home well fed and definitely smarter!  Thanks Orsha and the River Cafe team!  It was a great night!" – Lisa Cheverie
---
"The Brain Food Dinner party at River Cafe was my third Brain Food Dinner Party with Orsha which I think speaks volumes about how amazing these nights are! I love these dinners so much that I brought 4 of my girlfriends with me to this one! Perfect girls night with deliciously creative food, perfectly paired wines and the bonus of feeling a bit more brainy when you leave! These dinner parties are not to be missed!!!" – Kelly Savage
---
"I call myself a "Clean Foodie".  I love to eat!  The problem is I'm a little (okay, a lot) obsessed with being super clean, but I love to indulge in fine cuisine and eat out… you see my problem!  These two ingredients (eating out and clean eating) aren't often combined… until NeuroTrition's brain food dinner parties.
It's like a marriage made in nutrition heaven – mixing whole foods natural ingredients with gourmet cuisine, all prepared and served at a beautiful venue. But here's the best part – Orsha explains the health benefits of every course of our exquisite meal. This is the missing link I think, to get people eating in more healthful ways – education in a practical setting.  Give us delicious food, made entirely from real natural ingredients, and teach us how it's been prepared and why it is so beneficial for the body and brain. Kudos NeuroTrition for bridging the gap and showing that healthy real food is also delicious fine food, one dinner party at a time." – Yvette Styner
---
We are excited to announce that our next BFDP is coming up on August 15th, with Deane House. Oh, it's going to be so good. You can check out the event details, get tickets, and see the custom brain food menu, right here. We hope to see you at our next brainy dinning event.
(Pssst. If you're interested in learning more about our Brain Food Dinner Parties, check out this blog I wrote about them, here.)