Brain Food Dinner Parties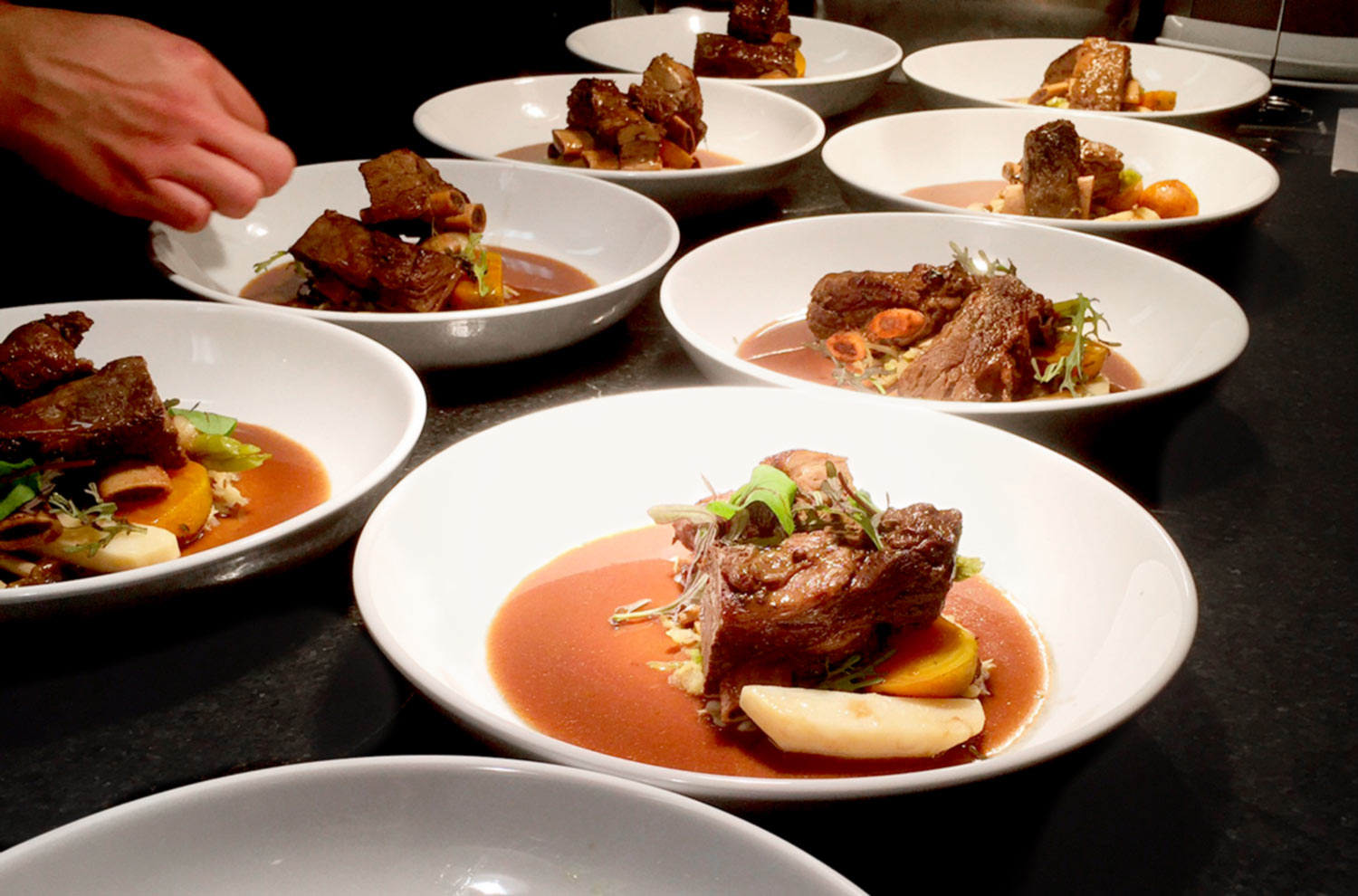 I love brains. That's why I went and worked really hard for 10 years getting schooled in neuroscience and all things brain and mental health.
But I also really love food. Like really, really. And as a foodie first and foremost, then a neuroscientist and neuro-nutrition consultant, I just knew I had to combine all my passions into something next level for foodies who *also* care about the impact food has on their brain health.
But first, what is brain food?
At NeuroTrition, brain food is all abut local, seasonal, organic-when-you-can, whole foods. It's about foods loaded with nutrients that science shows may improve brain and mental health. It's also about foods that are loaded with probiotics and prebiotics to nourish your gut-brain axis. This is what every Brain Food Menu we create is based on. It's not about prescribing to any fad or trendy diet, but rather about keeping it real—real food, for real people. And real people like to eat out. Our mission is to be able to eat out, while also nourishing our brain and mental health AND ensuring it all tastes awesome.
Enter Brain Food, The Dinner Party Edition
At NeuroTrition, we want to make brain food approachable, accessible and, most of all, ah-mazingly delicious. This goes for when you're cooking at home or when you're eating out. So we've been working with some of my favourite restaurants and hotels in Calgary, whose executive chefs believe in a local, seasonal, farm to table approach to food. And by putting our brains together, we've been creating some pretty incredible menus and hosting some pretty incredible dinner party events here in our hometown. We've created 3, 4 and 6 course dinners, some with wine pairings, some without (hello, custom created mocktails and raw cold pressed juices!), and some with a variety of seasonal, brain-loving beverages.  
A signature feature of each dinner party is the delicious education people walk away with.
A signature feature of each dinner party is the delicious education people walk away with. As each course is being served, I share the latest brain and mental health research on the key ingredients guests are enjoying. The house Sommelier also discusses the wine and mocktail or juice pairing. Then, it's all about guests enjoying a beautiful dinner brimming with brain and gut-supporting foods. And friends, the amazing feedback at our dinner parties always has a key theme – people can't believe the meal in front of them is actually good for them. But it is!
To show you what I mean, I've shared a breakdown of the beautiful AND seasonal ingredients from the BISON entrée at our latest event, hosted in collaboration with Chef's Table at the Kensington Riverside Inn. Let's talk about the Miso bison pot au feu with butter poached turnip, wild mushrooms, celery root, and charred cabbage. Yum!
Bison:
Lean bison meat is a healthy source of protein, with less total fat and saturated fat, but many more nutrients than lean beef. What's more, it contains higher levels of omega-3 fatty acids and conjugated linoleic acid, which are important in fighting the chronic inflammation associated with many brain and mental health imbalances.
Miso:
This fermented paste is traditionally made from soybeans (please, I repeat please use organic, non-GMO) or more recently, chickpeas (much more our style, as chickpeas don't contain the same thyroid and hormone disrupting compounds thought to be in soy). It's loaded with probiotics, making it a no-brainer to add to sauces, marinades and dressings.
Butter:
It's not bad for you. I promise. Cholesterol (which is one of the reasons butter was considered "an enemy" for so long) is not a bad-guy after all, but rather a slippery, waxy substance that scientists think might actually be lying down in the beginnings of arterial plaque to protect the arteries from further damage.
Turnip:
This vegetable from the Brassica family has vitamin C, B vitamins, plus calcium and potassium (some of our fav electrolytes) as well as good amounts of fibre. It also has the second highest level of sulfur-containing compounds called glucosinolates (after mustard sprouts) that have anti-cancer, anti-fungal, anti-parasitic, and antibacterial benefits.
Wild Mushrooms:
These beauties have a special fibre in them, called beta-glucans, that helps improve blood sugar balance, which is so key to a healthy, happy mood. They're also a good source of vitamin C, B's and brain minerals like selenium.
Celery Root:
This under appreciated veggie is a good source of vitamin B6, C and magnesium, as well as fibre. Also known as celeriac, this is a good, lower carbohydrate alternative to potato.
Cabbage:
The second Brassica vegetable in this dish, cabbage, contains a liver loving compound called, indole 3 carbinol. Cabbage (including red, green, and Savoy) may help regulate blood sugar with its high fibre content and anthocyanins—natural plant pigments that increase insulin production. This veggie is also high in prebiotics (a.k.a. food for probiotics) and when cabbage is fermented into sauerkraut, it also becomes a great source of probiotics.
I love watching chefs transform these already-delicious brainy foods into mouthwatering and truly artistic meals. It's one of my greatest joys!
Want to get in on the dinner party action? Make SURE to sign up for our newsletter, below, for early notice about our upcoming events! We have some new dinner parties in the works for Winter and Spring with more of our favourite restaurants and hotels, here in Calgary. We're also working on some special events in Edmonton and Victoria. So our brain foodies in those cities can join in the fun soon!
I hope to see you at the next Brain Food Dinner Party!