My 5 Must-Haves For Travel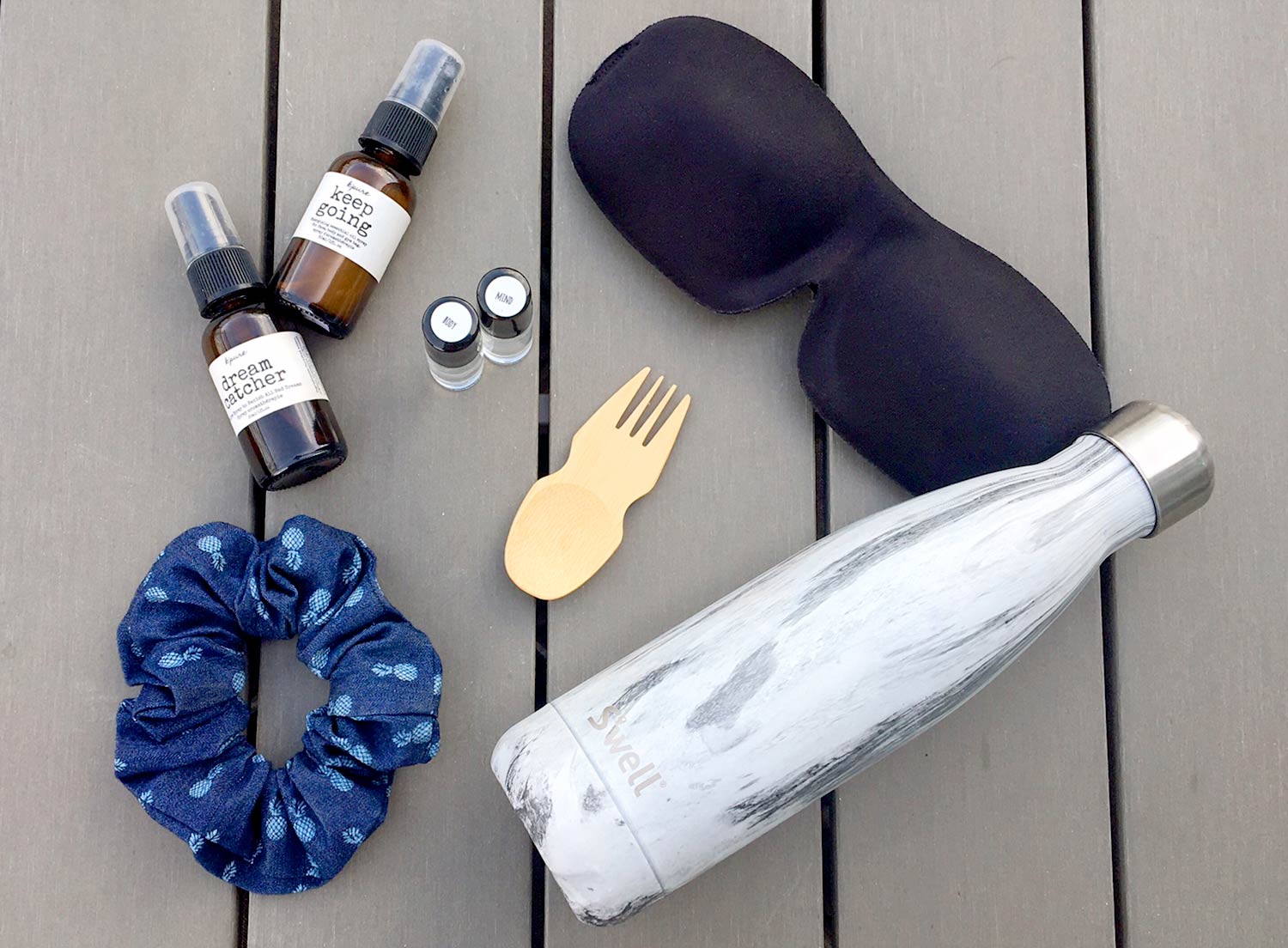 I travel a lot, hustling for business to then fund my trips for pleasure.
Over the years, I've perfected my list of must-have's for trips that keep me feeling good (and even pampered) whether I'm on the road, in the sky or stuck somewhere in-between.
These 5 things have given me some serious peace of mind in a pinch when traveling. And while they're not the typical things I share (i.e. the variety of brain foods that I love to talk about), these have proven (anecdotally, by me, anyways!) to really give your brain and mental health a quick boost when most needed.

I GIVE YOU, MY 5 MUST-HAVES FOR TRAVEL
1. Eye Mask
I'm one of those people who can fall asleep anywhere (sorry everyone, including my poor husband, who has sleep issues). But an eye mask is a must, because I want to keep my pineal gland on point with its production of melatonin. Did you know your pineal gland can only produce melatonin in the total dark? Truth. I put my mask on to sleep in airports, on airplanes and in hotel rooms shared with my night-owl husband or when the room I'm staying in can't be made completely dark. I love this mask by Bucky. But any mask that feels comfortable to you will work great.
2. Spork
Guys! If you haven't heard of this, it's a spoon-meets-a-fork little contraption. And it allows you to eat pretty much anything with one utensil. I throw one in my carry-on when travelling, and in my purse when I'm at home so I can grab healthy brain food on the go, without having to hunt for cutlery (or waste plastic). I picked up this little baby from Bambu, but there are many brands out there.
3. Scrunchie
For those of you that know me, you probably know about my signature top knot, or "fun-bun" as I like to call it. I always pack at least one scrunchie with me on trips, to keep my hair from getting too unruly when I don't have time to do it. Because I always recommend opting to sleep rather than do your hair when it's one or the other - you don't mess with sleep for brain health! A scrunchie can be a fashion statement, and even a conversation starter (I have some great ones, including a pineapple chambray one from a local Calgary company, BarkYYC) and when travelling light, they quickly double as a bracelet.
4. Water Bottle

Hydration is beyond key, ALWYAS. But especially when travelling, where you're more likely to eat unhealthy food, and indulge in a drink or two or many. Hydration is SO important for brain health that we dedicated an entire blog to it, which you can read here.
A water bottle is something I do not leave home without. When flying, I make sure it's empty so I can take it through security at the airport, and then I fill it up at a coffee shop by my gate. Throughout my flight, I ask for water in it to save plastic. Plus it holds way more water than what those little plastic cups hold anyway. It comes with me on road trips, to save money (and plastic) on buying water on the road. And it's just with me wherever I am. I recommend a stainless steel or glass bottle. My personal fave is the Swell brand because they can hold (and keep) beverages hot or cold.
5. Essential Oil Spray or Roller
Essential oils have so many uses, and are a must, must, must! They can be used anywhere that needs a little freshness, and whenever you need to refresh your brain. I use them on my face for a quick pick-me up or calm-me down. I have also been known to use a roller under my nose to help me get through a flight when seated next to people with BO (I know you've been there!) and my husband now asks me for one to throw in his carry-on after it saved his nose, and stomach, on a flight! I use it on my body for a dry-shower (kind of like a dry shampoo, but for your body when you don't have time to shower). And I always keep one in my gym bag and in my backpack for a day at the office (seriously, you will thank me if you get into this habit).
These days I am loving Canadian made k'pure Keep Going and Dream Catcher essential oil sprays (diluted in purified water).
While there is not the hard science I usually like to see before making a recommendation, these 5 little things have really "proven" to be helpful in making travel easier for me. And because they're a part of my NeuroTrition Travel Rx, I wanted to share them with you as we're diving into summer travel season. Enjoy, and please tag me on Instagram or Twitter (@neurotrition or @orshamagyar) if you remember to snap a pic of you with one (or more) of your new brainy must-haves.