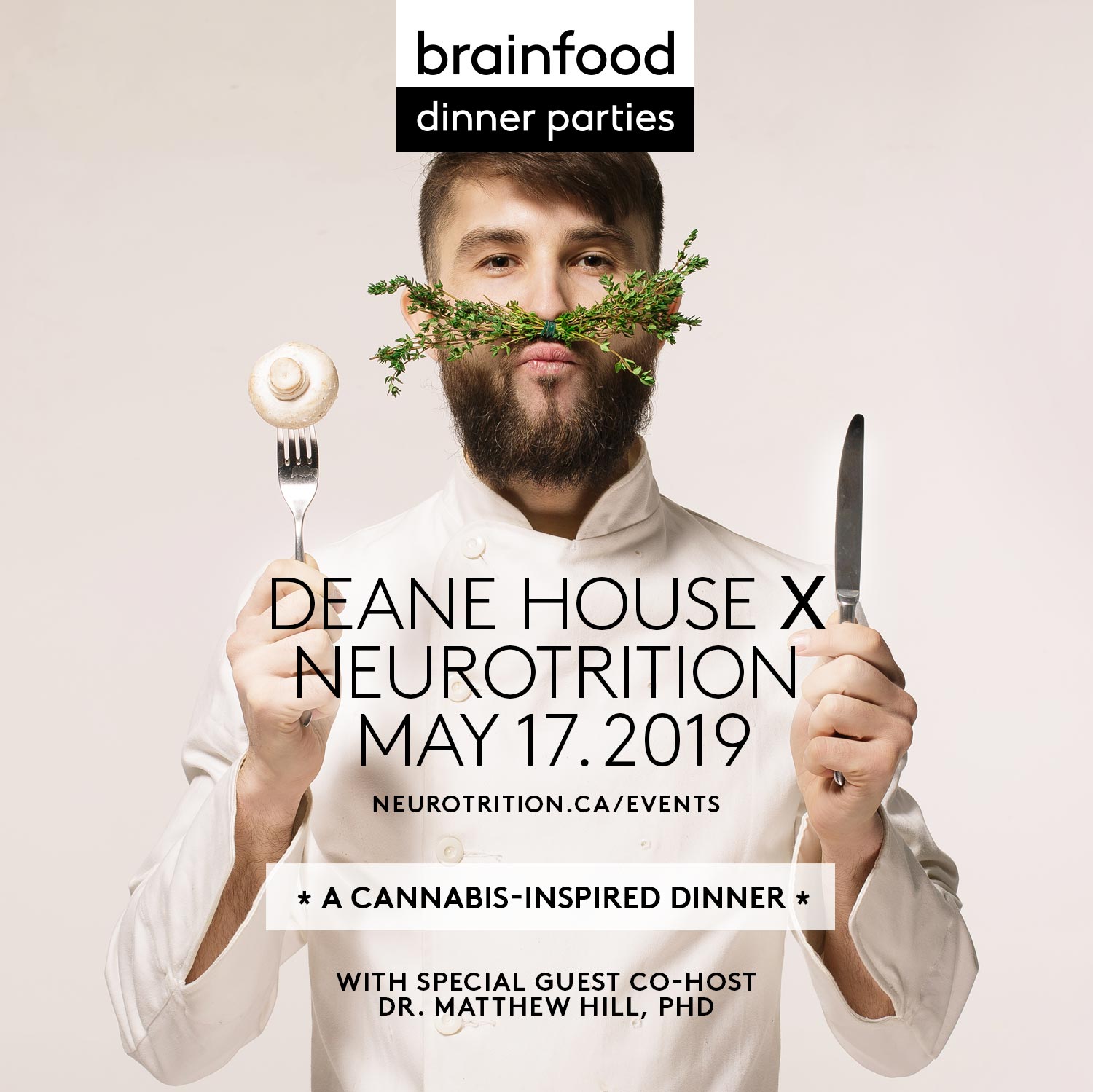 Dining Event
Brain Food Dinner Party :: Cannabis-Inspired Edition
LOCATION
Deane House
806 9 Avenue SE
Calgary, AB
This is a really special Brain Food Dinner Party, for TWO good reasons.
FIRST GOOD REASON (THAT THIS EVENT IS SO SPECIAL)...
At NeuroTrition, we are always trying to give people some serious food for thought, from the absolutely most qualified speakers. And we get asked about cannabis a lot. Like, A LOT a lot.
So, enter Dr. Matthew Hill. He sits on our Science Council at NeuroTrition, and we are thrilled that he has been known to call himself a "holistic neuroscientist." He is also the Executive Director of the Canadian Consortium for the Investigation of Cannabinoids, the former President of the International Cannabinoid Research Society, and associate professor at the Hotchkiss Brain Institute of the University of Calgary. He also recently wowed guests, speaking at our annual conference.
During this dinner party, we will have the pleasure of Dr. Hill educating diners on the endocannabinoid system (the body's own version of cannabis) as well as answering questions like "are cannabis users thinner than the general population?" and "what the heck are the munchies?" and, of course, "how can we boost our own endocannabinoids without cannabis?"
SECOND GOOD REASON (THAT THIS EVENT IS SO SPECIAL)...
SPOILER ALERT! Science says that one of the ways we can boost our body's own version of cannabis is through food. Things like rosemary, cacao, and lavender to name a few ingredients that will tickle your neurons and tastebuds! We are partnering with Chef Matthias, of Deane House, to create the perfect exploration of these ingredients (and more) within the context of the seasonal, local philosophy that we, at NeuroTrition, hold so close to our hearts. We have worked with Chef Matthias before and with Deane House before, and couldn't be more excited to collaborate again. Each course will be thoughtfully created and prepared to showcase how we get our NeuroTrition clients to eat, to increase their endocannabinoids for their brain and mental health.
AND THEN, THERE'S THE DRINKS...
You may already know that we always like to create fun, thought-provoking "brainy" beverages to pair with our courses. A few ideas we're playing around with include a local, hoppy beer and a brainy twist on a Caesar that uses hops sprouts (just about to come into season!) instead of pickled asparagus. Because, did you know: hops and cannabis are in the same family!
THE NEUROTRITION Rx...
We always recommend that you eat more in-line with our NeuroTrition Rx (our prescription that perfectly pairs neuroscience and nutrition), even if you're not looking to support a specific brain or mental health condition. So we want you at this event, to learn how to deliciously add more foods to your and your family's lives that jack your body's and brain's own version of cannabis, naturally.

GET YOUR TICKETS.
We only have 24 tickets up for grabs to this super intimate event. This means that you need to book NOW to ensure you get a seat at our cannabis-inspired extravaganza. 
Please email orsha@neurotrition.ca with any questions you may have. 
To book your tickets: Call Deane House at (403) 264-0595 and ask for Stephanie, or email Events@deanehouse.com.
Ticket Price: $99
The ticket includes: a 4-course dinner and pairings custom created for this event. Tax & grat are extra.
---
BRAIN FOOD MENU
To Start:
Sourdough bread service with house churned cultured butter
First Course:
FRESH SHUCKED OYSTER
Hop Salt, Flaxseed, Pea & Camelina Vinaigrette
Second Course:
LINE-CAUGHT PACIFIC HALIBUT
Miso Roasted Jerusalem Artichoke, Stewed Heritage Grain, Stinging Nettle Egg Drop Broth
Entree:
MOREL MUSHROOMS
Edgar Farms Asparagus, Walnut Paste, Soft Poached Egg, Goat Yogurt & Potato Puree
Dessert:
ROSEMARY & CINNAMON PEAR TART
Candied Pumpkin Seed, Ginger Kombucha Sorbet
We are working away on the beverage pairings, so please check back! So far we know that you can expect a local super-hoppy beer to start and our famous brain (and endocannabinoid) boosting hot cocoa to end the evening with!
2019-05-17T18:30:00-06:00
2019-05-17T21:30:00-06:00
LOCATION
Deane House
806 9 Avenue SE
Calgary, AB